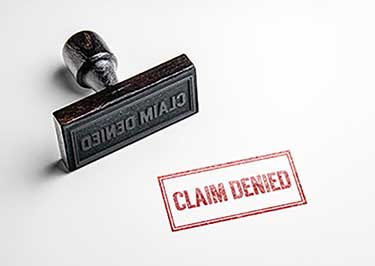 If you've been injured in an accident that wasn't your fault, you know how frustrating the after-effects are. Following a wreck, it can be stressful, time-consuming, and overwhelming. You may have encountered serious injuries, countless medical bills, and even the loss of your vehicle.
Oftentimes, the situation is made even worse by the insurance company's refusal to treat you fairly. Instead of treating you fairly, the insurance company will deny your claim or say they are only accepting partial responsibility for the collision. While the police report blaming the other driver for the collision is persuasive, it does not mean that the insurance company is going to accept responsibility for the accident or the harm you sustained as a result of the collision.
We regularly handle claims where the insurance company and its insured refuse to accept responsibility for the claim. This has happened in cases where a person gets hit head-on, rear-ended or where the other driver disregarded a traffic control device.
If the insurance company is giving you the runaround, you may need to consult with a trusted car accident lawyer to discuss your options. Consult with a trusted car accident lawyer Sutliff & Stout at 713-987-7111 for your claim.
Reasons for Claim Denials:
Disputes: Typically, the insurance company will argue that its policyholder did not cause the car accident. This is usually based on the biased statement of its insured or a strained interpretation of the police report. Sometimes the insurance company will try to use your own statements against you in denying the claim, which is why we recommend not giving a recorded statement to the at-fault insurance company. In the context of litigation, the insurance company may hire an expert to argue that you took faulty evasive action or did something else to make you primarily responsible for the collision.
Lapse of Policy: If the policyholder gets involved in a car accident after the policy was canceled or expired, the insurance company will not pay the claim. In this circumstance, you must determine whether other insurance was in effect at the time of the collision. If not, hopefully you have comprehensive coverage so that you can ask your own insurance company to help cover the damages you sustained.
Not Listed on the Policy: Texas law allows an insurance company to specifically exclude certain individuals from a policy and it allows insurance companies to sell what are known as named driver policies, which only cover the individuals listed on the policy. If the at-fault driver was excluded from the policy or not listed as a named driver on a named driver policy, then the insurance company will deny the claim. Again, in these situations, hopefully, you have comprehensive coverage for both your vehicle or property damage and the bodily injury portion of your claim.
Pre-existing Conditions, Minimizing Your Injury & Medical Records: An insurance company may say they'll accept responsibility for your accident but that doesn't mean they will treat you fairly. The value of your claim is what usually causes the greatest amount of disagreement. Insurance companies and defense lawyers love to argue that the natural process of aging is what caused your injuries. In other words, it is merely coincidental that your body started to hurt after the car accident. In fact, insurance companies have a plethora of paid medical "experts" who will testify that your problems are not related to the collision.
What to do If Your Claim Has Been Denied?
It depends on the nature of your injuries.
What to do If You Weren't Injured
If you weren't injured and you just need help with your property damage claim, you will have a hard time finding a lawyer to help you. As a result, the first option we recommend is just simply filing a claim with your own insurance company. They will pay to fix your car and then deal with the other insurance company.
If your policy does not cover your own property damage, we suggest asking the insurance company to put in writing all of the reasons for the denial. Other things that should be done are:
Try to find eye witnesses to help explain what occurred;
Talk with the adjuster's supervisor;
Try to get your own recorded statement from the at-fault party; and
File a claim in small claims court to hold the person accountable.
What to do If You Were Injured
If you were injured and required significant medical care or continuing medical treatment, we suggest hiring a lawyer to help you with your car accident claim. An experienced accident lawyer can assist you with your claim and make sure that you are treated fairly in the process. Some of the things that your Houston car accident lawyer should do for you are as follows:
Help gather evidence: Your car accident attorney should help you gather evidence to help demonstrate why the other side is at fault and what your damages are as a result of the collision. Depending on the case, your lawyer may need to hire experts to help the jury understand what occurred or how your injuries will affect you in the future.
Help make sure you are getting the care you need: Oftentimes a person is injured and he doesn't have medical insurance or the doctors refuse to treat a person involved in an accident. Your lawyer can help you locate highly qualified medical professionals to help treat your injuries.
Explain the law and review paperwork: If your adjuster has said something to the effect of "this is all the law will allow," you know you are dealing with a dishonest adjuster. Except in limited circumstances, the law doesn't set caps on damages. The jury gets to decide what is fair. The best car accident lawyer will help you understand your rights and the claims that can be made as a result of the collision.
Houston car accident lawyers should help you review all relevant paperwork from the insurance company to make sure you understand what is going on throughout the process. This is especially important if you are being asked to sign a release or some other waiver of your rights.
Negotiate: By hiring a lawyer, you will have someone on your side to negotiate with the insurance company. A skilled attorney will know the law and will advocate for the highest possible settlement.
If you can't reach a fair deal with the insurance company: A lawyer can help you file suit against the at-fault party for the harms and losses you sustained as a result of a collision. Generally speaking, in Texas, you have two years from the date of your accident to file suit. This is known as statute of limitations. A good attorney should be there for you every step of the way to ensure that you are treated fairly throughout the process.
If you were denied an insurance claim and are unsure of the next steps to take, you should speak to an expert accident attorney who can provide proper legal guidance. Call the experts at Sutliff & Stout Law Firm at (713) 987-7111 or send us an email to discuss your insurance claims case.