Being injured in the oil field is a difficult experience for a number of reasons. First, you are forced to deal with your injuries. Second, if you are unable to work, the money from worker's compensation will not likely cover your family's monthly expenses. Third, you are forced to deal with a process that is unfamiliar and often times unfair.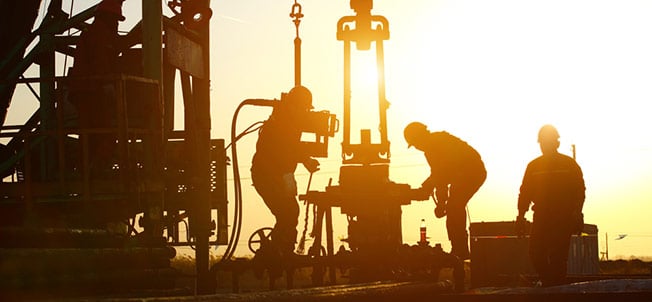 This section of the Texas oilfield accident guide outlines the steps you should take after an oil or gas accident. But remember, if you have a specific question regarding your situation, please feel free to give us a call for a no-cost consultation.
Steps to Take Following an Oilfield Accident
1. Notify Your Employer of Your Accident
After an oil and gas accident, you should notify your immediate supervisor about your injuries right away. Failure to report an accident may result in you losing your job and could affect your ability to recover compensation for your injuries.
When reporting an accident, you should be honest about what happened and, if possible, complete an incident report. It is always best to put things in writing so there is no dispute about what you said and when you said it. When reporting an incident it is important to be as forthcoming as possible. This means you should tell your employer exactly what happened and all of the parts of your body that hurt.
Failure to report pain is a common problem because folks think the pain will go away, but the company will use this against you down the road if your problems get worse.
In cases where you are covered by worker's compensation, your employer must notify their insurance carrier about your injury and file a worker's compensation claim on your behalf. Your employer must also file a report with the Division of Worker's Compensation at the Texas Department of Insurance within eight days of your job site injury or first absence from work as a result of an occupational illness.
These steps will trigger a formal investigation into your accident and injuries. Once the investigation begins, you should never speak to a worker's compensation insurance claims adjuster or other investigator without first contacting an attorney.
2. Seek Immediate Medical Attention for Your Injuries
Once you have notified your employer about your accident, you need to seek prompt, qualified medical attention for your injuries. Your employer is required by law to ensure that you receive all necessary medical attention for an injury that takes place on a job site.
Receiving an accurate diagnosis of your condition immediately following an accident is critical to achieving the best possible health outcome. Ignoring your medical needs after a worksite accident — even for a short period of time — can lead to devastating long-term health consequences.
If you were seriously injured in an oil or gas production accident, you may need to go to the nearest emergency room. This might require transport by an ambulance or medical helicopter if you are in serious or critical condition.
In most cases, you may seek emergency medical treatment at an emergency room or hospital after a worksite accident without getting approval from your employer or your employer's worker's compensation insurance provider.
If your injuries do not require immediate medical attention, you should schedule an appointment with a doctor right away. Some worker's compensation rules may limit your ability to select a doctor or other healthcare professional for non-urgent and/or ongoing health treatment after an accident in the oil fields.
You may be referred to be treated by someone who is on a list of approved doctors that is furnished to you by your employer's workman's compensation insurance carrier.
If you are required to see a doctor who has been recruited by and is paid for by your employer's insurer, do your homework. Ask around about the doctor and what people think about that individual. If you are unhappy with the doctor selected, you have a right to request your own doctor (assuming such doctor accepts worker's compensation cases).
Often times, a company doctor might try to minimize your diagnosis or blame the pain caused by your oil field accident on a preexisting condition, so you need to be careful about who you entrust your care to.
You should follow your doctor's instructions about how to care for your injuries. If you are too hurt to return to work, do not go back to your job site. Take the time you need to fully recover from your accident.
3. Contact an Experienced Oil Field Accident Lawyer
It is important to remember that by this point, a formal investigation into your accident has already been triggered. This usually occurs when you report your injury. There may be multiple investigations depending on the company and the insurance company covering the loss.
You should never speak to a claims adjuster without first contacting an experienced oil field accident lawyer. Any statements you make to the claims adjuster will likely be recorded, so we suggest you simply not speak with such individuals until you have had a chance to speak with a lawyer and recover from your injuries.
When you contact an oil field accident attorney, you should ask to set up an initial consultation to discuss what has happened up to this point. Most reputable workplace accident attorneys provide a no-cost initial consultation that will remain completely confidential.
You should always keep in mind that the goal of the investigation into your accident by the claims adjuster for your employer is to pay you as little as possible for your injuries and other losses, such as lost wages, reduction in your ability to work, and pain and suffering.
Dealing with your employer's insurance company on your own can hurt your chances at receiving a fair amount of compensation.
An oil field accident lawyer can help you understand your rights and what claims may be available to you. Is your employer covered by worker's compensation? If not, is there some other plan that controls your claim? Was there a third-party that was involved in causing your accident?
Depending on the answers to these questions, you might be able to file a lawsuit to recover damages for you injuries and losses.
If your employer did not have worker's compensation insurance, you may be able to sue your employer for you injuries. This is generally known as a non-subscriber case. These cases have special rules and such rules are oftentimes more favorable to the employee.
If you were hurt at an oil or gas well site as a result of defective machinery or heavy equipment, you might be able to bring a products liability lawsuit against the company that designed and made the machinery or equipment. Heavy machinery and work site equipment manufacturers are legally responsible for developing and producing equipment in a manner that will not cause foreseeable injuries to the people who use it.
If a person or company other than your employer caused the accident that injured you at your worksite, you might be able to bring a personal injury lawsuit against that third party. Examples of third parties that may be responsible for an oil field accident include independent contractors and subcontractors who are brought on-site to perform work for your employer, and other companies that have employees present at your job site.
Lawyers who represent oil and gas industry workers in job site accident cases are familiar with every step of the recovery process. An experienced, aggressive attorney can help you find the right doctors and healthcare providers for your medical needs, talk to claims adjusters on your behalf, and help you decide whether filing a lawsuit is the right decision for you and your family.
If you file a lawsuit, your lawyer's goal will be to help you get the largest possible financial compensation for your injuries and other losses.