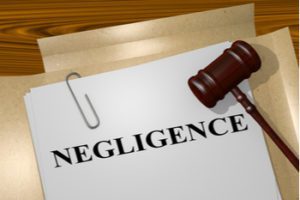 To receive compensation in a personal injury case in Texas, you must prove that the other party's negligence caused the accident. If you're found to be 51 percent or more at fault for causing the accident, you will not be eligible to collect any damages. However, if you're 50 percent or less at fault, then you can recover compensation with the final amount deducted by your percentage of fault. That's because Texas follows a modified form of comparative negligence.
Proving negligence is central to any Texas personal injury case. Since 2008, the personal injury attorneys at Sutliff & Stout have helped clients who have suffered injuries due to another party's negligence. The highly skilled team of personal injury lawyers at Sutliff & Stout are here to help if you've been injured.
How Does the Modified Form of Comparative Negligence Work in Texas?
Under Texas's personal injury law, an injured victim can still collect compensation after an accident, even if they were partially to blame for causing it. For example, if you were in a car accident with a distracted driver while on the Beltway in Houston, you can file a lawsuit against that driver to recover damages. If the courts find you to be 20 percent at fault for causing the accident, then any compensation amount awarded to you will be reduced by 20 percent.
Because of the modified form of comparative negligence doctrine, even accident victims who are 50 percent responsible for causing a wreck can recover some compensation for their injuries.
How is Negligence Proven in a Personal Injury Case?
In Texas, the injured victim, also known as the plaintiff, must prove that the defendant's failure to act with reasonable care caused the accident. To prove this, you need to demonstrate to the court that the following elements are present:
Duty
Duty refers to the defendant's responsibility to behave with care so others stay safe. Duty can signify expectations in a relationship between a doctor and a patient, where the doctor has a duty to treat the patient with medical care and expertise. Drivers on the road also have a duty to pay attention and not become distracted behind the wheel, so others won't be endangered.
Breach of Duty
After duty has been proven, the court must decide if the defendant breached their duty by acting, or failing to act, in the same way a reasonable person would in a similar situation. For example, a driver must pay attention to the road. If that driver was texting while driving, and then hit a bicyclist, that driver breached their duty of care.
Causation
You must also prove that the defendant's breach of duty directly caused the damages. Sometimes in Texas personal injury cases, the defendant will argue that although there was a breach of duty, that breach is not what caused your injuries or damages. Two types of causation must be proven:
Cause in Fact – The plaintiff must prove that the injuries were "in fact" caused by the defendant's breach of duty. That means proving that the bicyclist would not have been hit in an accident if the driver had been paying attention.
Proximate Cause – Was the defendant's breach of duty obvious to a reasonable person? Following the previous example, was it obvious to a reasonable person that the driver should not have been texting behind the wheel?
Damages
After proving the breach of duty and causation, you must also prove that you truly suffered injuries and damages. Damages include physical injuries, property damage, pain and suffering, and more. The total amount of damages indicates the amount of financial compensation your lawyer will seek in your personal injury case.
Turn to Trusted Personal Injury Attorneys in Houston.
The personal injury attorneys at Sutliff & Stout want to help if you or a family member have suffered injuries in Texas. Sutliff & Stout was founded with the belief that everyone deserves the highest quality legal representation. We are passionate about helping victims in Houston and across Texas get the compensation they need after an accident.