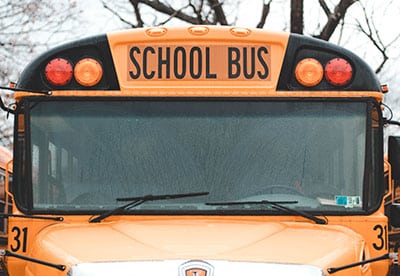 With kids back in school, drivers must pay special attention to school zones. Here are some school zone safety tips to help keep our kids and communities safe:
Slow Down: Children don't pay attention and often don't appreciate the risks associated with their behavior. As a result, school zones require you to reduce your speed so you have time to react to a dangerous situation. The following is some basic information to help you better understand the science behind the need to slow down.
According to the American Association of State Highway and Transportation Officials (AASHTO), it takes a driver 2.5 seconds to perceive and react before hitting his or her brakes. That means at 35 mph a driver will travel 125 feet before he or she is able to take an evasive maneuver (e.g. swerve or hit the brakes). That is almost half a football field.
Be Alert and Don't Fall Into Your Same Old Routine: It is easy to get into a daily routine with a common route to and from your house. This familiarity can be dangerous because over 70% of accidents occur within ten miles of your house. This is especially problematic if your route takes you by a school zone because the road is the same but the conditions have completely changed.  Remember to drive defensive and pay extra attention to children near the roadway.
Don't Touch Your Cell Phone: Approximately 1 in 10 drivers are distracted by their cell phone while driving in a school zone. Texas drivers are not allowed to talk, text, or use their handheld devices in school zones.
Stop for Buses: It is against the law to pass any school bus that is stopped and operating with a stop sign. In 2017, Texas Highway Patrol Troopers issued 1,100 citations and 573 warnings for passing a stopped school bus. Drivers who violate the law can expect a fine of $1,250.
Park Safely: It is important to use only designated drop-off locations and parking spots.  Car pool lines are designed to help keep children safe and away from cars.  If you are dropping off your child in a non-designated area, you are putting him or her at risk.  Likewise, if you park in a restricted area, you may be impeding the field of view of other drivers and, thus, you are putting others at risk.  You are never in such a hurry that it is worth taking this type of risk.
Resources: