Tips for Maximizing Your State Farm Insurance Claim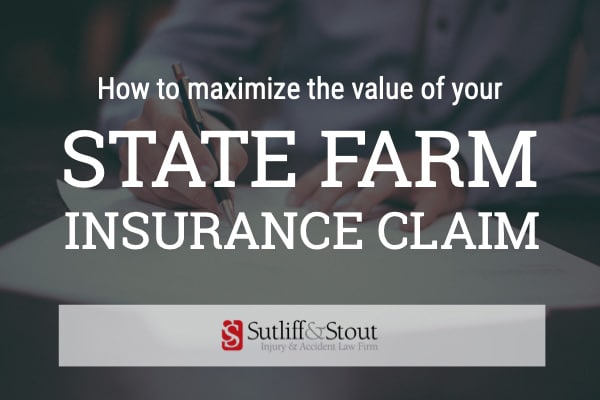 State Farm is one of many insurance companies you can file a claim with if you were involved in an accident. If you're here because you need to file an insurance claim with State Farm, you must understand that State Farm's goal is to pay you as little as possible.
In order to recover fair value for your accident or injury claim, it's essential that you be equipped with a plan for combating the tactics that insurance companies like State Farm use to pay you as little as possible. Read below to find out how you can stay protected.
Resources For Filing a State Farm Insurance Claim
Key Steps to Take after Your Accident
If you've recently been involved in a car accident, you are probably wondering what's next in your auto insurance claim process. Whether you're the passenger or the driver, we recommend that you:
Check for injuries, including those that may not show up until several days or weeks after the accident.
Make sure you have a police report, even if the accident was minor (such as a fender bender).
Notify your insurance agent right away, even if the accident was minor (such as a fender bender).
Don't sign any documents, especially legal documents, unless it's for the police.
While your memory is still fresh, make notes about the accident, including the driving conditions at the time of the accident (such as the amount of traffic, weather conditions, potential witnesses, aggressive driving, etc.) and store them in a safe place.
Don't give your opinion about the accident to anyone but your lawyer; when asked for paperwork, provide it without discussion of the accident.
Need Help Dealing with State Farm?
To State Farm, you are just a number in a file. Their goal is to pay you as little as possible. To maximize the value of your claim you should speak to qualified legal professional who will represent your best interests, not State Farm's shareholders'.
How to File a Claim with State Farm
If State Farm is your auto insurance company, you can file a claim with State Farm in a variety of different ways. Chances are if you called your insurance agent at the time of your accident, they will have instructed you about how to get the claims process started.
However, if you haven't spoken to your State Farm agent yet or any other company representative but have your police report in hand, you can file a claim with State Farm by email, phone, mobile app, or website. By filing a claim online, you can also check the status of your claim at any time or upload or view documents relevant to the claim process.
If you were involved in a car accident that wasn't your fault and the at-fault driver's insurance company is State Farm, it's up to you or your auto insurance company to help you file a claim against them. This way, the other driver's policy can help you pay for the cost of your property damage and sometimes your medical expenses. Because Texas is an at-fault state, you can file a claim with the other driver's insurance company for any accident-related property damage and medical expenses.
To file an insurance claim with State Farm you do not need a copy of your accident's police report. However, your insurance provider may try to seek out a copy to confirm the details of your accident and establish fault.
If your car was hit while parked, your rate will likely increase following an insurance claim. Anytime a claim is filed against your insurance, regardless of fault, there is a chance that your insurance rate will rise for a prolonged period of time.
How Long Does It Take For State Farm To Pay A Claim
State Farm does have any time requirement for how soon you can file a claim. The company does, however, highly encourage policyholders to follow a claim as soon as possible following an accident. A large portion of claims are paid within only a few weeks, but that's not always the case. In some cases, claims can take months until they're paid out. 
Need Help Dealing with State Farm?
State Farms' goal is to pay you as little as possible. To maximize the value of your claim, you should speak to an expert accident lawyer who will represent your best interests, not State Farm's shareholders'.
When filing a claim with State Farm, make sure you have the following:
Your insurance policy number, or the name and insurance policy number of the at-fault driver
A copy of the police report from the accident. If you don't have it, you can call the police department and request a copy.
Contact information for any passengers that were involved in the car accident.
Documented evidence of all damages (pictures from your cell phone are OK)
The contact information for a trusted repair shop, if you would like to request an independent estimate
Details and documentation of any accident-related bodily injury, including your initial doctor or hospital visit, the results from that visit, and any other relevant information
How to Contact the State Farm's Claim Department
Toll-Free Number: 1-800-782-8332
Hours: Toll-free number operational 24 hours a day, 7 days a week
Website: https://www.statefarm.com/claims/claims-help 
Email: [email protected]
Twitter: @StateFarm
Corporate Headquarters:
State Farm Insurance
One State Farm Plaza
Bloomington, IL 61710
What is a "Claim Number" and Why Do I Need It?
Each person that files a claim with State Farm is given a claim number. Essentially, you are just one of thousands of others making a claim against the company. To keep track of all of these claims, State Farm assigns each claim a "claim number." This is their way to internally track your claim, and pull together all of the data and information on your claim.
In essence, State Farm will keep a file on you, your accident and your treatment. Throughout the claims process, you will be asked to provide this number when calling to speak about your claim or when sending in medical bills or records.
State Farm's History
State Farm is one of the largest insurance companies in the United States. Since opening its doors in the 1920s, State Farm has serviced automobile insurance for decades. It began by offering insurance for farmers, but later expanded its services to other insurance sectors, including homeowners and life insurance.
In 2007, an investigation conducted by CNN linked State Farm and other major car insurance companies as one of the top firms that are increasingly fighting or attempting to deny claims from those alleging injury. This makes State Farm sometimes difficult to deal with because of their experience working in bodily injury claims and the resources and knowledge at their disposal. Similarly, in the aftermath of Hurricane Katrina, State Farm was accused of wrongly denying claims to its customers in Louisiana and Mississippi.
This is why it can be detrimental if you wholly rely on State Farm to handle your claim. Contact a top-rated Houston car accident lawyer to navigate your car accident claim.
What You Can Expect Dealing with State Farm
While every State Farm insurance agent, adjuster, and local branch is different, many of the processes used to streamline property damage and bodily injury claims at large companies will be identical.
With a focus on maximizing profit and using every tool at its disposal to investigate and often deny claims, large insurance companies like State Farm will do everything they can to try to invalidate claims against them. This is why it can be especially helpful to have the best car accident lawyer on your side that knows how to deal with large insurance companies and anticipate roadblocks or delays they may put up.
When to Contact an Attorney?
For simple property damage claims stemming from minor accidents, we recommend that our clients follow the regular property damage claim process and use the tools that State Farm offers to document their accident, file their claim, and get a second opinion from a trusted auto repair specialist to ensure they're getting the value of the repair or the totaled vehicle.
In the case of bodily injury claims, we suggest speaking to and possibly hiring an accomplished personal injury lawyer to help you navigate the bodily injury claim process. Insurance companies like State Farm have been built to protect their revenue at all costs and will use all of their available resources to investigate and find faults in your claim. The accomplished personal injury lawyer at Sutliff & Stout will do all that they can to get you the maximum compensation you deserve.