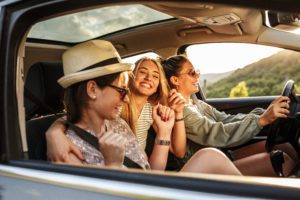 The Fourth of July is just around the corner, and people across Texas are gearing up for the holiday weekend. July 4th is a great time to get together, whether for backyard barbeques or watching fireworks light up the Texas sky. However, the Fourth of July weekend is also one of the most dangerous for driving. Experts report that the holiday results in 339 to 481 deaths from auto accidents nationwide. Do not let a car accident ruin your holiday weekend, and follow these safety tips.
If you were in a car accident in Texas, contact the injury attorneys at Sutliff & Stout. We can conduct a thorough review of your accident, including the circumstances leading up to it. Our Board-Certified accident lawyers commit themselves to protecting the rights of accident victims and securing compensation from negligent parties.
We want to help you too.
Submit the short form below to get a free case review.
How to Stay Safe When Driving on the Fourth of July
The first week of July is one of the busiest American travel periods since many people take advantage of long weekends for extended vacations. With so many people on the road, Texas drivers must be extra cautious when traveling. Let's look at some of the ways you can keep yourself and passengers safe this Fourth of July weekend.
Don't Drink and Drive
Alcohol is a staple for many July 4th celebrations but never get behind the wheel after drinking. Alcohol will impair your judgment, and driving while under the influence creates unnecessary risk for everyone on the road. Drinking and driving is also illegal in Texas, and a conviction may lead to hefty fines, jail time, or license suspension. Do not risk a criminal record. Either establish a designated driver or stay sober.
Because of intoxicated drivers, it's best to avoid driving late at night during the holiday weekend. While you may be safe by not drinking and driving, that doesn't mean other drivers won't do the same. According to a case study conducted by Sutliff & Stout, Houston was one of the top 15 Texas cities with severe cases of drinking and driving accidents on July 4th weekend. Houston had a fatality increase by 75% in the weekend alone because of negligent drivers choosing to drive after drinking. If you can, avoid the streets as often as you can over this holiday weekend.
Drive Defensively
Defensive driving is a critical tactic that will be beneficial anytime you are behind the wheel. The goal is always to be aware of your surroundings and react appropriately. A defensive driver:
Anticipates other drivers' actions
Ignores distractions
Focuses on the road and other vehicles
Reacts appropriately to road and weather hazards
Signals when turning and merging
Follows speed limits and other traffic laws
By driving defensively, you will be better prepared to handle various situations, including reckless drivers, road hazards, and dangerous weather conditions.
Stay Focused on the Road
Distractions play a big part in causing auto accidents in Texas. However, many people make the wrong assumption that texting behind the wheel is the only distraction drivers face. While it is a leading cause of accidents, distracted driving can also include eating, changing the radio, adjusting the GPS, or interacting with passengers. When driving, always keep your hands on the wheel, your eyes on the road, and your mind on driving. Doing all of these things may decrease your risk of being involved in an accident.
Load SUVs Properly
When loaded down with additional weight, such as passengers and luggage, SUVs become less stable. Additionally, SUVs become harder to control in poor weather conditions and must work harder to move forward with additional weight. Avoid over-packing whenever possible, and pack a second vehicle when necessary. When packing your SUV, ensure you can still see out of the rear windshield.
Allow for Additional Travel Time
Since most Americans have the Fourth of July off, millions of people will use the day to visit friends and family. That means there will be an increase in traffic. If you are planning to leave town that weekend, allow for extra travel time. You do not want to put yourself behind schedule and rely on speeding to make up the time. It's also a good idea to keep your plans flexible in case of traffic delays. In addition, try to avoid driving during peak times between 11 a.m. and 4 p.m.
Experienced Car Accident Attorneys in Houston Are Here to Help
Even though you took every precaution to keep yourself safe on Texas roadways this Fourth of July weekend, you may still end up in a car accident. If the other party was negligent in causing the crash, you might be entitled to financial compensation for your losses. However, obtaining compensation for your accident-related expenses may be hard to do independently, so consider hiring a top Houston car accident lawyer.
At Sutliff & Stout, our accident attorneys believe that everyone deserves the highest quality of legal representation, and we commit ourselves to serve our clients with compassion, personal attention, and respect. With over 50 years of legal expertise in Texas car accident law, our Board-Certified car accident attorneys will do everything possible to hold the negligent party accountable. To schedule a free consultation, call our experts at (713) 987-7111 or complete our contact form.