Understand the Circumstances Under Which You May Not Need to Hire a Texas Car Accident Attorney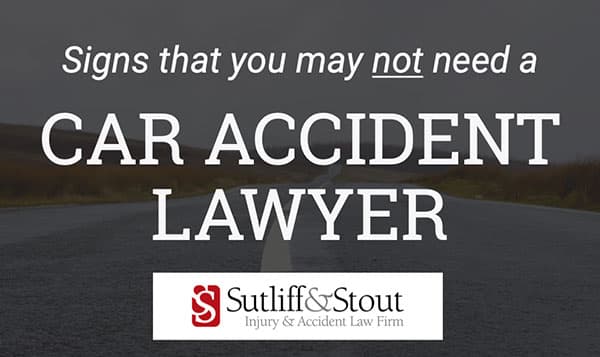 After an accident, it can be difficult to know exactly what you should do.
If you were injured or your car was damaged in a Texas accident, your first reaction is probably to seek some sort of compensation.
In many cases, this may involve hiring a car accident lawyer to sue, especially when the other party is at fault.
But before you do, ask yourself: Do I need to hire a Texas car accident attorney?
There are several circumstances under which a reputable auto accident lawyer will actually refuse to take your case.
Why are Texas car accident lawyers telling me when I shouldn't hire them?
We get it – this isn't the type of advice you'd expect a car accident law firm to publish on its website. However, at Sutliff & Stout we believe that it is our duty to be honest and transparent about when it's actually in your best interest to hire a lawyer to help you get compensation.
With that being said, if you've been involved in a car accident it is always in your best interest to at least speak with an accident lawyer about your case. We provide free case evaluations, and so there is nothing for you to lose – and plenty to gain – by getting qualified advice from a professional.
6 Signs That it May Not be Necessary to Hire a Texas Car Accident Attorney
---
You may not need a Texas car accident lawyer if…
1. No one was injured.
Although some accidents are very severe, many are not. Fender benders and other small accidents frequently leave everyone involved unhurt, even if there was a collision.
If you were not injured in the accident, or you only suffered very minor injuries that got better in just a few days, it's probably unnecessary to hire an accident attorney.
In these cases, you can more often than not work out the issues directly with your insurance company without the help of a lawyer.
Return to top ↑
---
You may not need a Texas car accident attorney if…
2. You were at fault.
If the accident was your fault, then a car accident attorney or personal injury lawyer can't help you. Instead, you would need an attorney to defend you against claims from the other party. Insurance companies generally provide attorneys to defend their clients as a benefit of your insurance.
If you also suffered injuries in the accident, even if you caused it, you should consult an attorney about pursuing a claim. Depending on what state you are in, the common law doctrine of contributory negligence may prevent you from recovering for injuries suffered as a result of your own actions.
Return to top ↑
---
You might not need a Texas auto accident lawyer if…
3. You aren't concerned with being paid.
Small collisions or other minor road accidents may not even result in physical damage to your vehicle or personal belongings. In those instances, it's perfectly fine to decide to move on without pursuing a claim.
The same is true for some minor injuries. If you feel that your injury isn't a big deal, you probably don't need a lawyer.
But be careful—make sure your doctor clears you of any risk before deciding not to hire an accident attorney. If you suffered any injuries that may have long-term complications, it's a good idea to hire an attorney to make sure you receive the compensation you deserve.
---
You might not need a car accident lawyer if…
4. You are familiar with how to use your insurance.
One of the most complicated parts of the post-accident process is navigating your insurance claim. While it's not difficult to obtain insurance, knowing exactly how to take advantage of its coverage can be complex, especially if you live in a different jurisdiction than the at-fault person.
If you are familiar with all of the moving parts of your insurance plan, then it may be unnecessary to hire a Texas auto accident lawyer to help you out. However, if your injuries are significant, you should always speak with a qualified attorney. There is simply nothing to lose by doing so.
---
You can go without a Texas car wreck attorney if…
5. You weren't that hurt and the potential recovery wouldn't be worth the cost of an attorney.
In addition to seeking medical attention, one of the first things you should do when considering whether to hire a Texas car accident injury lawyer is to ask yourself if it would be worth the cost.
Many attorneys work on a contingency basis for personal injury cases, meaning they will take a percentage of your recovery. If your recovery is small, then you may end up paying most of what you win to the attorney.
If a claim is too small, any attorneys will advise you not to hire them because the over cost of their services would be greater than what you could win.
Essentially, it's important to assess how much compensation you think you could recover based on your losses. Damage to a junker vehicle, for example, is probably not worth hiring an attorney over.
---
You likely don't need to hire Texas car accident lawyer if…
6. You weren't that hurt and you have the time and resources to pursue your claim on your own.
Texas car accident lawyer can help by making the process more efficient. But if you have plenty of time on your hands and are willing to represent yourself, you don't need to hire one.
A large part of the process involves phone calls, getting the right documents, and following up on details as you build your case with the insurance company.
Depending on the severity of your injuries, this may not be possible. In those circumstances, hiring a lawyer is the best choice to make sure you receive the compensation you deserve.
---
The Bottom Line…
Hiring a Car Accident Lawyer Can Significantly Increase Your Odds of Receiving a More Substantial Payout
If you have a viable car accident injury claim, and a reputable attorney is willing to take on your case, it most circumstances it is in your best interest to hire an attorney.
According to a survey conducted by Nolo, 91% of people who hired a lawyer received a payout. On the flip side, just 51% of folks who attempted to get compensation without a lawyer ended up receiving a payout.

The survey further shows that hiring an accident injury lawyer drastically increases the amount of the payout that people receive. Respondents who hired an attorney reported an average payout amount of $77,600. Folks who didn't have an attorney? Their reported average payout was a full $60k less, at just $17,600.

This means that, on average, hiring a car accident attorney results in a 340% larger recovery.
Now you might be wondering about how much the attorney takes from that larger settlement, and it's a valid question. Texas auto accident attorneys work on a contingency fee, meaning that they take a percentage of the ultimate recovery.
However, even when you factor in this percentage, the client still typically comes out ahead because the lawyer can help make sure the person is compensated fairly, not just what the insurance company would like to pay.
By way of example, using the numbers from Nolo's survey, the average recovery for folks who hired a lawyer was $77,600. Assuming the lawyer fee was 40% of the recovery, you would be left with $46,560. Comparing this number to the $17,600 typically received from unrepresented individuals, it is clear that it is to your benefit to hire a Board Certified car accident lawyer.
Unsure If You Should Hire a Car Accident Lawyer?
If you've been in an accident but you're still unsure whether you need to hire an attorney, contact Sutliff & Stout today for a free, no-obligation case review.

---