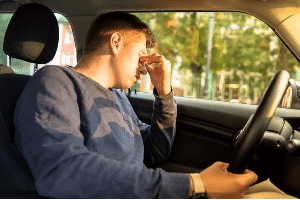 It is common for motorists in Texas to experience some exhaustion while driving. Although coming home from a long day at work or sitting in traffic for an extended period of time will make anyone yawn a few times, drivers who operate their vehicles while they are exhausted or fatigued are putting themselves and fellow motorists in danger.
Roads in Texas are known for having a difficult infrastructure to navigate, which makes it even more dangerous when motorists are operating their cars while fatigued. There can be serious consequences for driving while tired, which can be just as dangerous as driving while under the influence of drugs or alcohol.
We want to help you too.
Submit the short form below to get a free case review.
Types of Accidents in Texas Caused by Fatigued Drivers
While many motorists are familiar with accidents that are caused by drunk drivers, fatigued drivers can cause accidents that are just as life-threatening. There are a variety of ways that a person who operates their vehicle while experiencing exhaustion can cause collisions such as:
Veering off the road or into another lane of traffic
Rear-ending another vehicle
Clipping another car's side mirrors
Failure to stop at a red light, stop sign, or railroad crossing
Fatigued drivers may feel confident in their ability to drive safely for a certain distance while they are tired, but any individual who feels that they are experiencing unsafe levels of exhaustion should always avoid getting behind the wheel.
Common Causes of Driver Fatigue
Drivers may end up fatigued for any number of reasons, including sickness. Drivers who are ill or physically hurt should also avoid operating a vehicle, as those conditions may bring on complications, such as tending to symptoms that may distract the driver from focusing on the road. Other common causes of an individual driving while fatigued include:
Lack of sleep
Sleep disorders such as narcolepsy or insomnia
Medications that cause drowsiness such as nighttime cold medication
Driving for long periods of time without a rest
Parents, students, teachers, and full-time workers are some of the most common drivers who experience drowsy driving. Pulling an all-nighter to study for a final, staying up with a crying newborn, or working a double shift are frequent situations that citizens in Texas experience, but they are no justification for driving while fatigued.
Signs of Fatigued Driving
It can be easy for others to notice when a person is visibly fatigued, but drivers themselves may have a difficult time recognizing the signs. If someone you care about is attempting to operate a vehicle while they are tired, you should encourage them to take time to rest or sleep before driving their car while fatigued.
If you are unsure about whether you are experiencing the signs of tired or fatigued driving, there are several signs that usually indicate that you may be experiencing exhaustion. Some symptoms to look out for are:
Nodding off
Tunnel vision
Slow reaction time
Delayed response to changes in traffic
Swerving in and out of lanes
Not all symptoms of fatigued driving will be the same for everyone. Motorists who are used to being on the road for long periods, such as long-haul truck drivers, may have a higher threshold for fatigue, but they may also experience a higher risk of getting into an accident if they misjudge their own exhaustion. The best course of action if you are about to operate a vehicle while fatigued is to rest instead or call another driver to take you home.
Work with a Reliable Texas Car Accident Attorney
After a car accident, it can be difficult to know where to turn or what to do. The team of skilled legal representatives at Sutliff & Stout can guide you through the process of taking the first step in your fatigued driving car accident case. Our TX  car accident lawyers have successfully worked with thousands of motorists in Texas, with recovering millions in accident injury lawsuit settlements, and now they're waiting to help you.
When you're ready to start building your case, call or text us at 713-987-7111 to speak with an experienced attorney. As one of the best personal injury attorneys in Houston and in the state, we provide premiere legal services for your Texas or Houston wreck. You can also reach out to us online for more information.