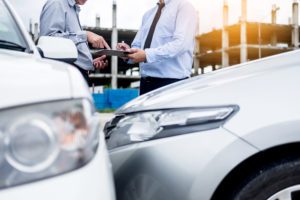 No one can ever predict when an accident is about to happen. You could be enjoying an afternoon driving with your family through downtown Houston when suddenly you're spinning out in the middle of an intersection because another careless driver collided with your vehicle. We never want to imagine the worst, but what do you do when the worst occurs?
One of the best ways to prevent a broadside, otherwise known as "T-bone," accident from occurring is to safely navigate the places where they are the most frequent. Staying knowledgeable and alert can help you avoid a collision in even the most difficult traffic situations.
We want to help you too.
Submit the short form below to get a free case review.
The Most Common Place for T-bone Collisions
Side-impact accidents occur most frequently in the middle of intersections. Reports have shown that nearly a quarter of all accident fatalities occur at intersections as a result of drivers not paying attention or being unable to stop at the appropriate time. Research conducted by state and federal agencies illustrates that a serious reworking of the infrastructure of our roadways needs to occur to reduce and hopefully prevent intersection collisions from happening.
Red-light cameras and other safety measures have impacted the frequency of these accidents, but they will likely still occur until a systematic change of the roads takes place. Experts have devised many alternatives and solutions for the issue, but none of them have been widely implemented. Common suggestions include roundabouts with lower speed limits and lengthening the time when the yellow light is active to give motorists more time to prepare for a red light.
Top Causes of T-bone Car Accidents in Texas
Unfortunately, there is no law that says someone who is a bad driver can't own and operate a vehicle. As a result, you're likely to encounter plenty of people on the road who don't seem to follow the same rules as everyone else. These reckless drivers are commonly responsible for most of the collisions on the road in Texas today. Law enforcement departments are cracking down on this behavior, but it remains a prevalent issue. Other common reasons for side-impact collisions in Texas include:
Distracted drivers
Drunk drivers
Aggressive drivers
Older drivers
Risky drivers
Teenage drivers
Regardless of what caused the accident, it's important to acknowledge the potential danger of these accidents and how common they are in Texas. In 2018, 734 people living in Texas lost their lives as a result of intersection and side-impact crashes. With the help of state and federal planning for safer roads and intersections, that number could be reduced completely.
What to Do in Texas If You've Been Involved in a T-bone Collision
If you ever find yourself in a position where you are the victim of a T-bone accident anywhere in Texas, you may be forced to deal with injuries or severe damage to your vehicle. Having passengers in the car with you can complicate the situation even further, especially if they were hurt in any way as a result of the other vehicle colliding with you.
Seek medical attention: Immediately call for medical assistance if either you or your passengers were injured in the accident in any way. There are some of the best hospitals in Texas to help you with your injuries sustained in a T-bone crash. After you have identified that you and anyone in your vehicle is safe, be sure to check on the other driver's condition.
Contact law enforcement: Dial 911 and ask them to dispatch a police officer to the scene. Provide the operator with as many details about the incident as possible, including street names and the make and model of all vehicles involved.
Gather evidence: If you are not leaving the scene for medical purposes, be sure to photograph the scene of the accident. Record the license plate number, the damage done to both vehicles, the location of the streetlights, and any injuries you suffered.
T-bone collisions can result in serious or fatal injuries, with damage frequently occurring if any of the drivers or passengers are not wearing their seatbelts at the time of the crash. Common damage from T-bone accidents includes broken or fractured bones, brain damage, bruises, bleeding, lacerations, and other more serious and fatal injuries.
Let an Experienced Texas Lawyer Help You Get Financial Compensation
Dealing with the fallout of a side-impact crash can be devastating. You might feel burdened financially by medical bills, exhausted from dozens of calls with insurance companies, all while still trying to recover from your injuries. Partnering with a trusted car accident lawyer in Texas will help lighten the load. The skilled team at Sutliff & Stout, a Texas car accident law firm, is dedicated to helping you receive the necessary financial compensation after your Texas side-impact collision. They are just one of the many best accident attorneys in Texas that you should side with for your Houston wreck or fatal accident.
Don't go another day without contacting a lawyer you can trust. Give us a call today at 713-987-7111 or reach out to us online to find out more information and learn how our legal professionals can help you.