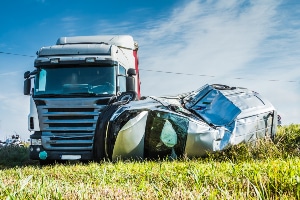 A total of 4,136 people died in large truck crashes in 2018, according to the U.S. Department of Transportation. It's no secret truck accidents result in fatal consequences and that a truck accident lawyer is needed. But how exactly does one know when to hire one? There are a few key items to determine if you need an attorney for your truck accident. Read below to find out if you need to hire a truck accident lawyer.
We want to help you too.
Submit the short form below to get a free case review.
What Caused the Accident?
One of the key questions needed to determine if you need a lawyer or not is: What or who caused the Texas truck accident? If the accident were due to a single-vehicle incident, it would be difficult for a lawyer to take your case since blame falls upon the driver's shoulders, and it's hard to admit fault if the only one to blame is the driver who caused the accident. However, if the collision is due to negligence brought forth by a second driver, or it's caused by external factors, a lawyer will be vital for your case. If the accident occurs among a two-vehicle accident, or an accident involving more than two vehicles, assigning blame on a driver outside of the first vehicle will grant you a more successful chance of getting compensated for your damages.
How Severe Are Your Damages?
Whether it be vehicle damage, property damage, or personal injuries, the severity of your damages can significantly affect whether or not you need a truck accident lawyer. If the collision didn't result in any external or internal injury, it is less likely you need to contact a lawyer for your accident. However, if your collision resulted in any fatal injuries or fatalities, and you need to miss work because of it, a lawyer will be required to assess your damages and give you the best-guaranteed compensation.
There are two kinds of damages you can recover: economic damages and noneconomic damages. Economic damages represent the documented dollar amount a person has lost, resulting from an accident. These damages are calculated from losses based on bills or records. This is not just limited to present-day losses, either, and can be applied to compensate for future expected losses. Because these losses are generally concrete and fact-based, few, if any, limit how much a person can recover in economic damages.
Common economic damages include
Medical fees
Property repair fees
Lost wages
Future economic losses
Noneconomic damages cover those damages that do not have an inherent dollar amount. Naturally, these are harder to calculate since there is no corresponding bill or record that puts a price on the injury. In addition, some states may have their limits on how much a person may recover in noneconomic damage.
Common noneconomic damages include:
Pain and Suffering
Emotional pain or Anguish
Loss of Consortium
Disfigurement or disability
Loss of Enjoyment of Life
How Involved Were the Police? 
After every major truck collision, police will arrive on the scene to assess the situation. The police will write a police report on your accident and record your statement of what occurred. It's imperative that your statement only consists of facts and events that you remember. If you aren't careful of what you say, especially to the officer, it will hurt you later down the line if your case goes to trial. Avoid speculation, and if you don't remember what happened, say, "I don't remember." Once the report is written, you can request a copy immediately. It should be available after 14 days.
If you aren't conscious when the police arrive, or you are at the hospital, file a report when you are able to do so. Not reporting an accident to the police is illegal in the state of Texas.
Overall, a lawyer is needed if all collision damages exceed $1,000, and it requires police to assess damages. When it comes to truck accidents, a lawyer is almost always needed since the size and weight of these trucks cause significant damage compared to a regular passenger vehicle.
The Claims Process
Just as you should file a police report as soon as possible, you should also inform your insurance company of your accident. If not reported, your claim could be denied, which won't give you access to file a lawsuit for your case.
It's important to note that the statute of limitations in Texas is a maximum of two years, starting from the incident of the accident. No person can file a personal injury suit or a wrongful death suit if the date goes past two years.
You can inform your insurance company about your accident to an insurance adjuster by filing a claim. Just like with the police, it's imperative you stick to the facts with the insurance adjuster. In fact, speak to your lawyer first before contacting the insurance adjuster. Adjusters will try and get you to admit to being at fault even if you aren't, or they will try and get you to settle for an amount that you don't deserve. Have your lawyer review anything the adjuster sends your way so you can avoid being taken advantage of. 
Hire a Houston Truck Accident Lawyer at Sutliff & Stout Today
If you were involved in an accident with a commercial truck, and you can identify yourself in one or more of the above situations listed, call a truck accident lawyer as soon as possible. Lawyers have extensive knowledge and the expertise to make sure you're compensated for your damages. Call your truck accident lawyer today for professional legal counsel for your accident.