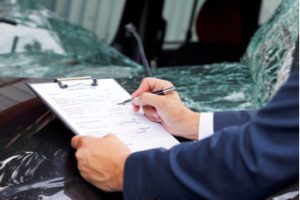 Many Americans are likely to be in a car accident at least once in their lives. According to Forbes.com, the average American experiences three or four car accidents in their lifetime, and almost all collisions result in significant property damage. The experience of a car accident can be frightening, and it's not always easy to know what to do right after it happens. If you've been in a car accident caused by another driver, you should be compensated for your injuries and property damage.
The car accident attorneys at Sutliff & Stout have helped countless car accident victims in Houston with their injury and property damage claims. The following article shares our tips for successfully filing a property damage claim after a car accident in Texas:
We want to help you too.
Submit the short form below to get a free case review.
What Types of Property Can I File a Claim for After an Accident?
When you're involved in a car accident that was caused by the negligence of another driver, you're entitled to seek compensation for the damages to your vehicle and other possessions. There are two types of property damage claims resulting from a car accident.
Damages related to your vehicle, which include:
The cost of repairing your vehicle
The price of a rental car while your car is being repaired
The cost of replacing upgrades in your car, like a stereo
The fair market value of your vehicle if it gets totaled
Damages related to your personal property, which include items such as:
Cell phones
Sunglasses or eyeglasses
Laptop
Jewelry & watches
If you had valuable possessions in your car at the time of the accident, like your weekly groceries, you could seek compensation for that loss. Be sure to keep the receipt as proof, and that expense can be added to the total value of your property damage claim. You may even seek compensation from the negligent party for the car seats that got damaged in a wreck.
What Should I Do After a Car Accident?
There are steps you should take immediately after a car accident to ensure you're fully compensated for everything that's been lost. In Texas, you're required to stay at the scene of the wreck, check to ensure everyone is safe without injuries, and exchange contact information. After that, do the following:
Report the Accident
Always call 911 and report the accident. If there were injuries, the 911 dispatcher would send emergency medical help immediately, along with police, to redirect traffic and be certain that the conditions are safe for you and other drivers. Whether there were injuries or not, call the police to complete a report. The police report is essential evidence used to prove which driver was at fault.
When the police arrive, they'll ask both drivers, along with any witnesses, to recount the accident. The police officers will investigate the scene and might issue citations to the drivers. If the negligent driver in your case receives a ticket, that will benefit your property claim for compensation.
Gather Key Information
While you're waiting for police to arrive at the accident scene, write down as much detailed information as possible. That can be helpful in the claims process. Critical information you want to collect includes:
Contact information of the other driver
The make, model, and license number of the other car
The other driver's insurance name, policy number, and phone number
Any admission of fault by the other driver
If the accident resulted in significant injuries, it might be challenging to gather all of this information. The more you have, the stronger your property damage claim will be.
Take Photos for Proof
Be sure to take photos immediately after the accident. Use your cell phone and try to take as many detailed pictures and videos as possible from all different angles. You want to record the placement and damage of both vehicles after the accident, along with the accident scene. That's valuable proof that will support your claim.
Keep a Written Record
Any property lost in the accident should be compensated. To ensure you recover all of the damages lost, take photos of items in your car that were damaged, like a car seat or sunglasses. If you have receipts or pictures of these items before the crash, that will help determine the value in your property claim. Making notes and keeping a journal of the accident will help you go through the claims process. Try to make notes that are as detailed as possible, including:
The date and time of the accident
The other driver's contact and insurance information
The names of any police officers that arrive on the scene
The police report number
Contact information of any witnesses
The conditions of the road at the time of the crash
Notes of conversations you have with any claim's adjusters
You'll want to be sure that your records are organized and easy to understand when you refer to them later. The more detailed and organized your records are, the stronger your claim for maximum compensation will be.
Call Your Insurance Company
Be sure to call both your insurance company and the other driver's insurer. If the other driver was at fault, their insurance provider should send a claims adjuster to inspect the damage and move forward with your claim. Whether you caused the accident or not, you must report it to your own insurance company. Most insurance companies include a notification clause in their policies that require drivers to inform them of any accident. Doing so protects your interests financially and legally.
Call Sutliff & Stout for a Free Car Accident Consultation
The majority of property damage claims are settled in a short time. By following these tips and keeping detailed notes, you maximize the amount of compensation that the insurance company is likely to offer in the settlement.
For further legal counsel on what to do after your accident, call the car accident attorneys at Sutliff & Stout for a free consultation. Board Certified in Personal Injury Trial Law, their attorneys have the experience and knowledge to guide you through this difficult time. To schedule your consultation, complete an online contact form or call their office at (281) 942-8694.