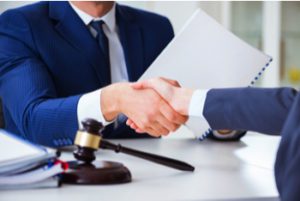 After a car crash, there are a few essential actions you need to take – many of which you might not have done before, which can make the process more confusing. First and foremost, you have to focus on your injuries and get the medical treatment you need. If your injuries are severe, the cost of emergency care and medical treatment can become extremely high, possibly more than your insurance coverage allows. If the negligence of another driver caused the accident, you should not have to pay for any expenses related to the accident. That's when you call an experienced car crash lawyer to help.
But how do you know if you're choosing the right lawyer to help with your case? Where does one even begin when it comes to searching for a car crash lawyer you can trust? In the following article, Houston's car crash attorneys at Sutliff & Stout offer their top recommendations for securing the best lawyer to help with your car crash injury claim.
We want to help you too.
Submit the short form below to get a free case review.
Tip 1: Ask Friends & Family for References
Anyone can search online to find a car crash lawyer in their area. But with an infinite amount of information available, it can quickly start to feel overwhelming as you try to narrow down your search. Our most important tip is to turn to those you already know and trust – your friends and family. If no one in your immediate family or close group of friends can provide a recommendation, ask a wider network of friends and colleagues by taking your search online and to social media.
Nothing is more reliable than a word of mouth recommendation. But in today's digital age, word of mouth can be translated differently than it was in the past. Word of mouth can be:
Friends on Facebook
Google reviews
and directories.
Talk to the people you trust most to find out where to turn first for legal aid.
Tip 2: Never Sign Without Discussing Fees
Before signing any contract, be sure that you have a full understanding of your lawyer's fees for representing you. Transparency is vital in any financial situation, including the legal services of a car crash lawyer. You want to be certain you have the fee agreement in writing before signing a contract.
At Sutliff & Stout, we work on a contingency basis, which means our clients don't pay a dime unless we recover compensation. Many law firms in Houston advertise a "no fee if no recovery" service, but you want to be confident you understand what those fees are, and other hidden fees that will be included on the final bill.
Tip 3: Find Out the Level of the Lawyer's Experience & Training
Before securing a car crash lawyer, find out the level of their legal experience and training. Consider their past cases and examine the car crash injury settlements they've won in the past. Some questions you can ask to get a full understanding of their experience and training are:
How long have they been practicing personal injury law?
What's the extent of their trial experience if your case doesn't settle out of court?
What percentage of their cases involve car crash injuries?
You want to feel confident that your lawyer is experienced, knowledgeable, and prepared to fight for your case. Most personal injury cases settle out of court, but if your case goes to trial, you want a lawyer who's prepared and confident about winning your case.
Tip 4: Find Out if Your Lawyer Will Personally Be Handling Your Case
Will your case be handled personally by your lawyer, or will you be passed on to an associate, paralegal, or intake person? Many lawyers in Houston advertise about fighting for their clients, but the truth is those clients are often assigned to a team of associates who handle most of the litigation.
Will your lawyer personally call you with updates about your case? That's an important question. Having an attorney who makes your case a priority and is happy to talk to you on the phone about important details is critical when selecting a car crash lawyer you can count on.
Tip 5: Trust Your Instincts
If something feels off when interviewing a potential lawyer, or it feels like you're being promised something that's out of anyone's control – your instincts are probably correct. You want a lawyer who genuinely cares about you and your recovery, not one who prioritizes the value of the case over what's best for you. You also want a lawyer who's honest with you about the weaker aspects of your case; not one skims over the more vulnerable parts and only speaks about the more robust points of your claim. Honesty and transparency in the relationship between you and your lawyer are essential.
Even if your lawyer has already started to represent you, if it doesn't feel right – move on to another lawyer.
Call Houston's Trusted Car Crash Attorneys
Choosing the right lawyer to handle your injury case can be an intimidating task. Whether you need a lawyer to represent you after you've been hurt in a car crash or after a knee replacement surgery went wrong – securing the right one for the job is imperative.
If you've been hurt in a car crash in Houston, the attorneys at Sutliff & Stout are here to help. When you choose our car crash attorneys, we take your case personally and are ready to take your case to trial to recover compensation for your losses. With board certified personal injury attorneys, Sutliff & Stout is a top-rated personal injury law firm that has served the Houston community since 2007 and helped thousands of clients recover hundreds of millions of dollars for their injuries.
To schedule your consultation with an experienced car crash lawyer at Sutliff & Stout, complete an online contact form or call our office today at (281) 853-8446.