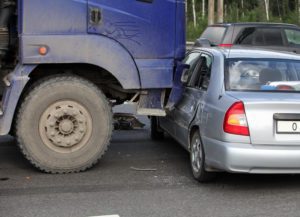 Truck accidents tend to have more complex and higher stake claims than car accidents. In fact, truck accident claims are complicated due to a variety of elements, such as more severe injuries and damages. Additionally, many trucking companies have insurance companies that aggressively pressure victims to settle for settlements that are far less than what they are entitled to.
If you have recently been involved in a truck accident and incurred serious injuries or significant property damage, it's essential to seek legal representation as soon as possible. Working with a skilled personal injury lawyer is the best way to help ensure your rights are protected and that you don't agree to an unfair settlement. Here is some important information to know on how truck accident claims differ from car accident claims.
We want to help you too.
Submit the short form below to get a free case review.
Truck Accidents Result in More Severe Injuries than Car Accidents
The size and weight of commercial trucks often mean that injuries in truck accidents are far more severe than in other kinds of car accidents. Unfortunately, the drivers and passengers involved in collisions with trucks often experience severe and life-altering injuries including:
Paralysis
Damage to internal organs
Broken or fractured bones
Neck and back injuries
These are just a few of the common injuries involved in truck accidents. It's essential to note that due to their immense size, commercial trucks greatly increase the likelihood of accidents resulting in fatalities.
Truck Accidents Result in Greater Damages
Since truck accidents usually result in severe injuries and property damage, individuals involved often seek much higher settlements than in other accidents. The majority of truck accident claims are resolved through settlements. However, it's essential to ensure you're receiving a fair offer that accounts for all your damages. In truck accidents, settlements are common, as most trucking companies and their insurance companies don't want to risk losing a case in court. Some of the damages you may be able to receive compensation for in a truck accident include:
Medical expenses and future medical expenses
Lost wages or earning capacity
Car repairs
Emotional pain and suffering
Disfigurement
Punitive damages
It's highly recommended to speak with an attorney before accepting a settlement.
Truck Accidents Have More Liable Entities
One of the primary reasons that truck accidents are usually more complex is that there are more parties that can be held liable for the crash. While most common car accidents involve only one negligent driver, truck accidents could stem from a variety of negligent parties. Some of the different entities that could be held liable in a truck accident include:
Trucking companies
Truck part manufacturer
Truck driver employees
Truck maintenance companies
Freight owners
When there are a number of parties who can be held liable, they may start to put blame on one another in efforts to minimize their own level of liability. This makes it essential to have a trusted attorney on your side who can ensure all negligent parties are held accountable.
Contact the Lawyers at Sutliff & Stout for Assistance with Your Personal Injury Claim
Getting into a truck accident can be an extremely overwhelming experience. While the immediate shock of the situation can be stressful, taking legal action as soon as possible is the best way to ensure your rights are protected.
At Sutliff & Stout, our experienced team has the skills and expertise to help ensure you receive a fair settlement from your trucking accident. Our firm has been recognized as one of the top personal injury law firms in Houston, and our team has helped thousands of individuals with their car accident claims.
If you are looking to discuss your car accident case with a personal injury lawyer, the team at Sutliff & Stout is here to help. Call us today at (713) 987-7111 or contact us online to discuss your injury or car accident claim.