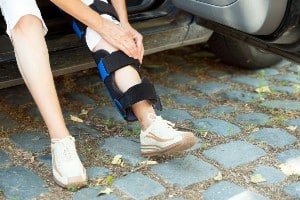 Car crashes are a frequent occurrence in Houston. If you're suffering from pain and discomfort in your knees or legs after a car accident, you should immediately focus on seeking medical diagnosis and treatment. Leg injuries can have lifelong effects on your mobility.
If you've suffered leg injuries in a car accident, you must also obtain legal counsel and representation to secure just compensation for your injuries. Sutliff & Stout personal injury attorneys have won hundreds of millions in recoveries for car accident victims throughout Houston and provide free consultations that can help you learn your legal options after a car accident injury.
We want to help you too.
Submit the short form below to get a free case review.
Knee Injuries from a Car Crash in Houston
Whether you're involved in a head-on crash, a rear-end collision or a two-vehicle wreck, your knees can become severely injured in an accident. Unfortunately, a seat belt and deployed airbags do not provide sufficient protection to your knees in the sudden impact of a crash. Your knees may slam into the steering wheel, dashboard, or car door in a severe crash.
Most commonly, car accident victims experience pain in their knees from an injured anterior cruciate ligament (ACL) or posterior collateral ligament (PCL). Accident victims often suffer a fractured or shattered tibia during head-on collisions.
Other common knee injuries that car accident victims experience include:
Knee fractures
Disjointed knees
Twisted tendons
Ruptured ligaments
Ligament hyperextension
These excruciating injuries can cause the knee to swell and may produce a "popping" sound. If a knee tendon is damaged during a crash, it can result in a permanent disability.
Car Accidents Can Cause Mobility Impairment from Hip Injuries
In a head-on collision, the forceful impact to your hips, often magnified by a seat belt, can lead to deep bruises, injury to the femur bone, and even hip joint dislocation. Any hip injury caused by a car crash will cause extreme pain and discomfort. When walking, victims often experience shooting pains in their side and may have difficulty sitting in an upright position without acute discomfort.
If you've suffered a hip injury from a car accident in Houston, you may need hip replacement surgery or alternate surgical procedures to embed screws and plates. Treatment and rehabilitation for any hip injury is painful, long-term, and can quickly become costly. It's in your best interest to contact a qualified and experienced personal injury attorney who can help you receive the best medical care and the highest reimbursement for your pain and damages.
Ankle Injuries Can Be Debilitating Following a Car Crash
Debilitating injuries after a car crash can range from brain damage to spinal cord injuries. However, ankle injuries can also leave an injured person unable to walk, work, or move around for a long time while recovering. Because your ankles are the joints that help you walk, turn, and carry the weight of your body, an ankle injury can prevent or impact normal activities in your daily routine that may drastically affect your quality of life.
In the first few seconds of a car collision, your body's instinct is to brace for the crash by pressing your feet against the floorboard or nearest hard surface. This brace for impact can cause a severe compression injury or cause ligaments to tear in the ankles. Any ankle sprain or fracture caused by a car accident will cause severe swelling and tenderness in the area and restrict foot movement for months.
Statistics on Car Accident Injuries in Houston
In 2019, statistics from the Texas Department of Transportation show 12,897 car accidents resulting in serious injury. This equates to one person sustaining injuries every two minutes and three seconds on Texas roads.
Car accidents in Houston resulted in the following injuries and fatalities:
Serious injuries: 1,392
Non-incapacitating injuries: 7,152
Fatal crashes: 240
Total fatalities: 253
Total crashes: 68,682
If you've experienced a severe injury in a car accident caused by another driver's negligence, the driver at fault should fully reimburse you for the losses and pain you've sustained. Since 2007, Sutliff & Stout injury attorneys have remained dedicated to helping injured victims in Houston, and if another driver's carelessness caused you harm, don't hesitate to contact us for legal help.
Call Houston's Experienced Personal Injury Attorneys for a Free Consultation After a Car Accident in Houston
If you've suffered any leg, knee, hip, or ankle injury after your car accident in Houston, please contact the personal injury attorneys at Sutliff & Stout for legal counsel today. Our car accident injury attorneys have helped countless victims recover full and favorable compensation after sustaining injuries from violent car crashes across Houston. We are committed to helping those who become injured through no fault of their own secure the financial payment they need to focus solely on their recovery.
Sutliff & Stout personal injury attorneys are highly recommended, with top ratings on Super Lawyers and a 10.0 Superb Avvo rating for Top Car Accident Attorneys. We work on a contingency basis, charging our clients no fee unless we recover compensation for them. To speak with an accomplished personal injury attorney today about your car accident in Houston, schedule a free consultation by completing a contact form or calling (713) 987-7111.