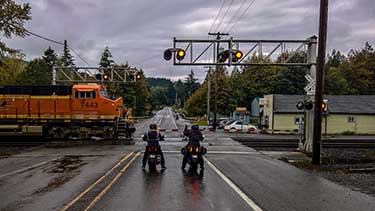 Like accidents involving cars, motorcycle crashes can occur in a number of situations and are often difficult to predict. There is a significant amount of data, however, that suggests that as many half of all motorcycle accidents occur at traffic intersections and involve a motorcycle and a passenger vehicle or truck.
Injuries sustained in motorcycle accidents tend to be particularly severe and can leave victims struggling to pay medical bills, while they take time off from work to recover.
Fortunately, when motorcyclists are injured as a result of another driver's negligence, they may be able to collect enough compensation to keep them financially afloat, so if you or a loved one were involved in a motorcycle crash, it is important to retain an experienced motorcycle accident attorney who can help you seek compensation for your losses.
The Dangers of Intersections
A large number of motorcycle accidents happen in or around intersections. Either due to reckless driving on behalf of the biker or failure on behalf of opposing drivers, these accidents commonly occur while cyclists pass through intersections.  According to the National Highway Traffic Safety Administration (NHTSA), around 56 percent of all motorcycle crashes occur on urban roadways, with the majority of those accidents taking place at intersections. Many of these crashes involve one of the two following situations:
The motorist attempts to make a left hand turn and does not see the motorcyclist traveling through the intersection in the opposite direction; or
A motorist sideswipes a motorcyclist who is also attempting to turn left.
In most cases, these types of accidents occur because the motorist either failed to check his or her blind spot and so did not see the motorcyclist or failed to yield as legally required. Because of the high rate of accidents that occur in intersections every year, both motorists and motorcyclists are urged to practice intersection safety.
The primary cause of motorcycle accidents happens when cyclists attempt a left turn through an intersection. Either the biker is injured due to their own negligence or an opposing driver commits an act of negligent driving and strikes the biker.
Intersections are highly traveled areas and so are also more likely to have potholes, standing water, and loose asphalt than are other parts of the road. While this may prove to be a minor hindrance for motorists, it can be extremely dangerous for motorcyclists who are much more vulnerable to poor road conditions.
Freeways
A high number of motorcycle accidents also occur on freeways, many of which are caused by a driver's failure to see a motorist approaching from behind. Other accidents are caused by road debris, including rubber from blown tires, cargo spills, and trash. These types of obstacles can cause serious accidents for motorcyclists who experience a more substantial impact when they come into contact with road debris.
For this reason, freeways in poor condition also pose a serious risk to motorcyclists, especially when they are traveling at high speeds or the roads are wet.
Call us Today to Speak With a Dedicated Motorcycle Accident Attorney
Motorcycle accidents tend to result in especially serious injuries, including broken bones, head trauma, and spinal cord damage. Treating these types of injuries can be both painful and expensive, so if you were recently injured in a motorcycle crash, please contact Sutliff & Stout at 281-853-8446 to schedule a one-on-one consultation with an experienced motorcycle accident attorney who can evaluate your case. A member of our legal team can also be reached via text message.