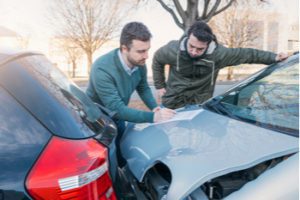 Car accidents happen every day. In the Texas Department of Transportation's most recent Crash Fact report, 12,161 car crashes resulted in 14,908 injuries in 2018 in Texas. Many of these accidents were so severe that not one day went without fatalities in Texas that year. Thankfully, a significant portion of these accidents only caused minor injuries. No matter how severe the accident was, insurance companies will need one piece of critical information when seeking coverage after the accident, and that's who was at fault.
Insurance companies seek to mitigate the value of claims, so when covering damages caused by car accidents, their goal is to pay out as little as possible. One thing to remember is to never admit fault. After an accident, you need to be careful about what you say to your insurance provider.
Speaking with a car accident attorney before speaking with the insurance company is crucial. If the insurance company assigns blame to you for causing the accident, the amount of coverage that they pay out might be reduced. Most accidents seem straightforward to begin with, but insurance companies and other parties involved make the case increasingly complex.
We want to help you too.
Submit the short form below to get a free case review.
While some accidents are complicated, several types are generally simple when it comes to determining which party was at fault. Keep in mind that no accident is the same, and although some accidents seem cut-and-dry, the details can complicate the case. The Houston car accident lawyers at Sutliff & Stout detail the most common scenarios below:
Accident #1: Rear-End Accidents
One of the most direct types of accidents are rear-end accidents. This occurs when one vehicle collides into the back of another car. One reason why this type of accident is simple to handle is that they occur so often. According to the National Highway Traffic Safety Administration's Crash Statistics report on rear-end collisions, about 30% of all two-vehicle collisions during a one-year study involved rear-end accidents. The most common cause of rear-end car accidents is distracted driving.
Rear-end collisions happen most frequently at these locations:
Congested highways
Stoplights
Parking lots
In the majority of cases, the driver in the rear who is at fault for causing the accident. Because these accidents are so common, investigators and insurance companies automatically assume the driver in the back is liable for the accident. Even when the accident is caused by the driver in the front slamming on their brakes — the driver in the rear is expected to have enough time and distance also to brake and avoid a collision.
Accident #2: Running a Red Light
Accidents caused by running a red light are a growing problem across the U.S. According to AAA, there were 939 deaths caused by running red lights in 2017 – the highest number in ten years. The rate of fatalities caused by running a red light has increased over time, showing a 28% increase from 2012 to 2017. When a vehicle flies past the red light into an intersection, the most common type of wreck is a T-bone collision – also called a broadside or side-impact collision. This accident occurs when one vehicle crashes straight into the side of another car.
Accidents from running a red light are often caused by:
Distracted driving
Drunk or drugged driving
A driver who's in a rush
These types of accidents are so dangerous because there's very little protection on the sides of vehicles, compared to the front or the rear. In most instances, the driver who ran the red light is at fault for causing the accident.
Accident #3: Turning Left without a Turn Light
When drivers need to turn left, it can be dangerous because they're crossing the path of oncoming traffic. That is especially dangerous at intersections when turning without a green turn light. When turning left on green, drivers are expected to yield to oncoming traffic and wait until there's enough space to turn safely – even if that means waiting for the next light.
At busy intersections, turning left on a solid green light can take a while. The driver turning left might grow frustrated and quickly turn left in front of oncoming traffic when it's not safe to do so. Drivers with more experience are usually more patient and will wait for a safe opportunity to turn, while drivers who are in a hurry might be more apt to make a risky left turn. The result can be fatal and cause a pileup on the intersection if oncoming traffic crashes into the left-turning vehicle. If the cars are driving fast enough, the sheer force of the collision can push cars into others in the intersection – causing a catastrophic accident.
Accident #4: Accidents in Parking Lots
Parking lot accidents are generally the least dangerous (and most frequent) out of the four most common accidents. Because they suggest low speeds, injuries are typically minor. Sometimes, however, the impact can be significant enough to cause soft tissue injuries in a driver's back and neck.
The most common type of accident that occurs in parking lots include:
A driver hitting another while backing out of a parking spot
A driver exiting a parking spot while driving forward through empty ones
Two drivers crashing into each other while pulling into the same parking spot
Two drivers colliding at the end of a parking lot aisle
In the scenarios involving a driver pulling out of a parking spot, that driver is responsible for causing the accident. The last two situations can be a little more complicated to determine who was at fault. A knowledgeable and experienced attorney will be able to analyze the accident's facts and determine liability in these instances.
Call Houston's Trusted Car Accident Lawyers at Sutliff & Stout
If you've been involved in a car accident in Houston, the car accident lawyers at Sutliff & Stout are here to help. We've helped injured car accident victims recover hundreds of millions of dollars in damages for their injuries in a variety of car accident claims. Attorneys at Sutliff & Stout are Board Certified in personal injury law by the State of Texas, and understand the strategy needed to win a fair settlement. To schedule a free consultation, complete an online contact form or call them today at (281) 942-8694.