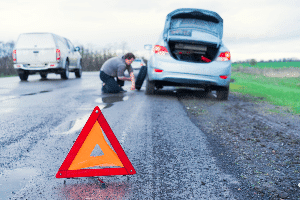 Drivers who are stranded on the side of the road are at a higher risk of an accident than they would be while driving. When you're stranded inside or outside your disabled vehicle, drivers approaching you are likely to be traveling at high speeds, and they may be distracted, careless, or even drunk. Fog, inclement weather, or blocked views can also lead to another driver hitting your car or you.
An incident like this leads to the question of who is at fault for a roadside vehicle accident. This is a tricky and complicated situation, which is why you might want to consult with an auto accident lawyer.
Types of Roadside Accidents
Roadside accidents can result from several scenarios. A negligent driver may not have noticed your parked car on the road's shoulder and sideswiped it or completely rear-ended you. Similarly, and much more catastrophic, a driver may not see you outside your disabled car and hits you. A careless driver may also be swerving between lanes, causing them to hit your vehicle.
We want to help you too.
Submit the short form below to get a free case review.
Can You Park a Car on the Shoulder in Texas?
Texas Transportation Code Section 545.058 states that a driver may drive on an improved shoulder to the right of traffic only if it's done out of necessity and it's safe to do so. This necessity encompasses using an improved shoulder to stop, stand, park, or avoid a collision. However, if a driver is in the left lane and cannot safely move to the right shoulder, they are allowed to drive on the left shoulder.
What Is an Improved Shoulder?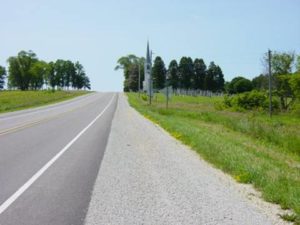 An improved shoulder is the part of the road that is fully paved and adjacent to the roadway. Improved shoulders must be distinguished from the highway by a different design, construction, or other markings. Additionally, an improved shoulder is not an extra lane that drivers can use for everyday travel.
Who Is Liable If Someone Hits My Disabled Car?
If your car is not on an improved shoulder, you may be the one held liable for the accident. However, if you are on an improved shoulder and traveled there safely and responsibly, the driver who hit you may be the one responsible for the collision. There are many other contributing factors to these accidents, such as whether the driver was careless.
Additionally, if you drove a vehicle knowing there was something wrong with it and the car broke down, causing a collision, you could be responsible. Many factors lead to liability in roadside car accidents, but an attorney can launch a thorough investigation into the accident.
Comparative Negligence in Texas
Texas uses comparative negligence, meaning that even if you are found partially liable in the accident, you may be able to collect financial compensation from the other driver. However, your recovery will be reduced by the percent of fault a court finds you guilty of. For example, if you've been found 20% responsible for a roadside accident, you can recover up to 80% of your damages.
However, Texas also has what's known as the "51% bar" when it comes to comparative negligence. This means that if a court finds you more than 50% responsible for an accident, you will not be able to receive financial compensation.
Skilled Car Accident Attorneys in Texas
At Sutliff & Stout, we believe that every accident victim deserves the highest level of legal representation. Founding partners Graham Sutliff and Hank Stout are Board-Certified lawyers who are committed to helping their clients by providing compassion, personal attention, and respect. When you've been in a roadside accident in Texas, choose the team that will always put you and your needs first. We handle every part of your case personally and are ready to take your case to trial if needed.
Call (713) 987-7111 or complete a contact form today to schedule a free consultation and obtain the representation you deserve.