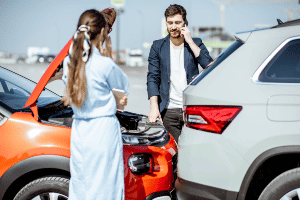 One of the first things you should do after any car accident is to report the collision to local law enforcement, but it could take some time for an officer to arrive. Depending on the severity of the accident and where the closest officer is, it could take up to an hour.
What happens if an officer never shows, though? You should always contact a car accident lawyer after a car crash, and it's even more crucial to do so if the police don't make an appearance at the scene of the accident.
Why Would Police Officers Not Show Up after an Accident?
Police may not come to the scene of an accident for many reasons. The most common is that they are dealing with more serious criminal matters, such as robbery, murder, or sexual assault. While we may want to think that police officers will be there for us at our every beck and call, the truth is that they sometimes have to prioritize calls.
Additionally, the police station you called may be understaffed that day, and a cop may not be available to come to the scene. Other external factors, such as significant weather events, can also pull officers away from helping car accident victims and have them assist with evacuations.
We want to help you too.
Submit the short form below to get a free case review.
What to Do When Police Don't Come to a Car Accident
Fortunately, there's nothing extra you have to do at the accident scene if a cop does not come. However, a downside is that you won't have the neutrality that police reports provide. You'll still want to gather as much information and documentation as possible for your insurance claim. This includes:
Photographs of damage and injuries
Contact and insurance information of the other driver
Contact information of any witnesses
In addition, you may even want to consider recording witness statements, as it could help your case when proving who was liable for the accident. Similarly, you should write down or record any conversations you have with the other driver.
Should I File a Police Report after a Car Crash?
If the police don't respond to the crash, you can—and should—still request that an officer file a police report. You may even be able to file a police report online. If someone is injured or one or both cars have more than $1,000 worth of damage, you must report the accident to Texas police. Usually, accident victims don't have to worry about filling a report if either threshold is met, but if police don't arrive, you must take it upon yourself to report it.
What Is a Police Report?
A police report is an official document of what happened in a traffic accident. It will contain information about both drivers and whether there were any passengers. They may also include weather conditions, eyewitness testimonies, or photographs. A police report will be vital to your case if you decide to pursue compensation.
Car Accident Attorneys in Texas Can Help
If you've been injured in a car accident where police didn't show up, reach out to the skilled car accident attorneys at Sutliff & Stout. Without police presence, it becomes your word against the other driver's, making dealing with insurance companies even more complicated, so it's crucial that you do not delay in securing legal representation after your accident. The sooner you get in touch with us, the more help we can be.
Sutliff & Stout are Board Certified in personal injury trial law by the Texas Board of Legal Specialization. Over their careers, they have helped many accident victims recover the compensation they deserve following an injury.
Call (713) 987-7111 or complete a contact form to schedule a free consultation and speak with an experienced car accident attorney.