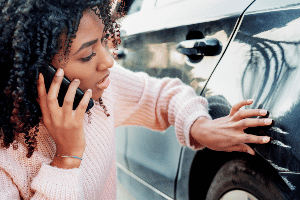 It can be nerve-wracking to experience a car accident, even if you are not injured during the incident. You may feel the need to share your experience online with friends and family, but there are important aspects of posting to social media after a car accident that you should consider before hitting "send." This page will cover how to best approach your online presence after you have experienced an accident.
Post-Accident Internet Protocol
If you experienced an auto accident and want to ensure that you are not held responsible, be sure to adhere to the following essential guidelines when using the internet after your crash.
Post as Little as Possible
If you are bringing your claim to an insurance company, avoid posting about the incident on social media altogether. Many insurance companies will attempt to use information that you post against you, especially photos of yourself doing anything that seems to indicate you didn't suffer from the accident, including pictures where you look happy or are performing physical activity. Even quick status updates that seem innocuous can be turned against you, so it is best to avoid posting personal information outright.
Take Photos, But Don't Share Them Online
One of the best practices after a crash is to take photos of the scene. This includes pictures of your vehicle and other involved vehicles, as well as the area where the incident occurred. These will be automatically timestamped in your phone, and they are your best chance at gathering evidence for your case.
However, it is important to avoid posting these images to the internet prior to sending out your claim. Insurance companies can also use these photos, or the fact that you posted at all, against your case. Instead, share the images with a close family member or friend who can store them on their phone as a backup in case they need to be used in court as evidence.
Update Your Privacy Settings
Our activity on social media is tracked through location settings and timestamps, and if you are looking to protect your information from an insurance company after an accident, the best way to do that is by enhancing your privacy settings. Ensure that your online profiles are locked or hidden and that your location tracking is turned off for all apps.
We want to help you too.
Submit the short form below to get a free case review.
Social Media Activity to Avoid after a Crash
Many people find that sharing information online is the best way to stay in touch with those they care about, but after experiencing a car accident, keeping the incident offline is in your best interest if you don't want to be found at fault. Here are a few other behaviors to avoid online after an accident.
Don't Share Your Side of the Story
The desire to explain the situation in your own words and defend yourself can be tempting, but it's best to avoid doing so online. This can be viewed negatively by insurance companies and might be used to discredit your perspective altogether. Nothing you can post to the internet that will exonerate you, especially to an insurance company, so it is best to avoid discussing it online entirely.
Don't Text about the Accident
If your claim is brought to court, your text and phone records can be obtained to supply evidence about the incident. Your communications can be subpoenaed at any time by a lawyer, so keep that in mind when you are sending written communications out after the incident. Even if you are only reaching out to a family member, be careful about how you phrase your words.
For example, if your phone records show that you texted your parents and told them you were okay after a crash, insurance companies can use this as leverage in their case to show that you were not injured or did not suffer from the accident.
Don't Lie about the Incident
If your phone and text records can be obtained, your social media history can as well. Texting or posting online immediately before an accident can be used against you, and any lie you tell about the incident will ultimately not work in your favor if it can be proven false, which is why you should avoid fabricating any information about the situation to insurance companies.
Seek Justice after an Accident with Texas Car Accident Attorneys
Instead of posting to social media or sharing information online about the incident, the best course of action is to gather as much evidence from the scene as you can and contact a Board-Certified car accident attorney. Wait to speak with any insurance companies that reach out until you have a chance to call a lawyer who will help you get the best outcome for your claim.
The experienced team at Sutliff & Stout has helped clients in Texas just like you negotiate with insurance companies, and they will work diligently to help get you a fair resolution for your case. If you want to learn more, contact us today at (713) 874-9114 or fill out a contact form.