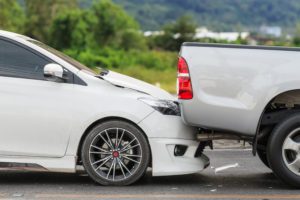 In rear-end car accidents, either driver can be found to be at fault for the accident. Most commonly, the following vehicle is assigned at least some fault for the accident, as they have a responsibility to maintain a safe distance between the car in front of them. However, each rear-end case is unique and occurs in a set of specific circumstances. If you've been involved in a rear-end accident in Houston, it's essential to seek legal counsel from a skilled Houston car accident lawyer. Here is some important information to know about rear-end accidents in Texas.
Fault vs No-Fault Insurance States and Comparative Negligence
Various states have different ways of dealing with car accidents. In states that assign fault, many—including Texas—employ the principle of comparative negligence, meaning the responsibility for the crash can be "divvied up" between both parties. When the case is brought before a jury, the jury will assign percentages of fault to either party, and the person bringing the claim will have any compensation reduced by their percentage of fault. It is important to note that in order to receive any compensation, a person must be found to be less than 51% responsible for the accident.
We want to help you too.
Submit the short form below to get a free case review.
Who Is Responsible for a Rear-End Car Accident in Texas?
In Texas, you are not automatically assigned fault for rear-ending the car in front of you. When a rear-end case goes to court, the jury has the right to assign liability or negligence to both drivers and may even find neither of them at all at fault for the accident. In rear-end accidents, negligence or liability refers to the failure of the driver to act with "reasonable prudence" on the road. A jury will consider a variety of factors when determining fault in rear-end accidents. For example, maybe the front driver stopped so abruptly because they were not paying attention or conversely, the driver in the back may have failed to leave enough distance to properly brake.
To receive compensation against another driver for damages incurred in a rear-end accident, the jury must find that the other party was at least 51% responsible for the accident. If the jury finds that both parties contributed to the rear end accident— the plaintiff, or person bringing the claim to court—will have their compensation reduced by the percentage they are found at fault.
For example, if a jury determines you were 20% responsible, you can only recover the percentage of compensation for which the other party was responsible. In this scenario, that means you would only be eligible for 80% of your total compensation package. Therefore, in this case if you were awarded $40,000, you would only recover $32,000.
Unavoidable Rear-End Accidents
In some cases, an accident occurs but for no fault of either drivers involved. These accidents are referred to as unavoidable accidents. For example, sometimes a wild animal crossing the road will cause two cars to crash. In these scenarios, it may be argued that the accident was an "unavoidable accident." If the jury agrees with this defense, neither party will be able to receive any compensation.
Contact the Personal Injury Lawyers at Sutliff & Stout
Getting into a car accident can be an extremely draining, emotional, and stressful experience. If you have been involved in a rear-end car accident in Houston, it's essential to seek legal counsel from an expert car accident lawyer. At Sutliff & Stout, we understand the stress accompanied by car accidents and are dedicated to taking a personalized approach to every case. Our firm has been recognized as one of the top 3 personal injury law firms in Houston, and our team of Houston car accident attorneys have helped thousands of individuals with their car accident claims.
If you are looking to discuss your car accident case with a personal injury lawyer, the team at Sutliff & Stout is here to help. Call us today at (713) 405-1263 or contact us online to discuss your injury or car accident claim.