Insights for Maximizing the Value of Your Allstate Insurance Claim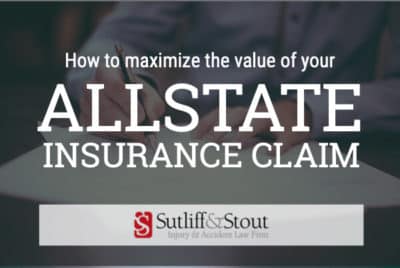 If you're here because you need to file an insurance claim with Allstate, you must understand that Allstate's goal is to pay you as little as possible.
To Allstate Insurance, you are just a number in a file. Their goal is to pay you as little as possible. To maximize the value of your claim you should speak to qualified legal professional who will represent your best interests, not Allstate's shareholders'.
In order to recover fair value for your accident or injury claim, it's essential that you be equipped with a plan for combatting the tactics that insurance companies like Allstate use to pay you as little as possible.
Resources For Filing an Insurance Claim with Allstate
Important Things to Do after Your Car Accident
Double check for injuries, including those that don't show up until several days or even weeks after the accident. If you are injured, see a doctor right away.
Make sure you get a police report in every incident, even if the accident was minor, including fender benders.
Let your insurance company know that you've been in accident as soon as possible.
Don't sign any documents, especially legal documents, unless you're required to do so by police or another law enforcement agency.
While you still remember the small details, make notes about your accident, including the time, driving conditions, amount of traffic, what the weather was like, potential witnesses, driver conduct, etc. Once it's recorded, put them in a safe place.
Don't give your opinion about the cause of the accident or your thoughts about the accident to anyone except your accident lawyer.
Need Help Dealing with Allstate?
To Allstate, you are just a number in a file. Their goal is to pay you as little as possible. To maximize the value of your claim you should speak to qualified legal professional who will represent your best interests, not Allstate's shareholders'.
---
How to File a Claim with Allstate
Like many large national insurance companies, you can file a claim with Allstate a few different ways. Chances are that if you called you called Allstate at the time of, or after your accident, they will have instructed you about how to get your claim started.
However, if you haven't spoken to your insurance agent yet or any other Allstate representative and have your police report in hand, you can file a claim with Allstate using their mobile app, by email, phone, or by using their online claims system. If you want to use their online claims system, you'll need to be registered with an online username, which you can easily do with your policy information. By filing a claim online, you can also check on the status of your claim at any time or upload or view documents relevant to your claim as the process moves on.
If you were involved in a car accident that wasn't your fault and the other driver's insurance company is Allstate, it's up to you or your auto insurance company to help you file a claim against them. This way, the other driver's policy — in this case provided by Allstate — can help you pay for the cost of the property damage and sometimes your medical expenses, too. Because Texas is an at-fault state, you can file a claim with the other driver's insurance company for any accident-related property damage and medical expenses.
You may still have to pay your deductible to your own insurance company until you can be reimbursed for it by the other driver's insurance company, but it's important to stay on top of if to make sure you are being fairly represented by your own insurance company. If your own insurance company can't get the cost of your deductible back, you have the option of doing it on your own.
---
How to Contact the Allstate Claims Department
Toll-Free Number: 1-800-255-7828
Hours: Toll-free number operational 24 hours a day, 7 days a week
Website: https://www.allstate.com/claims.aspx
Email: [email protected]
Twitter: @AllState
Corporate Headquarters:
Allstate Insurance
775 Sanders Rd
Northbrook, IL 60062
---
Be Prepared When You File a Claim with Allstate:
When you file a claim with Allstate, make sure you have the following information ready:
Your insurance policy number, and/or the name and insurance policy number of the at-fault driver
A copy of the police report from your accident. If you don't have it, you can call the police department and request a copy of it at any time
The contact information for passengers that were in your vehicle at the time of the car accident, especially if they were injured
Documented evidence of all the damages to your vehicle (pictures from your cell phone are OK, just make sure they're clear)
The contact information for a trusted repair shop for a second opinion on your damage estimate, if you choose to get one
Documentation of any accident-related bodily injuries you may have had, including your initial doctor or hospital visit, the results from that visit, and any other relevant information
---
Allstate Insurance's History

Allstate is one of the nation's largest insurance companies with millions of clients in Texas. It's the second largest personal-lines insurer behind State Farm and also operates in Canada. It was founded in the 1930s as part of Sears, Roebuck and Co. As one of the largest auto insurers in the U.S., it has a corporate and streamlined process when it comes to handling insurance claims.
Allstate originated as a direct-to-consumer mail marketing company. In the 1930s, Allstate started offering customers throughout the U.S. through the mail and through the Sears catalog. It helped expand the Sears business over the next decade.
In 2007, an investigation by CNN linked Allstate and other large national car insurance companies as one of the top firms that are increasingly fighting or attempting to deny claims from those alleging injury, making Allstate often difficult to deal with because of their experience working in bodily injury claims and the financial resources and legal experience at their disposal.
In 2008, Allstate was ranked as No. 1 among the nation's "worst insurers," according to the American Association for Justice (AAJ). According to the AAJ, Allstate was determined to be the worst to employ the "deny, delay, defend" strategy after a comprehensive investigation of thousands of legal documents and financial filings conducted by AAJ. As part of the "deny, delay, and defend" strategy, AAJ said that Allstate often refused to pay just claims, employed hardball tactics against its policyholders, rewarded executives with extravagant salaries, and raised premiums while hoarding excessive profits.
---
What You Can Expect with Allstate
While every Allstate branch, insurance agent, and adjuster is different, many of the processes and tactics used to streamline property damage and bodily injury claims at large insurance companies are the same.
With a focus on maximizing profit and using every resource at its disposal to investigate and often deny or delay claims, large insurance companies like Allstate will do everything they can to try to invalidate claims against them. This is why it can be especially helpful to have legal experts on your side that know how to deal with Allstate and anticipate the roadblocks or delays they may put up in your claim.
---
Need Help with Your Allstate Claim
For simple property damage claims resulting from minor accidents, we recommend that our clients follow the regular property damage claim process and use the tools provided by Allstate to document their accident, file their claim, and get a second opinion from a trusted auto repair specialist to ensure they're getting the value of the repair or the totaled vehicle.
In the case of bodily injury claims, we highly encourage you to talk with a qualified and trusted personal injury lawyer to help you understand the bodily injury claim process. Insurance companies like Allstate go to great lengths to protect their revenue and will use all of their available resources to investigate and find faults in your claim. Stay protected the top-rated Houston car accident lawyers Sutliff & Stout. With over 50 years of combined legal experience, they have the tools to get you the compensation you deserve. Don't settle for less than what you deserve – call a Houston car accident lawyer from Sutliff & Stout today at 713-987-7111.