Insights for Maximizing the Value of Your Texas Farm Bureau Insurance Claim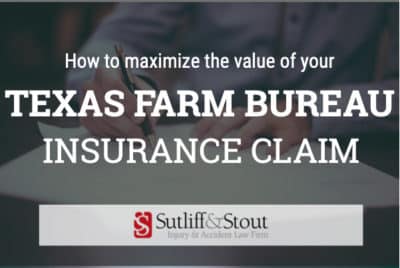 Much like State Farm Insurance, Texas Farm Bureau Insurance serves primarily rural and farm communities across Texas. They support farmers and ranchers through advocacy and political activity. Texas Farm Bureau is one of several insurance companies you can file a claim with following a car accident.
Like many other car insurance companies, Texas Farm Bureau will do what it can to protect its own financial assets and financial position in the market, even as a nonprofit. Their goal, no matter what, is to pay you as little as possible. If you're unsure about the claims process or worried about your claim, Sutliff & Stout can help you stay protected.
Resources For Filing a Texas Bureau Insurance Claim
Key Steps to Take After Your Accident
Even if you don't choose to seek the help of an accident lawyer for your claim with Texas Farm Bureau, we recommend you take the following steps to have the best shot at a fair and successful claim outcome:
Keep track of all the documents related to your accident, including the police report, medical bills, witness testimony, and other information that may help your claim.
Don't sign any legal documents from Texas Farm Bureau or other entities until you're sure what you're signing and what the implications are.
If you had passengers with you at the time of the collision, make sure their injuries are documented and copies of those records are available.
Never admit fault to anyone and don't speculate about the cause of the accident. When in doubt, contact an attorney right away.
Let your insurance company know right away that the accident occurs. This will give them less of an opportunity to deny paying for damages they can say happened before or after the accident.
Need Help Dealing with Texas Farm Bureau?
To Texas Farm Bureau, you are just a number in a file. Their goal is to pay you as little as possible. To maximize the value of your claim you should speak to qualified legal professional who will represent your best interests, not Texas Farm Bureau's shareholders'.
Need Help Dealing with Texas Farm Bureau?
To Texas Farm Bureau, you are just a number in a file. Their goal is to pay you as little as possible. To maximize the value of your claim you should speak to qualified legal professional who will represent your best interests, not Texas Farm Bureau's shareholders'.
Before filing a claim with Texas Farm Bureau, make sure you have:
Read through your insurance policy and familiarize yourself with the level of coverage you have, and have your insurance policy number on hand.
If the accident wasn't your fault and involved another driver, have the full name of the other driver and their insurance information on hand.
Gather the evidence of the damage to your vehicle — it helps to have before and after photos.
Have the number of a trusted repair shop on hand as a second option for a damage estimate.
If you suffered an injury, consider contacting a trusted and top-rate Houston car accident lawyer before you file your claim.
When filing a claim with Texas Farm Bureau, make sure you have the following:
Your insurance policy number, or the name and insurance policy number of the at-fault driver
A copy of the police report from the accident. If you don't have it, you can call the police department and request a copy.
Contact information for any passengers that were involved in the car accident.
Details and documentation of any accident-related bodily injury, including your initial doctor or hospital visit, the results from that visit, and any other relevant information
Filing a Claim with Texas Farm Bureau
Filing a claim with Texas Farm Bureau is the same as with most other insurance companies. You can file a claim online, over the phone, or with your personal Texas Farm Bureau agent. To file a claim by phone or for information about the claims process, call 1-800-266-5458 and you'll be connected to an agent anytime.
Because Texas is considered an at-fault state, you can file a claim against Texas Farm Bureau to cover your accident-related property damage and medical expenses if the accident was not your fault. Usually, your insurance company will file against Texas Farm Bureau on your behalf, although it's likely you'll have to pay your deductible up front and be reimbursed as part of your settlement.
When communicating with Texas Farm Bureau, make sure you document all of your discussions and agreements in writing, preferably through e-mail or the online claims system. Avoid coming to any sort of agreement over the phone or in person or ask to have the agreement documented first.
If the only damage involved in your accident was to your vehicle and if it was minor, such as a fender bender, we recommend that you work with Texas Farm Bureau or your own insurance company and follow the claims process.
If you or your passengers were injured in the accident, we suggest that you call an attorney to evaluate your options. Personal injury claims are not as cut-and-dry as property damage claims and this where insurance companies will use all of their available resources to avoid paying out if it's possible. To make sure you're compensated fairly and all the facts of your accident are brought to light, you should contact the best car accident lawyer you know to help you investigate your case.
How to Contact the Texas Farm Bureau Claims Department
Toll-Free Number: 800-266-5458
Hours: Reports taken 24/7
Website: https://www.txfb-ins.com/claims
Email: Contact Form
Twitter: @TXFBInsurance
Corporate Headquarters:
Texas Farm Bureau Insurance Companies
7420 Fish Pond Road
Waco, TX 76710
Texas Farm Bureau Insurance's History
The Texas Farm Bureau was created during the Great Depression and grew from 15,000 to more than 500,000 members today. The organization helped establish electricity and phone service to rural ranching and farming communities in Texas, and has become the largest advocacy group supporting the needs of ranchers, farmers, and rural families in Texas. Its members pay annual dues, but they don't have to be ranchers or farmers. They simply have to be interested in or represent the interests of the organization.
As part of its member benefits, Texas Farm Bureau offers auto, home, farm/ranch, and life insurance. It was awarded the "Highest Customer Satisfaction Among Auto Insurers in Texas" five years in a row by the J.D. Power & Associates.
Need Help with Your Texas Farm Bureau Claim?
Each person that files a claim with Texas Farm Bureau is given a claim number. Essentially, you are just one of thousands of others making a claim against the company. To keep track of all of these claims, Texas Farm Bureau assigns each claim a "claim number." This is their way to internally track your claim, and pull together all of the data and information on your claim.
For simple property damage claims resulting from minor accidents, we recommend you follow the claims process provided by Texas Farm Bureau. If you're unhappy with your settlement offer or suffered a personal injury during the accident, you should strongly consider contacting an expert attorney to help you with your claim. Call the Houston car accident lawyers at Sutliff & Stout Law Firm for your claim today.