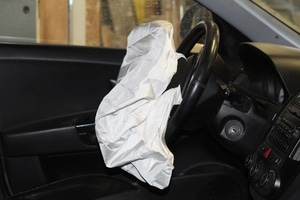 Airbags are expected to protect drivers and passengers from further harm when a car accident occurs. While airbags alone can cause injuries when deployed, they can protect a driver or passenger from being thrown from the vehicle in a high impact crash. When airbags don't work as intended, or don't work at all, the injuries that accident victims face as a result can be lifelong.
If you were in a car crash and your airbag didn't deploy, you may have a viable claim to sue either the vehicle or airbag manufacturer. The experienced Houston car accident attorneys at Sutliff & Stout can answer your questions concerning your crash today by scheduling a free consultation.
We want to help you too.
Submit the short form below to get a free case review.
Proving Liability is Essential to a Successful Lawsuit
For a successful personal injury claim, your lawyer must prove that some type of defect in airbag or vehicle is the reason for the airbag failing to deploy or failing to protect you in your car accident. Each claim is unique and whether there is a viable claim will depend on the facts of your case. Your car accident attorney will have to conduct a detailed investigation to establish why the airbag did not work and how your injuries were made worse or resulted from that failure. It is not enough to show that you were injured. Rather, you must show what injuries you sustained as a result of the defective air bag.
What are Common Reasons Airbags Fail in Car Accidents?
Personal injury claims against the manufacturer, or product liability claims, are generally classified into one of three categories:
Manufacturing defect: When there's a flaw in the product's production, it can be an individual part that is defective or an entire batch of the product that is dangerous to use.
Design defect: A whole line of products becomes hazardous when there's a flaw in the products' design.
Failure to warn consumers: When manufacturers neglect to warn consumers or warnings are insufficient to inform about the dangers of a product, they can be sued for failure to warn.
An example of a design defect is the Takata airbag line that was recalled after the propellant in these airbags deteriorated, causing metal parts to fly and hit passengers after the airbag deployed. As a result, there was a class-action lawsuit, and the vehicle manufacturers — including Toyota, BMW, Mazda, and Subaru — settled by agreeing to pay $553 million to drivers who suffered from these defective airbags.
Causes of Airbag Defects
There are a few causes of airbag defects. These include:
Defective Crash Sensors: Crash sensors throughout the vehicle trigger the airbag to deploy during a collision. If there's an issue with the sensors that cause a malfunction, airbags won't deploy when an accident occurs.
Electrical Problems: When a crash occurs, an electrical signal is sent by a sensor to deploy the airbag. The airbag won't deploy if there's a problem with any electrical component or wiring.
Airbag Component Problems: If there's a problem within the airbag component, that may prevent the airbag from deploying during a crash.
Injuries that May Result When an Airbag Fails to Deploy
Airbags are designed to prevent catastrophic injuries to drivers and passengers when a collision occurs. Common injuries that can result when an airbag fails to deploy include:
Whiplash
Neck and shoulder injuries
Skull fractures
Brain bleeding
Whether the airbag deployed during the accident, it's strongly advisable to seek medical treatment as soon as possible. If the airbag didn't work, a medical expert witness might be required to explain how your injuries were a direct result of the airbag's failure to deploy.
Contact Houston's Personal Injury Attorneys After an Accident
If you were injured in a car accident in Houston in which your airbags did not work, contact the car accident attorneys at Sutliff & Stout to learn about your legal rights and options. Our lawyers are Board-Certified in Personal Injury Trial Law by the Texas Board of Legal Specialization. We are happy to review your case for free and answer all of your questions with honesty and transparency.
To speak with a knowledgeable car accident attorney at Sutliff & Stout today, complete an online contact form or call (713) 987-7111.