Did you suffer a concussion as the result of a car accident that wasn't your fault? You may be entitled to a valuable financial settlement.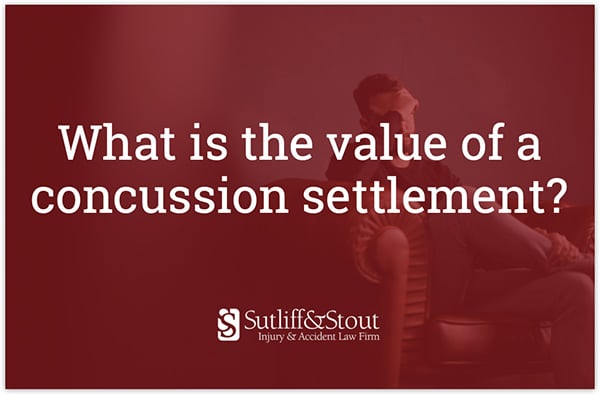 Concussion settlement values can vary significantly depending on the details of each case. Contrary to popular belief, concussions should not be taken lightly or considered as minor head injuries, especially if they develop as a result of a car accident.
Traumatic brain injuries, which include concussions, are recognized leading causes of long-lasting cognitive impairment, including loss of memory, concentration, and attention. Settlement values for concussions therefore vary on the degree of impairment.
What Are The Symptoms of a Concussion?
Concussions can be hard to self-diagnose, as symptoms can be relatively subtle and not show up immediately after impact. Watch for these symptoms in the days, weeks, and months after your car accident, and seek medical help immediately if you think you've suffered a concussion:
Headache or head pressure
Continued dizziness and/or nausea
Loss of memory about the traumatic event, in this case your accident
Confusion or feeling "foggy"
Temporary loss of consciousness
Ringing in your ears
Slurred speech
Vomiting
Others tell you you don't seem normal, or appear dazed
Difficulty answering simple questions
Fatigue
The most common concussion symptoms that occur after a car accident are headache, loss of memory, and confusion. The loss of memory usually involves forgetting the details of the car accident itself. More delayed concussion symptoms may include sleep disturbances, sensitivity to light and noise, irritability, a change in taste and smell, depression, and trouble concentrating.
Get a free concussion injury case review
To find out whether you may be entitled to a settlement for your concussion, call Sutliff & Stout at (713) 987-7111 or complete the short form below.
Common Types of Brain Injuries Suffered in Car Accidents
If you think you've suffered more debilitating symptoms as a result of your concussion, you may have suffered another type of traumatic brain injury.
Different types of traumatic brain injuries after a car accident include:
Concussion – The most common type of traumatic brain injury, concussions are most often caused by whiplash.
Contusion -Caused as a result of a direct impact to the head, contusions are bruises on the brain. Large contusions may need to be surgically removed.
Coup-contrecoup – This type of traumatic brain injury is a contusion that occurs both at the site of impact on the opposite side of the brain.
Diffuse-axonal injury – This injury can be caused by a strong rotation of the head, such as when produced by the rotational forces of a car accident. This causes extensive tearing of nerve tissue throughout the brain.
Penetration – This type of injury is caused when fragments or objects force themselves into the brain, and usually signal very violent impact or collision.
How Much Can I Expect From My Concussion Settlement?
Settlement values for concussions vary on a number of different factors, including the degree of impairment and complications related to the injury. For example, a settlement from a concussion that includes temporary short-term memory loss will typically be less than one that causes post-traumatic headaches or the cumulative effects of multiple brain injuries sustained in the crash. Rarely, some car accident victims also experience an unwarranted second concussion, which may be an indication of serious brain swelling.
Compensation for concussion settlements will include economic and non-economic damages, which are typically lumped in a single settlement. In rare cases, punitive damages can be awarded.
After your accident, you should also make sure to follow the instructions and medical recommendations of your doctor. If you fail to follow the doctor's advice, your compensation could be reduced because you neglected to properly care for your injuries as instructed.
Call a Houston Car Accident Lawyer Today
The car accident attorneys at Sutliff & Stout can help you understand how these types of damages work and ensure you receive a fair settlement for your concussion injury. For a free consultation regarding your case, contact our legal experts by calling us at (713) 987-7111 or by filling out our contact form.