What are my options for getting compensation after an on-the-job injury in Texas?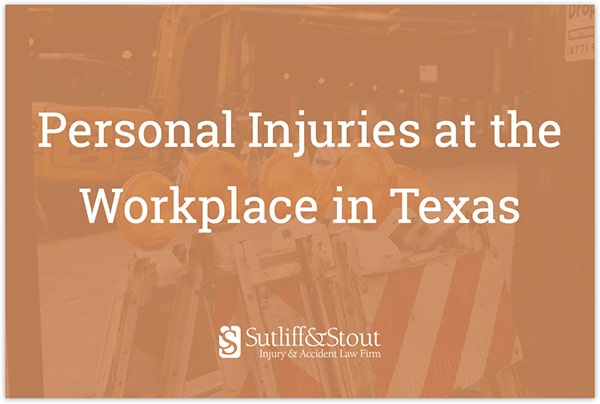 An on-the-job injury causes both physical and financial setbacks. Many times, injured employees can't work and incur sizeable medical bills.
For these reasons, Texas laws recognize employees' rights to receive financial compensation for workplace injuries. Employers have a duty to provide a safe workplace and face financial penalties when workplace accidents occur.
Injured Texas workers may receive compensation for their injuries in one of two ways: workers' compensation or personal injury cases.
You may wonder which of these options, workers comp vs personal injury, is best for your case. To determine your best option for workplace injury compensation, you'll want to consider these questions.
---
Does Your Employer Have Workers' Compensation Insurance?
In Texas, employers are not required to purchase workers' compensation insurance. This optional system of workers' compensation coverage differs from the other 49 states, which have adopted mandatory coverage. If an employer in Texas purchases workers' compensation insurance, the insurance covers worker injuries. Under workers' compensation, employees receive reimbursement for medical bills and lost wages.
When your employer purchases workers' compensation insurance, they protect the company against most employee lawsuits. This insurance plan takes away your right to sue, in most cases. In fact, workers' compensation was introduced in the early 1900s across the United States to protect both employers and employees. The system freed employers from bankruptcy by lawsuits and gave employees assurance of financial recovery for injuries.
The injured employee does not have to prove employer negligence to receive workers' compensation. This means you don't have to prove your employer was responsible for your injury. In fact, even if you contributed to your accident, you can still file for workers' compensation.
Workers' compensation also protects you from losing your job. Employers cannot fire employees for filing a workers' compensation claim. Such a dismissal based on retaliation would prompt a labor lawsuit. Without fear of job termination, you can file a workers' compensation claim for your workplace injury.
Filing a Workers' Compensation Claim
To file for workers' compensation, you need to fulfill these requirements:
Sustain a workplace injury;
Find out if your employer is a workers' compensation subscriber;
Report your injury to your employer within 30 days from the date you experienced or discovered your injury;
File a claim form with the Texas Department of Insurance, Division of Workers' Compensation; and
File within a year from the date you first experienced or discovered your injury.
You have the right to hire an attorney to help you file a workers' compensation claim or appeal a denied claim. To appeal a denied claim, file a petition with the court clerk within 45 days of receiving the denial.
Filing a Personal Injury Claim
If your employer has not purchased workers' compensation insurance, you can file a personal injury lawsuit. There are pros and cons to workers' comp vs personal injury suits.
Advantages of personal injury claims
You can often recover more money through a personal injury at the workplace lawsuit.
Workers' compensation payments limit coverage to economic damages for the injury sustained. These payments do not compensate the employee for pain and suffering, emotional distress, or loss of companionship.
Personal injury damages include both economic and non-economic damages. Filing a personal injury lawsuit enables you to recover compensation for medical bills, lost wages, and emotional damages.
Disadvantages of personal injury claims
However, lawsuits for personal injury in the workplace present legal hurdles to the injured employee, such as requiring proof of negligence. This negligence requirement differs from the low negligence hurdle of workers' compensation claims. For this reason, obtaining workers' compensation is easier than recovering through a personal injury lawsuit. A personal injury claim requires that you prove the following components of employer negligence:
The employer had a duty to protect you from harm,
The employer breached that duty,
The employer's breach of duty caused your injury, and
You suffered harm that can be compensated.
Ultimately, the decision about workers' comp vs. personal injury depends on your employers' insurance coverage. Additionally, you may be able to sue your insured employer under certain circumstances.
---
What Was the Reason for Your Injury?
You can sue for a personal injury at the workplace when your employer lacks workers' compensation insurance. Also, there are several other circumstances that permit a lawsuit against your employer.
Intentional harm. Your employer intentionally harmed you, such as pushing you down a flight of stairs or throwing something heavy at you. In these cases, your employer may face criminal liability as well.
Defective product injuries. If machinery malfunctions, both your employer and the manufacturer of the machine face liability. Their negligence may include not minimizing employee harm or warning employees of the danger.
Toxic or illegal substance injuries. Your employer was aware of your exposure to toxic substances and did not minimize your harm. This liability applies to fast-acting harm such as chemical burns and slower harm such as asbestos exposure.
Determining the reason for your injury also points your suit for personal injury at the workplace at the right party. For instance, if you are injured due to faulty machinery, you may be able to sue your employer and the manufacturer. However, if you fell due to slippery walkways in a leased building, the landlord might be responsible. If another party contributed to your injury, you may file a third-party lawsuit.
Experienced personal injury attorneys can help you investigate your accident and determine responsibility.
---
Do You Want to Improve Your Workplace?
Filing a claim for a personal injury at work can seem challenging. Before you take on the obstacles of the court system, you'll want to evaluate the following points:
Do you have proof of who caused your injury? Could experienced legal investigators help you find proof?
Do you need immediate compensation, or can you wait for a case to settle?
Do you desire maximum compensation for both economic and emotional damages?
Also, you'll want to consider your desire to change the employer practice that injured you. Your employer faces no financial consequences under workers' compensation, other than increased premiums. The workers' compensation system doesn't hold employers accountable for negligent actions.
On the other hand, personal injury lawsuits create change. Lawsuits financially penalize employers for negligence that caused injury. Due to this financial loss, employers are more likely to change negligent practices. By filing a personal injury lawsuit, you can potentially protect other employees from harm.
---
Need Help Filing an On-the-Job Injury Claim?
If you suffered a personal injury at work, you need to know your legal options. An experienced personal injury attorney can help. Call the personal injury attorneys at Sutliff and Stout to discuss your workplace injury. We offer a free case review and advise you of the best legal strategy for your injury. We represent our clients on contingency, meaning you pay nothing until we win your case.
Contact Sutliff and Stout for a no-obligation case review. We've won hundreds of millions for clients who suffered from others' negligence. Our thousands of clients testify to our track record of skillfully litigating workers' compensation and personal injury cases. We'd like to help you receive the compensation you deserve as well.