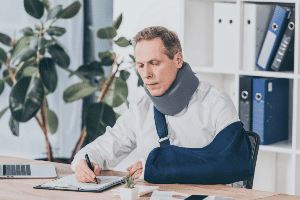 If you've been injured in an accident caused by another party's negligence, you have the legal right to sue the responsible party for damages. This monetary compensation can benefit injured victims who are unable to work and face significant medical bills, costs for treatment, and other necessary costs like paying for a mortgage.
While Texas injury law supports injured victims suing the responsible parties for compensation, there are limits on how much money individuals can demand. These limits are called damage caps. The information below provides details on these compensation claims and the damage caps for each.
What Damages Can I Sue for After an Accident in Texas?
There are three types of damages involved in a personal injury lawsuit that have specific limits imposed in Texas:
Economic damages
Non-economic damages
Punitive damages
We want to help you too.
Submit the short form below to get a free case review.
Economic Damages in Texas Personal Injury Cases
Economic damages are the damages that reimburse you for your tangible financial losses from the accident. If you were involved in a car accident, this would include property damage costs and medical expenses from the diagnosis and treatment of your injuries. Depending on the severity of your injuries, you may be unable to work for some time while in recovery. These damages are considered economic damages.
In Texas, you have the right to recover the following economic damages:
Medical Costs: These involve the expenses you've incurred for any trips to the hospital, doctors, and other healthcare professionals. Be sure to keep all bills and records related to your medical costs as proof in your claim or lawsuit.
Lost Wages: If your injuries require that you miss work while recovering, you'll need to provide proof of income, like pay stubs or tax returns.
Loss in Earning Capacity: If you've sustained a significant injury that prevents you from working for an extended period, you can recover this loss in earning capacity in a personal injury lawsuit. You'll need an economy expert to determine how much you would have made over a certain period in your occupation, such as your employment history, skills, age, and education.
Property Damage: If your car has significant damage, you will have to prove this by providing bills from the repairs or an estimate from a collision shop.
Are There Caps on Economic Damages in Texas Injury Lawsuits?
There are no damage caps for economic damages in Texas. If you have proof and documents that support your losses, you are legally entitled to sue for the full cost of economic losses from the person or entity responsible.
Non-Economic Damages in Texas Personal Injury Cases
Unlike economic damages, non-economic damages are more challenging to calculate. These damages include reimbursement for losses such as mental and emotional pain that injuries cause. Texas personal injury laws allow victims to recover non-economic damages to cover:
Pain and suffering
Anxiety and stress
Emotional pain
Loss of companionship
Loss of consortium
Non-economic damages are inherently subjective. The judge or jury must rely on opinion to determine how to value these damages in monetary terms.
Are There Caps on Non-Economic Damages?
In Texas, there are no damage caps for non-economic damages, except for medical malpractice cases. In a medical malpractice case, the non-economic damage caps include:
Suits against doctors or healthcare providers: May not exceed $250,000
Suits against healthcare facilities: May not exceed $250,000 for each, capping at a total of $500,000
In total, non-economic damages in a Texas medical malpractice lawsuit are capped at $750,000.
Punitive Damages in Texas Personal Injury Lawsuits
Personal injury cases include punitive damages granted when the defendant's actions involve gross negligence, malice, or fraud. For example, punitive damages may be awarded in a drunk driving case where the defendant's disregard for human life led them to get behind the wheel and injure others. Punitive damages are intended to deter others from acting similarly and may not be granted without other damages.
Are There Caps on Punitive Damages?
In Texas, punitive damages are capped at either $200,000 or double the total amount of economic damages plus the amount of non-economic damages up to $750,000—whichever is greater. If the negligent act of the defendant was a felony, punitive damage caps do not apply.
For example, in a traumatic brain injury case where the victim is awarded $2 million for economic damages and $1 million for non-economic damage, the punitive damages would cap at $5 million.
Damage Caps on Personal Injury Claims Against Public Entities
In Texas, government and public entities are largely protected from personal injury liability. In the few occasions where a government entity is held accountable for personal injury liability, damages are capped at $250,000 for one person and $500,000 for an individual event.
Trusted Legal Advocacy for Injured Victims in Houston
If you've suffered an injury caused by the negligence of another individual or entity in Houston, contact the personal injury attorneys at Sutliff & Stout for help. Our team has obtained hundreds of millions of dollars in settlements and verdicts on behalf of our Texas clients. We will review your case and answer all of your questions honestly and transparently at no cost. To schedule a free consultation, complete with an accomplished personal injury attorney, complete an online contact form, or call us at (713) 987-7111.