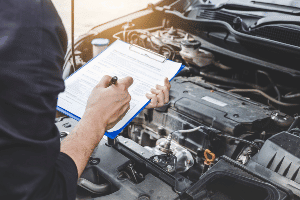 While most car accidents can be prevented, others are simply out of our control. When a car accident occurs due to a defective car, the consequences can be life-altering. Not only can a defective car cause an accident to occur, but it can also lead to more serious injuries. Accident victims who believe that a defective car resulted in their accident and injuries can file a product liability lawsuit within two years from the date of their injuries.
Unfortunately, proving liability for car accidents caused by a defective car is not an easy undertaking. It may be in your best interest to work with a product liability attorney who understands your case, providing the best odds of securing a positive outcome for your situation.
We want to help you too.
Submit the short form below to get a free case review.
Types of Car Defects
Before you can prove a defective car caused your car accident, you must know what type of car defect may have resulted in failure. Cars go through several phases before being distributed and sold, and different teams work on designing, building, testing, and tweaking a car's safety and performance. Some of the most common types of car defects include:
Faulty airbags
Tire defects
Defective ignition switches
Seat belt defects
Fuel system issues
Roof collapse
Non-crashworthy car
Faulty steering system
Accident victims who are hurt because of a defective car can suffer catastrophic injuries such as spinal cord and traumatic brain injuries, especially when airbags, seat belts, and car roofs don't function properly. If you or your loved one suffers injuries due to a defective car, don't go another minute without a competent product liability attorney on your team.
Product Liability Claims for a Defective Car
Identifying all parties responsible for your defective car can be challenging and may involve anyone from the design and manufacturer to the retailer, distributor, or importer. Texas law applies strict liability to product liability claims, meaning that you can hold parties liable for dangerous car defects without the burden of proving negligence.
Defective car claims are approached through three different types of claims: defective design, manufacturer defects, or warning and/or labeling defects. The following information will cover what elements you must prove to have a viable product liability lawsuit.
Defective Design
Cars with a defective design are inherently unsafe to users before the product is manufactured, or even in cases where the manufacturer was extremely careful and cautious in the process. If there is a defect in a car's original design, then a manufacturing defect is almost entirely bound to occur; therefore, a car manufacturer cannot hold liability.
Proving a defective design requires a preponderance of evidence showing that:
The design was unsafe
The unsafe design directly caused your injuries
There was an alternative, less dangerous design option
The alternative design would be economically and technologically feasible
The alternative design would reduce the risk of injury
Manufacturer Defect
Cars with a manufacturing defect occur when something goes wrong in the product's assembly. These typically take place when a car is in the production line or quality control phase, and generally happen because manufacturers rush through design and testing processes. Design defects are uniform, meaning that every car that was produced will have identical issues. Manufacturing defects, on the other hand, are unpredictable, and you may only find a few cars with a defect.
In a manufacturer defect claim, you must have compelling evidence of the car's defect and that the defect caused your accident and injuries. Even if a manufacturer wasn't negligent, they still may be held liable under strict liability.
Warning and/or Labeling Defect
Warning and labeling defects occur when a car is marketed in an inadequate manner, with a failure to disclose the appropriate instructions or warning signs about its use. Manufacturers are responsible for providing users with clear instructions for use and any potential dangers that could arise. A warning label, statement, and instructions must be direct and must meet federal labeling requirements. To prove a warning or labeling defect, you must show proof that your car was missing a warning label or that the instructions on the label were insufficient.
Trusted Product Liability Attorneys in Texas Here to Help
If you have been hurt by a faultily designed, manufactured, or marketed car, Sutliff & Stout can help you determine the cause of your accident and who should be held liable. Our Board- Certified product liability attorneys have extensive experience with product liability and personal injury laws, allowing us to construct factual cases and persuasive arguments.
Here at Sutliff & Stout, we are committed to providing you with unparalleled legal services, so together we can hold car manufacturers and designers liable for unsafe products. When you buy a car, you expect that all parts, controls, and safety features will work. When something goes wrong, you're entitled to be fairly compensated. Learn more about how Sutliff & Stout can help by calling (713) 987-7111 or completing our contact form.