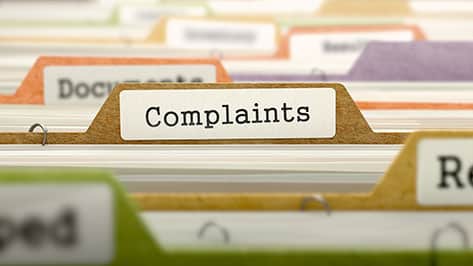 Insurance companies claim to have your back. So what happens when you've been paying your premium and an accident occurs?
Nothing is more frustrating than unexpectedly having to use your insurance benefits only to find out that your insurance company refuses to meet its end of the bargain. Worse yet, if you're involved in a claim where someone else's insurance refuses to pay the damages owed to you, the situation can become even more frustrating and complicated.
When tragedy strikes and your insurance company is making your claim difficult, you can file a complaint. Here are the two types of complaints you can file to help you resolve your claim.
1. File a Complaint with the Texas Department of Insurance

The first, and most common, way to file a complaint with an insurance company is to submit a complaint with the Texas Department of Insurance (TDI). The TDI was created to help protect consumers from dishonest and unethical insurance companies and practices. They regulate all insurances written in Texas and is tasked with overseeing the industry in general.
While they can't fix all complaints, they respond to many auto, homeowner, life, health, and title insurance complaints.
To file a complaint against an insurance company in Texas, visit their website and fill out their form.
TDI also gives you the option of printing out their complaint form, filling it out, and mailing it to them yourself at:
MC 111-1A
Consumer Protection
Texas Department of Insurance
P.O. Box 149091
Austin, TX 78714
Before you fill out the TDI complaint form, make sure you have the following information:\
Your insurance policy number
A copy of your insurance card
The name of the insurance agents or adjusters involved in your case
Your claim number and the date of your accident or loss
A detailed description of your problem
What you think is a fair resolution if your complaint
Copies of all the materials that support your complaint
2. File a legal complaint against the insurance company
The second complaint you can file with an insurance company is a legal complaint. Most complaints people file against insurance companies have to do with the claim settlements. When this situation occurs, it's best to take legal action to resolve the issue rather than solely rely on TDI.
For example, if you have been injured and there is either none or not enough insurance to cover your expenses related to the accident, it may be time to hire the best car accident lawyer you know to help you file a lawsuit.
While the thought of filing a lawsuit against an insurance company may seem daunting, it is a frequent and successful alternative in Texas.
The most frequent type of lawsuit against insurance companies that we see has to do with automobile accidents, of which there are thousands in Texas every year. Common insurance disputes and issues that we see include not having enough insurance (Texas limits are 30/60), being involved in a car accident without insurance, or the driver of the car not being covered by the active insurance policy.
In frustrating situations such as these, you may be required to look to your own insurance company's policy for compensation. This usually covers everything from medical expenses to replacing your damaged vehicle. Oftentimes, this happens when drivers are under-insured, forcing you to pay the difference of the incurred damages.
Example: Suing the other side's insurance company
Recently, one of our clients was hit from the side by a red light runner just outside of Houston. The negligent driver had a minimum insurance policy that did not cover the full cost of damages our client suffered. As a result, his medical bills spiraled, enough that the insurer refused to pay based on the interpretation of their driver's policy.
Thankfully, after suing the insurance company, our top-rated accident lawyers were able to get the insurance company to pay its policy limits so that our client can receive their deserved compensation. Call our Houston car accident lawyers at Sutliff & Stout at 713-987-7111 today for your car accident case.
Example: Suing your insurance company
While suing the other side's insurance company is common, another example is suing your own insurance company.
For instance, your home was damaged and now your insurance company refuses to cover the cost. The insurance company may claim that it's outside of your policy limits or that they have a different interpretation of your policy. No matter what, they won't help when your home desperately needs repair.
In this case, filing a lawsuit against your own insurance company is the next step. When filing a lawsuit against your own insurance company, there are various laws that apply to your situation, such as contract law, the Deceptive Trade Practices Act, and other insurance provisions that require fair treatment.
All lawsuits require evidence to make your claim as convincing as possible. Here the simple steps to follow to increase your chance of success:
Keep all your receipts related to your expenses. Keep every receipt that relates to your accident. This includes repairs to your property (home or auto), medical bills, doctor's appointments, medical equipment, etc. Anything you purchase related to your claim is important to make a copy of and put in a file.
Always take pictures. Take pictures whenever possible of your damaged property, repairs, and anything related to your claim that you think may be important.
Make sure you get everything in writing. When dealing with yours or somebody else's insurance company, always make sure you get every claim or statement made over the phone or in person in writing. You are within your right to ask for any conversation, confirmation, or agreement to be produced in writing for your records.
Sometimes, it may be necessary or inevitable to file a lawsuit if you cannot resolve your claim fairly through negotiation or through the Texas Department of Insurance.