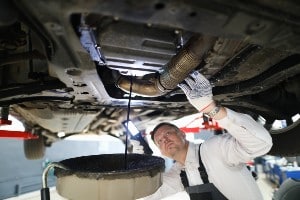 When a vehicle is totaled in an auto-accident—meaning the cost to fix it exceeds a certain percentage of your car's value—insurance companies will pay you the car's actual cash value (ACV). However, what the insurance company claims is the ACV may not actually reflect the best value or fill your pockets enough to get off scot-free after a damaging accident. With a suitable payment, you could use the money offered by insurance companies to pay off a car loan or use it as a down payment for a new car.
The last thing anyone wants to deal with after a car accident is a claims adjuster, but understanding their job and how they determine your car's worth can help you throughout the process. When in doubt, contact an attorney for legal assistance.
We want to help you too.
Submit the short form below to get a free case review.
What Is a Claims Adjuster?
A claims adjuster is someone responsible for investigating insurance claims. They interview witnesses and parties involved. Depending on the claim, they may also review police or medical reports. For car accidents, they inspect property damage to determine the value of the claim. They are also responsible for verifying that the person filing a claim has an active insurance policy.
Car Evaluation Process
After reporting an accident to your insurance company, they will send a claims adjuster to assess the damage. The adjuster's first order of business is to determine whether the car is totaled. The adjuster may determine that the vehicle is totaled, even if it's technically fixable. Assuming a mechanic cannot fix the vehicle, the adjuster will conduct an appraisal and assign a value to the vehicle.
To conduct an appraisal, the adjuster will assess the car's damage and then estimate how much it would cost to repair it. The adjuster is trying to determine how much your car would have been worth before the accident. Once they finish their investigation, the claims adjuster will decide if the car is worth fixing. Generally, if the vehicle is at least 70% damaged, the claims adjuster will label it as totaled.
How Does an Adjuster Determine the Value of My Vehicle?
If your vehicle is totaled, the fair market value is used to determine how much money you will receive to buy a replacement vehicle. Unfortunately, this is typically less than the car's ACV. ACV is determined by how much a reasonable person would pay for the car, assuming the accident never occurred.
Adjusters complete the following steps to check the fair market value of the vehicle:
Obtain dealership sales reports for the make and model
Obtain receipts for repairs and upgrades to the vehicle
Have a third party appraise the vehicle
A third-party appraisal minimizes the risk of improper appraisement. The insurance company will then take both their original offer and the third party's offer into consideration when presenting compensation to you.
Actual Cash Value vs. Replacement Cost
When an adjuster appraises your car, it's essential to know that there is a difference between how much the insurance company is willing to offer you and how much it will cost to pay for a suitable replacement vehicle. Even if your car was purchased new and only driven for a year before the accident, its ACV will be significantly lower than what you originally paid. Simply driving a vehicle off the lot depreciates its value. Unless you're willing to pay the difference for a similar replacement vehicle, your next car will likely be a downgrade.
Gap Insurance and New Car Replacement
A solution to the ACV dilemma is to purchase gap insurance or new car replacement coverage. Both policies will help if your vehicle is totaled. The cost to add each policy to your insurance varies by company, but gap insurance is typically inexpensive and new car replacement can be pricier.
Gap Insurance
If your car is totaled, but you're still making loan payments, or the lease is still active, you still have to pay the remaining costs, despite not having the car. Gap insurance will pay the gap between your vehicle's ACV and the amount you still have to pay on your loan or lease.
New Car Replacement
New car coverage is typically only available if you're the first owner and the vehicle is less than a year old, but specifics will depend on the insurance company. New car replacement will ensure you receive enough to replace your car with a similar make and model.
How to Dispute Your Insurance Company's Valuation
If the ACV your insurance company offers is too low, you have the option to dispute it. To do this successfully, you'll have to show that your car would have been worth more at fair market value than what they're offering to pay you. Search for similar vehicles in your area, trying to match as closely as possible the number of miles, wear and tear, and accident history. A personal injury attorney can better assist you when disputing the valuation of your vehicle.
Speak to an Experienced Injury Attorney After a Car Accident
If your insurance company doesn't offer enough compensation for your vehicle, reach out to the experienced Board-Certified personal injury attorneys at Sutliff & Stout. We've helped our clients receive hundreds of millions in recoveries and understand how to navigate the tactics insurance companies use to settle at unfair and low amounts.
To schedule your free consultation, call (713) 987-7111 or complete our contact form today. Our attorneys will fight to obtain the compensation you deserve.