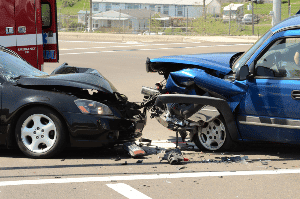 All car accidents are dangerous and have the ability to dramatically affect someone's life. Unfortunately, certain car accident scenarios give rise to a greater risk of death. Of course, no outcome is the same for two people because there are specific factors that contribute to the aftermath of a car accident—like speed, vehicle make and model, body position, and impact angle.
However, there are four types of accidents that generally result in catastrophic or fatal injuries. Understanding the most dangerous types of car accidents in Texas can help make you more consciously aware of your driving habits and potentially save your life. Here's a list of four of the most dangerous accidents that occur in Texas.
We want to help you too.
Submit the short form below to get a free case review.
Run-Off-Road Accidents
Run-off-road car accidents are often the deadliest. From 2014 to 2015, there were approximately 18,779 fatalities from run-off-road accidents in the United States. When a car runs off the road and strikes a fixed object, such as a tree, pole, or concrete barrier, it absorbs most or all the force of impact.
Generally, run-off-road accidents involve one party, but in some cases, that doesn't necessarily mean a singular party is liable. For instance, the driver may have tried to maneuver out of traffic because something was obstructing the roadway. However, more often than not, the driver is considered to be at fault in run-off-road accidents for reasons like driving under the influence, distracted driving, or driving recklessly in harsh weather conditions.
Head-On Accidents
After run-off-road accidents, head-on car accidents are at the top of the list for producing debilitating injuries and death. Although head-on accidents are rare, they still account for around 13 percent of car accidents in rural areas. The outcome is often severe traumatic brain injuries and spinal cord injuries because of momentum. When two vehicles travel towards each other at a high velocity, the force of impact is almost doubled, causing the victim's body to be thrown forward suddenly. This can result in the victim hitting their head hard on the car's interior, or their body might sustain serious airbag or seatbelt injuries.
Side-Impact Accidents
The front and rear of vehicles are built with bumpers for extra protection, whereas the sides of vehicles offer practically none. This is the reason they're so dangerous and why these collisions make up 20.7 percent of traffic fatalities in the United States. Side-impact accidents commonly occur at intersections, when one vehicle makes an illegal turn or runs a red light. The effects side-impact accidents have on the body are extensive, particularly to the head, chest, and abdomen.
Rollover Accidents
Rollover accidents are when vehicles flip or turn over on the roof or side. They typically involve large vehicles like trucks, vans, and SUVs. Over 10,000 people die annually in rollover accidents, making them the accidents with the highest mortality rate compared to others. Unlike smaller vehicles, larger ones are higher off the ground and heavier at the top. So, if a driver loses control of the vehicle, the vehicle may lose balance and start to lean to one side and roll over.
Most rollover accidents are due to driver negligence. Whether through recklessly speeding or failing to stop at a stop sign, their actions can have life-threatening consequences on accident victims.
Expert Texas Personal Injury Attorneys Reach Favorable Results
The Board-Certified personal injury attorneys at Sutliff & Stout are regarded as leaders in the Texas area. Our firm represents thousands of personal injury victims and their family members with their accident cases. No matter how long it takes, we always strive for results. We believe that those injured through the negligent actions or inactions of someone else deserve competent representation, fair compensation, and meaningful justice.
At Sutliff & Stout, our experienced personal injury attorneys are prepared to assist your case through lengthy negotiation processes. If necessary, we also have the resources, skills, and drive to pursue your case in court. Find out if you have a viable personal injury case today by calling (713) 987-7111 or completing a contact form for a free, no-obligation case review.