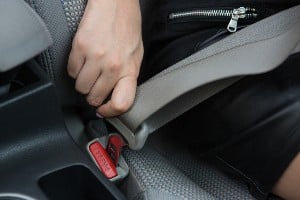 Wearing a seat belt isn't just crucial for your welfare—in Texas, it's the law. While seat belt use is second nature for some, others simply ignore buckling up once they entire a car. Whether through unintentional disregard or deliberate choice, not wearing a seat belt may come with irreversible consequences.

The question most accident victims have is whether they can still file a personal injury claim if they weren't wearing a seat belt at the time of their car accident. The short answer is yes, but there are specific laws in Texas that may affect your ability to collect the full amount of your damages.
Texas Seat Belt Laws
Under Texas Transportation Code Chapter 545, drivers and passengers must be restrained in a motor vehicle at all times. Failure to do so can result in a fine of up to $200. Children under 8 years of age or shorter than 4 feet 9 inches must be properly restrained in the appropriate child safety or booster seat. The driver of a vehicle may be issued a fine of up to $250 for child-related seat belt violations. Depending on the circumstances, a driver pulled over for not wearing a seat belt or not having a child in their proper restraints can lead to misdemeanor criminal charges.

Wearing a seat belt won't just protect you from the consequences of getting pulled over. Seat belts are known to save lives or, at the very least, minimize injuries in the impact of a car accident. Nearly 926 people who were not wearing seat belts were killed in car accidents in Texas in 2018; many more were severely injured. The majority were in the driver's seat.
We want to help you too.
Submit the short form below to get a free case review.
No Buckle May Mean No Compensation
Being unrestrained in a car accident that results in injuries or death may affect your right to be awarded financial compensation. Before 2015, not wearing a seat belt was not an acceptable defense. It wasn't until the Nabors Well Services v. Romero case that the Texas Supreme Court overruled its principle prohibiting the use of seat belt evidence in personal injury cases.
The new rule states that evidence of not wearing a seat belt can be admissible to demonstrate comparative fault if the non-use directly contributed to the victim's losses. Texas follows a modified comparative fault system, which means that a victim who is 51 percent liable for their accident will be barred from recovering compensation. If the victim is deemed under 51 percent at fault, the amount they may be awarded is contingent upon their degree of fault.
What If a Defective Seat Belt Caused My Injuries?
In some instances, drivers or passengers may be wearing a defective seat belt during an accident. If a seat belt malfunctions on impact, victims may be seriously injured. The defendant's insurance company will argue that the victim's injuries wouldn't have been as severe if they were responsibly restrained. However, a knowledgeable attorney can investigate your crash and determine whether a defective seat belt led to your injuries. The most common seat belt defects include:
Inertial unlatching
False latching
Retractor failure
Webbing defects
Unspooling
Material or design defects
You may have both a personal injury and product liability case on your hands in cases involving faulty seat belts. You may be able to sue the driver for their negligence that led to the crash as well as the manufacturer, distributor, designer, or other parties involved in the making of your seat belt.
Effective Texas Personal Injury and Car Accident Attorneys
If you or a loved one was injured in a car accident involving a defective seat belt, or if you are being blamed for not wearing a seat belt, it will be to your advantage to consult an experienced car accident attorney at Sutliff & Stout. We are Texas's go-to personal injury firm because we know how to handle complicated legal matters strategically. Our team of Board-Certified personal injury attorneys understands what evidence to collect and how to use it to your advantage.
Get help from a compassionate injury attorney today. Schedule a free, no-obligation case review with our Board-Certified attorneys by calling (713) 987-7111 or completing our contact form.