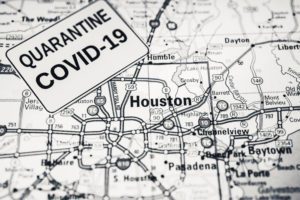 As the world grapples with the COVID-19 pandemic, many industries and institutions have been forced to close their doors or alter their daily operating hours. Due to this abrupt change in business and life as we know it, many Texans are questioning how their personal injury cases could be impacted. While no personal injury case is the same and the details can significantly alter the outcome, the following article provides helpful insight into personal injury cases during the COVID-19 pandemic.
How Might Efforts to Combat COVID-19 in Houston Impact My Injury Case?
Endeavors to fight the spread of COVID-19 in Houston will, overall, have little impact on the outcome of your injury case. At Sutliff & Stout, our doors and services remain open to Houston's clients, and we're taking precautions to safeguard everyone's health. While our offices remain open, we are not taking the COVID-19 crisis lightly. We have implemented procedures to follow the guidelines set by the U.S. Centers for Disease Control and Prevention (CDC).
Our board-certified personal injury attorneys remain available to offer legal counsel 24/7 to clients with questions or concerns about their case. While many businesses throughout Houston have been forced to close or limit their hours, we remain available to help. If you've been injured in an accident and need sound legal advice, please contact us through our website, via phone, or by text message.
We want to help you too.
Submit the short form below to get a free case review.
Will Texas Courts Hear My Case During the COVID-19 Crisis?
In compliance with the Emergency Orders issued by the Supreme Court of Texas and the Court of Criminal Appeals, Harris County and other Texas courthouses have modified requirements for court proceedings according to guidelines set by the Office of Court Administration (OCA). That includes new rules for social distancing and maximum group sizes. All judges will conduct proceedings remotely through video conferencing and teleconferencing.
While courthouses are at limited capacity, your lawyer, whether virtually or in person, will still be able to pursue your personal injury claim without disruption.
Can I File a Personal Injury Claim During COVID-19?
Yes, you can file a personal injury claim during the COVID-19 crisis. While many continue to stay home and follow social distancing guidelines, accidents will still occur. Injured victims will still need to communicate with experienced personal injury attorneys. Although business operations have changed due to COVID-19, you can always speak with a trusted lawyer and file a personal injury claim if you get hurt.
Will Getting Medical Treatment Be Restricted Under the COVID-19 Pandemic?
Possibly. Many doctors and medical providers have limited their services, which has been hard on individuals hurt by the carelessness of others. To help, many doctors are offering tele-medicine and other alternatives in an attempt to address this growing need.
Lapses in Insurance Coverage May Affect Car Accident Coverage
As many businesses close and the national unemployment rate soars to rates not seen since the Great Depression, some drivers may not be able to keep up with their insurance premiums. As a result, they will lose coverage, which could prevent an injured victim from recovering compensation after an accident caused by an uninsured driver.
The only option that Texans have to secure themselves against potential losses because of an uninsured driver is through their own uninsured/underinsured motorist policy with their individual insurance provider. If you've been in an accident with an uninsured driver in Houston, it's strongly advised that you contact a trusted car accident attorney for the best options to proceed.
Contact Trusted Houston Personal Injury Attorneys for a Free Consultation
If you've been injured in Houston and have questions concerning your options, contact Sutliff & Stout for a free case review. Our personal injury attorneys remain committed to furthering our clients' claims toward a favorable settlement or verdict. Don't settle with anything less than what you deserve.
At Sutliff & Stout, our attorneys are Board Certified in Personal Injury Trial Law by the Texas Board of Legal Specialization. Our combination of an aggressive approach to litigation and a commitment to close client collaboration can help you achieve all of your goals. To schedule a free consultation, complete an online contact form or call (713) 987-7111.