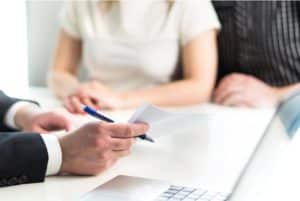 In general, most car accidents in Texas can be resolved promptly through the at-fault driver's insurance company. However, not all accidents are the same, and sometimes it's in your best interest to take your case to court to be decided by a judge or jury. Should your case go to trial, the depositions of all parties involved are essential.
Having a personal injury attorney on your side with experience handling car accidents and insurance companies in Houston is vital during this time. The litigation process is exceedingly complex in Texas. Representing yourself against an insurance company's legal team will be challenging, if not entirely unfeasible.
We want to help you too.
Submit the short form below to get a free case review.
What is the Purpose of Giving a Deposition?
A deposition is an under-oath, oral testimony given out of court which drivers, witnesses, doctors, and others involved in your car accident case may be required to provide. After filing a lawsuit, the opposing party has the right to depose you to investigate who is liable for the accident and the extent of your damages. Your attorney will equally be allowed to question the other driver involved.
Car accident attorneys at Sutliff & Stout do this to:
Hear the defendant's telling of how the accident occurred
Acquire knowledge of how the defendant will testify at trial
Discover the strengths and weaknesses of your case
Uncover the defendant's monetary and insurance assets
What Can I Expect When Asked to Provide My Deposition?
A deposition is given out of court and is usually done at a lawyer's office. A court reporter will be present during this time to transcribe every word in case the transcript is needed later in court.
First, you're sworn in, then the defendant's attorney will ask you a sequence of questions. It's important to remember that you're answering under oath, and you must answer honestly. If you don't know the answer, you can say that you don't know or can't remember.
What Questions Should I Expect to Be Asked at a Car Accident Deposition?
You can expect to answer specific questions relating to your accident and your resulting injuries. In an attempt to disprove that your injuries were a direct result of the accident, the opposing attorney may ask you about your medical history and past experiences.
The questions you can expect to be asked at a deposition depend on the nature of the car accident. Houston attorneys at Sutliff & Stout will be able to provide specifics so you can best prepare.
Common questions in a car accident deposition generally include:
Can you describe how the accident occurred?
What were you doing in the moments leading up to the crash?
How fast were you driving at the time of the collision?
What is your medical background?
When did you first see the car that you crashed into?
Were there other vehicles involved?
Could the accident have been avoided?
Have you contacted any of the witnesses?
Did the weather influence the car crash?
Did you drink or take drugs on the day of the accident?
Were you wearing your seatbelt correctly?
Explain your injuries from the accident
Were you brought to the emergency room for treatment?
What type of treatment was needed for your injuries?
Have you since returned to work?
Texas laws prohibit harassment, intimidation, or abusive conduct. Your attorney will be with you throughout this entire experience so you can be assured knowing you'll be treated with respect, and your rights remain protected.
Suggestions for Giving a Good Deposition
It's completely understandable to feel nervous about giving a deposition – especially if you've never been in this situation.
To reduce any anxiety that you might experience beforehand, consider these suggestions:
No matter what, be completely honest
Take your time listening and answering questions
Keep responses brief
Answer only questions you're asked and nothing more
If you don't know the answer, do not attempt to guess
If you don't understand a question, ask for clarification
Remain relaxed and polite toward the attorney and defendant
With an experienced personal injury attorney on your side, you will be more than prepared and confident during this entire process.
Houston Car Accident Lawyers Help You Prepare for Your Deposition
Personal injury attorneys at Sutliff & Stout have helped accident victims across Houston recover hundreds of millions of dollars in damages after being injured in car accidents. Our attorneys are experienced and will advise you through each step of the lawsuit. Before giving a deposition, Sutliff & Stout injury lawyers will explain the process in detail and help you prepare by going over questions that you will likely be asked. You can be confident knowing that your rights will be protected every step of the way.
Sutliff & Stout car accident attorneys are Board Certified in Personal Injury Trial Law by the Texas Board of Legal Specialization. To schedule a free consultation with an experienced car accident attorney, complete an online contact form or call our office at (713) 987-7111.