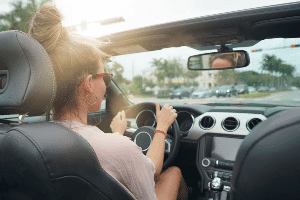 Texting and driving is illegal in Texas, and some cities ban all cell phone use while behind the wheel. Drivers with learner's permits are not allowed to use a cell phone within the first six months of driving and using any handheld device while driving in a school zone is illegal for all drivers. Using a phone when driving is just one of many ways people drive distracted in Texas, but there might be ways for people to earn rewards while safely driving on roads and highways.
If your car accident resulted from another driver being distracted, reach out to one of Texas' best car accident lawyers, Sutliff & Stout. Our top Texas personal injury attorneys will launch a thorough investigation into the incident and work to obtain you financial compensation.
We want to help you too.
Submit the short form below to get a free case review.
Why is Distracted Driving Dangerous?
According to the CDC, eight people die every day in the United States from distracted driving accidents. Anything that takes your mind away from driving is a distraction. The CDC says there are three main types of distractions. They are:
Visual: Taking your eyes off the road
Manuel: Taking your hands off the steering wheel
Cognitive: Taking your mind off driving
Aside from using a cell phone, which is one of the main distractions, other types include eating, adjusting the radio, and interacting with passengers. Whenever a driver engages in any form of distraction, the risk of collision increases. Accidents can be fatal if they are traveling at high speeds.
What is Incentivized Driving?
Incentivized driving is a way to ensure drivers are staying safe on Texas roadways. While it is impossible to assure that everyone is driving safely, many insurance companies are doing what they can to decrease the risk of an accident occurring. Some insurers have developed different technologies and incentives for practicing safe driving.
For example, State Farm uses "Drive Safe & Save." It relies on cellular and GPS functions to gather information, such as location, speed, and distance. Once someone enrolls, State Farm will send them a device to install, typically on the windshield. The device will then track GPS information when the car is moving and assign the driver a safety score. Depending on the score, they might receive a reduced rate on monthly premiums. Other insurance agencies, including Allstate and Progressive, offer similar incentives.
Apps that Offer Rewards for Safe Drivers
Insurance companies are not the only ones offering incentives for safe drivers in Texas. "This App Saves Lives" is just one example of applications offering incentives to drivers. The app does nothing until you get in a vehicle. Once it detects someone in a vehicle going at least 10 miles, it powers on and starts monitoring when the owner uses the phone to respond to a text, change the music, or call another person.
For every minute the driver does not use their phone, they earn a point. Drivers lose a point if they use the device in an unsafe way. Once they have enough points, they can redeem them for rewards or gift cards at restaurants and retailers.
If a free milkshake or burger is not enough of an incentive to put the phone away, remember a ticket for texting and driving in Texas can lead to a fine between $25 and $99 for a first offense. Repeat offenses may cost up to $200.
There are hundreds of other applications on the Apple App Store and Google Play Store for drivers to download and start earning rewards for being safe on the road.
Speak to a Car Accident Attorney in Texas Today
Despite many insurers offering a reduced premium rate and apps offering rewards for safe driving, thousands of drivers engage in dangerous actions on the road every day. Remember, the most dangerous thing on the road are distracted drivers. Always exercise caution when behind the wheel. If an accident does occur from distracted driving, you might be facing extensive medical bills and property damage costs. When this happens, reach out to the car accident attorneys at Sutliff & Stout.
Our skilled team of lawyers will guide you through every step of the claims process and fight for you to receive fair compensation. To schedule a free consultation, call (713) 987-7111 or complete our contact form.