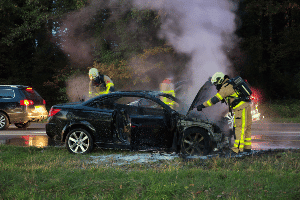 There are quite a few challenges that come with safely navigating the accident-heavy roads in Texas. With sections of unfinished highway and aggressive drivers all around, motorists across the state are familiar with how difficult it can be to avoid an unnecessary accident. However, in addition to protecting themselves against hazardous roads and bad drivers, vehicle owners in Texas should also be prepared if they ever find themselves in another kind of accident: a car fire.
Studies from the United States Fire Administration report that, from 2014 to 2016, an estimated 171,500 highway vehicle fires occurred each year. These automobile fires are devastating and life-changing, and they can happen to anyone. Knowing what to do in the event of a car fire can save you and your family from an unfortunate and unexpected disaster.
Pull Over if You Smell Burning Materials
One of the first things that can indicate a car fire is the smell of burning rubber or plastic. This smell can become more intense the longer you drive a vehicle that is in danger of overheating. The best measure in this circumstance is to pull your car over to the side of the road.
Even if you are close to your destination, you should still navigate away from other vehicles and pull over to investigate further. Similarly, if you see any smoke or fire coming from the front of your vehicle, do not hesitate to pull over into a safe area. This simple move can save your life and the lives of others around you.
We want to help you too.
Submit the short form below to get a free case review.
Turn Your Engine Off
Once you have pulled your vehicle over to a safe spot where you are not blocking traffic and can be accessed by emergency responders, turn off your car engine. This might help reduce some of the smoke and smell coming from your vehicle, but this does not mean that the problem is solved.
After your automobile is turned off, take any important possessions such as your keys, phone, and wallet, then exit the vehicle with the other passengers. If you have small children in the car with you, ensure that you help them get out of the automobile first.
Call Emergency Services Immediately
After exiting the vehicle with your necessary items, ensure that you are standing away from it at a minimum of 150 feet in the event of a fire occurring after the car has been turned off. Once your family is a safe distance away, call 911 and report the incident.
You may be asked to identify the make and model of your car so that first responders from the fire department can locate you on the road. If you are unsure of where you have pulled over, try and give accurate physical descriptions of nearby landmarks or streets that emergency drivers can use to find you and your vehicle.
Contact a Trusted Texas Car Accident Lawyer
After an overwhelming incident like a car fire, your priority should be taking the necessary steps to protect yourself and your family: that means staying safely away from your vehicle if it is smoking or on fire, calling for help, and reaching out to a lawyer that you can depend on. Whether you've sustained injuries as a result of the fire or your car was damaged beyond repair, the team of legal professionals at Sutliff & Stout will help build a strong case and recover the financial compensation you need.
Our Board-Certified lawyers have helped clients recover millions of dollars, and each of our case consultations is conducted free of charge. If you're looking for a legal firm that will work with you every step of the way after your automobile fire in Texas, contact the experienced auto accident lawyers at Sutliff & Stout today.
Call us at 713-987-7111 or reach out to us online to learn more about scheduling your free case review with one of our Board-Certified legal professionals.