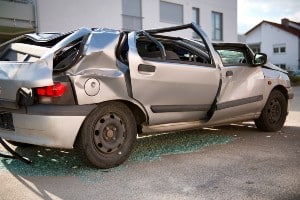 Cars are classified as totaled when they are considered a "total loss" after they are damaged by an unexpected event, such as a car accident. Specifically, insurance companies determine a car to be totaled when the cost to repair the vehicle plus its salvage value is less than the cash value of the car. To calculate this value, an insurance company will normally have an appraiser estimate the cost of repairs along with the car's worth. If their repair estimate is more than the car's cash value, it will typically be deemed totaled.
If you have been involved in an accident where your car may be totaled, it's important to seek legal representation to ensure you receive a fair appraisal and resulting settlement. Working with an expert accident lawyer is the best way to ensure you are not manipulated by your insurance company. Here is some important information to know on what it means to have a totaled vehicle.
We want to help you too.
Submit the short form below to get a free case review.
How to Tell If Your Car is Totaled After a Texas Car Crash
If the cost to repair is higher than the value of the vehicle, it's likely the car will be labeled as a total loss. Insurance companies will always look to pay out the cheaper option and this is no different. By definition, a totaled car is recognized as a car that would cost more to repair than the value of the vehicle. For example, if your car is worth $8,000 and the cost of repairs is $10,000, your vehicle would be considered totaled. In these scenarios, insurance companies will not repair the car and instead provide you with money that reflects the vehicle's worth.
This definition is designed to benefit both the insurance company and owner of the car. The car owner is able to recover the money they would otherwise lose and the insurance company saves money in the process. The process of determining whether your car is totaled usually takes a couple of days. If the insurance company decides your car is totaled, they will give you a check for the value of your car.
My Car Is Totaled Now What?
If your car is totaled as the result of an accident, the first step will be to file an insurance claim with the at-fault provider. Damages could include repair cost, medical cost, lost wages and more.
How the Insurance Company Determines Your Car's Value
There are several factors your insurance company takes into account when determining the value of your car, which can cause their estimate of your car's value to be different than yours. Some of the factors an insurance company will consider when determining a vehicle's value include:
The age of the car.

 Cars depreciate over time, meaning depending on how long you've owned your car, it will have lost some amount of value.

The type of car

. Different kinds of cars depreciate at different rates and certain kinds of cars will retain their value longer than others.

What condition the car is in

? Your insurance company will also consider the condition your vehicle was in before it was in the accident. If your car was in worse condition compared to the average condition of a car of the same model and year, they will likely value it at a lower price.

Your negligence

. If the insurance company finds you were partly to blame for the accident, they are likely to factor your contributory negligence into the value of your car.
These are just a couple of the common factors insurance companies take into account when determining the value of your vehicle. If you suspect your car may be totaled, it's helpful to work with Houston car accident lawyers who can protect you from manipulative tactics used by many insurance companies.
What if my Insurance Company Isn't Paying Enough?

If you are the under the impression that your insurance provider is undervaluing your claim, it's important to speak to an experienced attorney. From here, your legal council may choose to pursue one of several options, including requesting an additional appraisal on the vehicle, filing a complaint to the provider, or fighting on your behalf in court.
A lawyer may request an additional appraisal of the damaged vehicle either directly from the insurance provider or a third party.
They may also choose to file a complaint with the company on your behalf. Ultimately, if a fair settlement can't be reached, you'll need legal representation that's willing to go the distance for you. Sutliff & Stout will do that.
Contact the Lawyers at Sutliff & Stout
Getting into a car accident is a stressful experience—especially if your car is totaled in the process. Working with a Houston car accident lawyer is the best way to minimize stress during the claims process. At Sutliff & Stout, we understand the stress of navigating the aftermath of a car accident and are dedicated to taking a personalized approach to every case. Our firm has been recognized as one of the top 3 personal injury law firms in Houston and our team has helped thousands of individuals with their car accident claims.
If you are looking to discuss your car accident case with a personal injury lawyer, the team at Sutliff & Stout is here to help. Call us today at (713) 405-1263 or contact us online to discuss your injury or car accident claim.
Frequently Asked Questions
What Happens If You Total A Financed Car With Full Coverage?
Fully covered drivers involved in an accident can expect not only liability coverage but comprehensive and collision coverage as well.
What Happens When Your Car Is Totaled But Still Drivable?
Although your vehicle may still be technically driveable, it doesn't mean the vehicle is not totaled. If the vehicle is determined to be a total loss, meaning repairs would cost more than the worth of the car, it will still be determined totaled. If this happens, you will need to register the vehicle as salvage and may need to surrender the vehicle.
If My Car Is Totaled, Do I Still Make Payments?
Although you will still be required to pay off the remaining balance of the vehicle, if you are not deemed at-fault, you can make a claim against the at-fault's insurance seeking damages for the accident. Damages would include the remaining balance of the loan on the vehicles.
What happens when your car is totaled and you still owe money?
In short, paying off your car loan is still your responsibility, regardless of fault in the accident. If funds are still owed on your vehicle, it's not uncommon for loan holder to receive a portion of the insurance settlement to pay off what is still owed on the vehicle.
What happens if you crash a financed car with insurance?
Once the at-fault party is determined, the at-fault driver's insurance can have a claim made against them seeking damages.