Injured in an accident in Midland Texas? Sutliff & Stout Injury & Accident Law Firm is ready to help you maximize your compensation.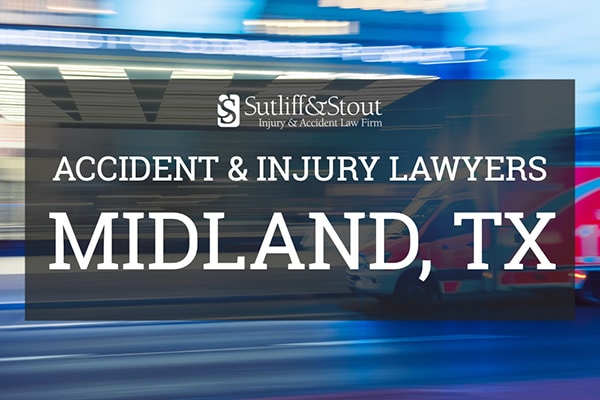 Millions of people are injured in various ways every year, from car accidents to slip and falls to acts of assault and more.
When an accident occurs that leaves an individual with a serious injury, that individual is often left facing high economic and noneconomic losses.
Understanding how to recover compensation for these losses and what one's rights are may be confusing. At the offices of Sutliff & Stout, Injury and Accident Law Firm, our Midland personal injury lawyers can help.
Note: Sutliff & Stout has offices in Houston, Austin, San Angelo, and Marble Falls. However, we have successfully handled serious injury claims for folks in Midland, and throughout Texas. We commonly travel to meet with our clients wherever it's most convenient. Remember: When it comes to your case you don't need the closest personal injury attorney; you need the best attorney. Click here to see examples of the results we've achieved for our clients.
We're proud to be rated among the best accident injury lawyers in Midland Texas
Injured? You May Have a Personal Injury Case
If you've been injured in Midland, you may have a personal injury case. Our lawyers can serve you if:
Another party acted negligently, breaching the duty of care owed to you; and
The breach of duty/negligence was the proximate cause of your injuries and damages.
In order to win your personal injury case, you'll need to prove the two elements above. You'll also need to prove the extent of damages that you have suffered. Importantly, you must also bring forth your personal injury case in Midland within the statute of limitations, which is two years in Texas.
Midland (and Odessa) Have Among the Highest Drunk Driving Rates in Texas
Drunk driving is a major source of automobile accidents which eventually result in personal injury lawsuits. Our Firm published a study in 2018 which shows that Midland and Odessa have the highest rates of drunk driving fatalities in the state: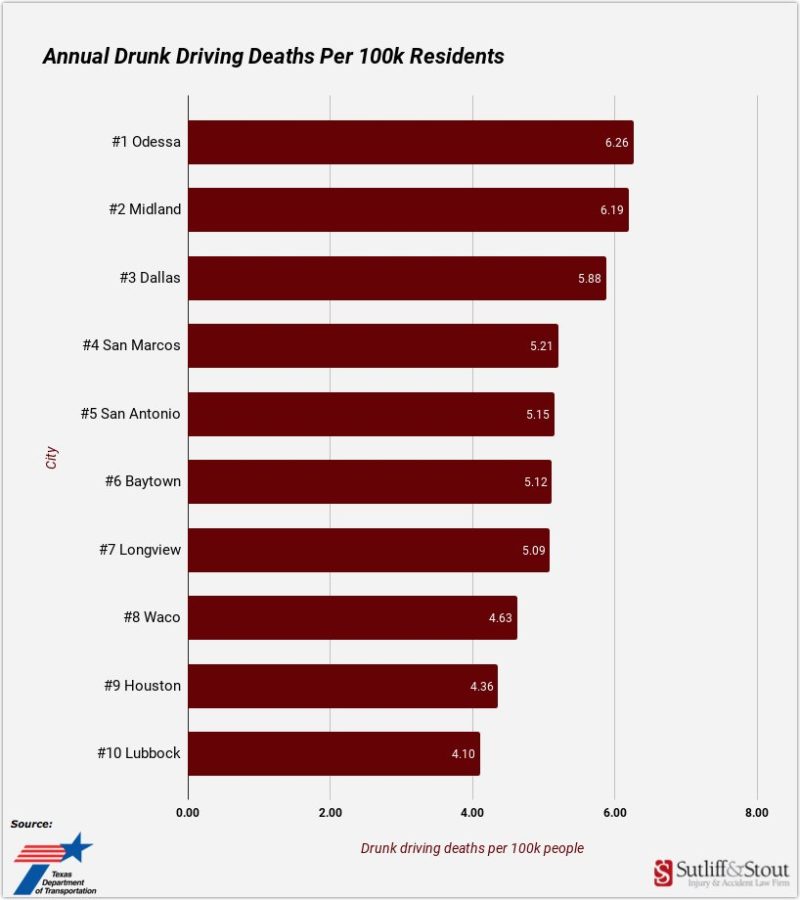 If you or a loved one is the victim of a drunk driver in Midland, it's in your best interest to speak with a qualified personal injury attorney. An attorney will assess your case and help you maximize the value of your settlement.
Overview of Midland Car Accident Statistics: 2014 – 2018
According to crash data from the Texas Department of Transportation, there were 4,405 crashes in Midland in 2018, the highest number in the last 5 years.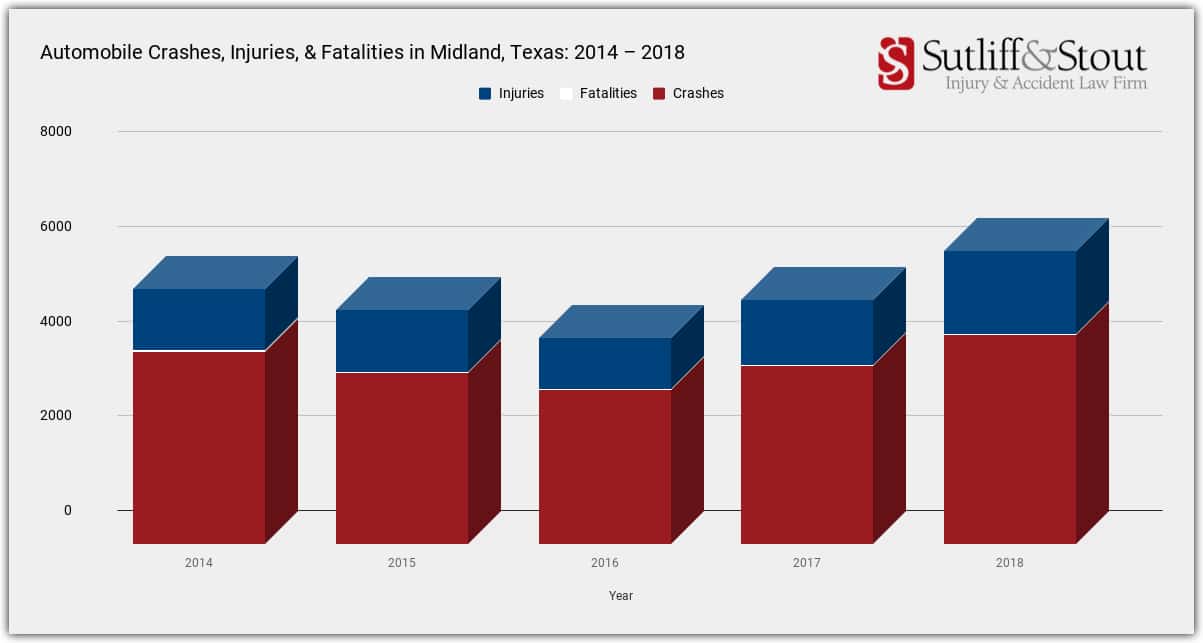 Annual Averages: Car Crash Statistics in Midland Texas
Crashes: 3,811.20
Injuries: 1,369.60
Fatalities: 15.80
These numbers paint a clear picture: Car accidents which cause injuries and fatalities in Midland are not rare occurrences. If you've been the victim of a Midland car crash, please call Sutliff & Stout anytime to discuss your best path forward.
Other Types of Personal Injury Cases We Can Help You With
We're not only car accident lawyers; we have extensive experience handling a number of personal injury case types. Our personal injury practice areas include:
Motor vehicle accidents;
Dangerous premises accidents;
Workplace accidents, including oilfield injury claims;
Defective product accidents
If you have been injured in Midland, you can count on our lawyers to have the experience and knowledge that's required to effectively navigate your case and protect your best interests.
What to Expect When You Work with Our Midland Personal Injury Lawyers
When you work with our Midland personal injury lawyers, you should expect nothing short of excellent service. Our lawyers:
Work on a contingency fee basis. We'll never charge you for our services if we are unsuccessful in getting you a settlement.
Have results you can trust. Our lawyers have recovered tens of millions of dollars on the behalf of our clients, both in settlement negotiations and via jury verdicts.
Are invested in you and our community. When you work with our lawyers, you can count on a lawyer assigned to your case who realizes that you are the most important person in your claim. In addition to working hard to ensure that your needs are met, our lawyers are also dedicated to community involvement and making a positive impact on our society beyond the courtroom.
Schedule Your Free Consultation Today
If you've been injured in Midland, Texas, you need a Midland personal injury lawyer on your side. Don't wait a moment longer to take action – you improve your chances of your full recovery amount by acting quickly.
To schedule a free, no-obligation consultation with our injury attorneys, please send us a message, call our law firm directly, or stop by our office in person. We are happy to answer any questions that you have.
Ready to get answers about your injury claim?
Submit the short form below to get a free case review from Sutliff & Stout.