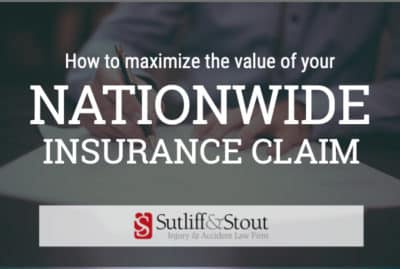 Like many other large national insurance companies, Nationwide is built to return an investment to its shareholders, and that means they'll often do everything they can to avoid paying fair settlements whenever they can to protect their profit margin.
To Nationwide, you are just a number in a file. Their goal is to pay you as little as possible. To maximize the value of your claim you should speak to qualified legal professional who will represent your best interests, not Nationwide's shareholders'.
In order to recover fair value for your accident or injury claim, it's essential that you be equipped with a plan for combatting the tactics that insurance companies like Nationwide use to pay you as little as possible.
Resources For Filing Nationwide Insurance Claims
Need Help Dealing with Nationwide?
To Nationwide, you are just a number in a file. Their goal is to pay you as little as possible. To maximize the value of your claim you should speak to qualified legal professional who will represent your best interests, not Nationwide's shareholders'.
---
Key Steps to Follow after an Accident
Before filing a claim with Nationwide, we recommend you take these simple steps to have the best opportunity to receive a fair settlement for your damages:
Make sure you hold on to all the paperwork related to your medical bills and make copies. If you had passengers in the car with you at the time, make sure they do too. If you have lingering injuries or injuries that show up days or weeks after your accident, don't let them go untreated. Make sure you get a proper diagnosis from a medical professional.
Hold on to the police report from your accident, it will be an important document to help settle your claim.
Make sure you let your insurance company know that you've been in an accident, if you haven't already. It's better to let them know as early as possible.
Never sign any legal documents without first consulting a lawyer if you don't know what they mean or you have serious questions or concerns.
Don't talk to anyone about your opinion of the accident until you've had a chance to speak with a trusted accident lawyer.
How Do I File a Claim with Nationwide?
Nationwide is known for being the first insurance company to develop an iPhone app to help its customers take the right steps after an accident. The app also now helps Nationwide customers start the claims process and find local repair shops. Today, Nationwide offers several different ways to file a claim, including through its smartphone app, on its website, over the phone, and in person with a Nationwide agent.
We recommend that if you were in a minor accident with damage only to your vehicle, that you follow Nationwide's claims process. If you're able to do so, you should get a second opinion on the cost it will take to fix your car. You can do so by going to a trusted auto repair shop, and it's your right in Texas to do so. We also advise that you use Nationwide's online claim system to ensure that all of your interaction with Nationwide is documented. Communicate with your claims adjuster by email or using the Nationwide claims system whenever possible to ensure you get everything in writing.
If you are filing a claim against Nationwide because it is the insurance company of the at-fault-driver, it is up to your insurance company or up to you individually to file a claim against Nationwide to be reimbursed for your damages. Because Texas is an at-fault state, you can file a claim against Nationwide for any accident-related property damage and medical expenses if you were not the at-fault driver.
However, keep in mind that if significant injuries and medical expenses are involved in your claim, dealing with Nationwide could be more complicated. In this case, you should seek out a trusted lawyer to help walk you through the claims process to ensure you get a fair settlement. It is bodily injury claims that present the most problems for people injured in a car accident.
How to Contact the Nationwide Claims Department
Toll-Free Number: 1-800-421-3535
Hours: Toll-free number operational 24 hours a day, 7 days a week
Website: https://www.nationwide.com/auto-insurance-claims.jsp
Email: None listed
Twitter: @OnYourSide
Corporate Headquarters:
Nationwide Headquarters
One Nationwide Plaza
Columbus, Ohio 43215-2220
What Do I Need to File a Claim with Nationwide?
When you file a claim with Nationwide, it's good to have the following information on hand:
Your insurance policy number and the full name of the driver who hit you and their and insurance policy number, if it applies.
A copy of the police report you were given at the time of your accident. If you don't have it, you can call the police department and request a copy.
The names and contact information of any passengers that were in your car at the time of the accident, especially if they were injured.
Evidence of the damage to your vehicle, such as pictures you took of your car after the accident, and before pictures if you have any.
The contact information of a trusted repair shop in your area for an alternate damage estimate.
Documents related to the injuries you suffered as a result of the accident, including your initial doctor or hospital visit, and any other follow-up care.
Nationwide Insurance's History
Nationwide Mutual Insurance Co. is part of a dizzying array of large U.S. insurance and financial services. It's part of a conglomerate of more than 100 companies, including other car insurance companies such as Titan, Victoria, and Allied.
Nationwide was created in 1925 as the Farm Bureau Mutual Automobile Insurance Company and offered automobile insurance to only Ohio farmers. It soon expanded to West Virginia, Delaware, North Carolina, Vermont, and Maryland. In 1955, the company changed its name to Nationwide Insurance and expanded to 20 other states, with companies based in Ohio and its regional headquarters in San Antonio.
Nationwide is also known for being one of the best places to work as rated by Forbes magazine, and for its generous contributions to the community. Since 2004, Nationwide has received a 100% rating on the Corporate Equality Index by the Human Rights Campaign and the company had a children's hospital renamed the "Nationwide Children's Hospital" for its $50 million donation to the hospital.
Despite high employment satisfaction ratings and generous giving, it's also been embroiled in several controversies, including:
A death benefits controversy in 2012 in which Nationwide paid $7.2 million to resolve a proof of its payouts for death benefits in a multi-state probe. Investigators stated that more than $1 billion in death benefits had not been paid to consumers by multiple companies, including Nationwide.
In 2014, Nationwide paid $18 million in punitive damages after a plaintiff proved that the company "strong-armed" its own customer rather than negotiating in good faith for the loss suffered in a car accident.
Need Help with Your Nationwide Claim?
For simple property damage claims resulting from minor accidents, we recommend that you follow the regular property damage claim process and use the tools offered by Nationwide to file your claim.
In the case of a personal injury claim with Nationwide, we suggest that you contact a top-rated personal injury lawyer about your claim to ensure you're fairly represented. Insurance companies like Nationwide will do everything they can to protect their financial assets, and your claim may not be any different. Make sure your rights are protected by contacting the legal experts at Sutliff & Stout. The best car accident lawyer will conduct interviews, navigate legal documents, and reach the best settlement for your case. Call the top-rated Houston car accident lawyers at Sutliff & Stout today at 713-987-7111.