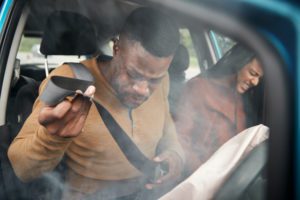 Being in a car accident is an overwhelming and scary situation for both the driver and passengers. If you sustained injuries as a passenger in a Texas car accident, you must understand your legal rights. Many passengers do not take advantage of their legal rights following an accident, which leaves them covering expensive accident-related costs. Exercising your rights can help you avoid an unfortunate financial situation. The easiest way to understand your rights as a vehicle passenger is to contact a Houston car accident attorney. They will explain your rights and guide you through this challenging situation.
What Are My Rights as a Passenger in a Car Accident?
Texas civil laws require drivers to pay for the accidents they cause, and this responsibility extends to drivers and passengers. In general, passengers have the following rights in a car accident case.
Right to Obtain Information
You have the right to ask for the names, addresses, vehicle registration numbers, driver license numbers, and insurance information of all of the drivers involved in the accident. If a driver refuses to provide you with their information, inform the police when they arrive. The police will gather relevant information, and you can obtain it from them.
Right to Medical Attention
If you sustained injuries, you have the right to reasonable assistance, such as transportation to the hospital for medical treatment. Even if you do not believe you sustained injuries, you should still see a doctor. Not all conditions show symptoms right away, and a doctor can diagnose any internal injuries. A report by a medical professional provides documentation that your injuries resulted from the accident if you need to file a claim.
We want to help you too.
Submit the short form below to get a free case review.
Right to the Police Report
You can ask for a copy of the police report detailing the accident. At the accident scene, ask the police officer how to obtain a copy and when it will be available. In most cases, officers have three to five days to complete an incident report, and it should be available after that.
Right to Not Speak with Insurers
You do not have any legal obligation to speak with an insurance representative representing the other driver or to give a recorded statement. Before speaking to an insurer, always consult with a Houston car accident attorney. You may even be able to request all communication go through your lawyer.
Right to Speak with a Houston Car Accident Attorney
After sustaining injuries because of another party's negligence, you have the right to speak with an experienced car accident attorney. They best accident attorney can review the specific facts surrounding your case and discuss options for pursuing compensation. You should never take advice from a lawyer the insurance company recommends. These attorneys are usually on the insurer's payroll and may not look out for your best interests.
Right to Pursue Compensation for Your Losses
You may have the right to pursue compensation for your injuries. However, your TX accident lawyer must first prove that the other driver was acting negligently, and their negligence was a direct factor in causing your injuries. If they can establish negligence, you may receive compensation for:
Therapy costs
Medical equipment
In some rare cases, a court may award punitive damages. These damages happen when a defendant acted in a highly reckless or negligent manner and to prevent similar behavior from others in the future.
Speak to an Experienced Car Accident Attorney in Houston Today
Knowing your rights after being in a car accident can be confusing, but the Board-Certified Houston car accident attorneys at Sutliff & Stout are here to help. Our expert injury lawyers can launch a thorough case investigation into the accident, gather evidence to pinpoint liability, and guide you through the claims process. To schedule a free consultation, call (713) 987-7111 or complete our online contact form today.