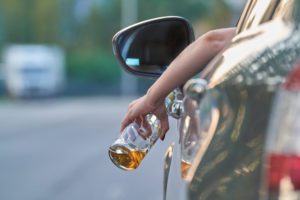 Summer is finally here, which means many people across the country are embarking on vacations and spending more time on the road. While you are driving in Texas, you may notice an increase in out-of-state license plates. In 2018, more than 70 million people visited our state. Unfortunately, too many tourists get behind the wheel after they have been drinking.
The aftermath of an accident involving an out-of-state drunk driver can be overwhelming, and you likely have many questions. When this happens, contact the Houston car accident attorneys at Sutliff & Stout. They can answer all your questions and guide you through this challenging time.
We want to help you too.
Submit the short form below to get a free case review.
Can I Bring a Car Accident Claim against an Out-of-State Driver?
You can bring a car accident claim against an out-of-state driver. Most auto insurance policies have a clause that provides interstate coverage when traveling across state lines. If the at-fault driver comes from a state with lower insurance requirements than Texas does, their policy coverage limits will increase to meet those required by Texas law. This is because Texas laws apply to out-of-state vehicles when they are in an accident with an in-state vehicle.
Texas has higher minimum liability requirements than most other states, but not all insurance representatives will understand how Texas law applies to liability limits. Here is an example of how this may work:
New Mexico's minimum liability limits are $25,000 in bodily injury protection per person, $50,0000 in bodily injury protection per accident, and $10,000 in property damage per accident. Attorneys and insurance companies refer to this as 25/50/10. If a New Mexico driver is responsible for an accident in Texas with a Texas resident, their auto insurance will increase to meet Texas' minimum requirements of 30/60/25. The increase can be helpful if the accident causes substantial medical expenses or property damage costs.
What to Do after Being in an Accident with a Drunk Driver?
Dealing with a car accident involving an out-of-state driver can already be stressful, but it can be even more overwhelming when the other driver is drunk. Unfortunately, handling a collision caused by a drunk driver adds another complex layer to your legal claim. Follow these steps to ensure your claim goes as smoothly as possible:
Put safety first: Immediately following a car crash, always put your safety first. Someone should call 911 right away to report the collision and request an ambulance, if necessary. If you believe you broke a bone, sustained a brain injury, or are bleeding, stay in the vehicle if it is safe. However, if you are still in good health, try to get out of the way of traffic to avoid further injury.
Exchange information: Once you are in a safe area, exchange information with the other driver. Although, this might be challenging if they are drunk. If you notice signs of intoxication, take note of what you hear, see, and smell. Writing down your observations can help you remember later on when speaking with an attorney.
Gather evidence: After you obtain information from the other driver, you will want to gather evidence. Take photos of all vehicles involved in the crash and the scene surrounding the accident.
Speak to the police: After an accident, a police officer will come to the scene and fill out a police report. You cannot determine whether an individual is drunk based on a conversation, but you can inform police of your suspicions. The officer can then perform a field sobriety test to gauge whether they are drunk. If the individual fails the field tests, an officer may arrest them for driving under the influence and perform a blood alcohol concentration test at a hospital or police station.
Contact a Skilled Houston Car Accident Attorney
Navigating a car accident claim when an intoxicated driver is from another state can be complex. You should not have to go through this alone, and the Board-Certified Houston car accident attorneys at Sutliff & Stout are here to help. With our legal expertise, we can launch a full investigation into the accident, gather evidence, conduct interviews, and negotiate with insurers—all while protecting your legal rights. To schedule a free consultation with one of our expert accident lawyers, call (713) 987-7111 or complete our contact form today.