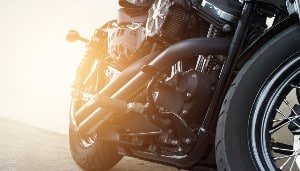 Few things in life are quite as enjoyable as being able to take your motorcycle out and ride for hours. Living in Texas, we're blessed with countless stretches of road with great scenery to cruise through. While you're enjoying the beautiful landscapes that Texas has to offer, it's vital to remember that there's one thing more important than enjoying the time spent on your motorcycle: staying safe while you ride it.
Many bike owners have been wondering whether or not to make the jump to adding crash bars to their motorcycles. With hundreds of fatal motorcycle accidents occurring each year in Texas, is it time to install a set of crash bars on your bike? Before you make a decision, take a look below as we explore that question and how bike safety affects everyone on the road—not just you.
We want to help you too.
Submit the short form below to get a free case review.
What Are Motorcycle Crash Bars?
You may have seen them on other bikes while exploring the open roads outside of San Antonio or cruising through Houston towards Galveston Island. These crash bars, sometimes referred to as freeway bars, highway bars, or engine guards, can be made up of either mild steel, stainless steel, or aluminum.
These pieces of sculpted metal attach to the frame of your bike on multiple sides, typically sticking out an inch or more from the body of the motorcycle. There are different types of crash bars you can install, depending on the type of bike you ride, available in a variety of designs that serve the same purpose: to protect you in the event of an accident.
Bike owners have long debated which type of crash bar is the superior choice. Aluminum tends to be more lightweight, but it provides the least amount of protection for the rider. Choosing the stainless steel option can reduce the risk of rust, although it is one of the heavier options and does not offer as much protection as it should. Although mild steel bars are known to have the best weight and absorb the most impact from an accident, they have the potential to rust if not properly maintained.
How Do Motorcycle Crash Bars Work?
The crash bar, which surrounds the exterior of a motorcycle, acts as a barrier between the rider and anything they may collide into, including the ground. If, for some reason, someone riding a motorcycle is struck by a moving vehicle, they may spin out of control and their bike may hit the ground. With a crash bar in place, the bike rider avoids colliding directly with the cement of the street and escapes the painful burns that can occur when accidentally touching the exhaust pipes. The bars also prevent the bike from falling directly on you, as they add a few extra inches of space between you and the motorcycle in the event that it flips over.
In addition to protecting you, these crash bars also prevent any damage from impacting the bike itself. If an accident occurs, your motorcycle's engine is encased in the crash bars, which, again, add additional inches between the important pieces of your bike and the ground. Crash bars have a proven history of making riding safer for both motorcycles and their riders.
Common Texas Motorcycle Accident Injuries
Being involved in any type of accident can be terrifying, especially if it is life-threatening. Driving a vehicle and being in a car crash is a terrible experience, but being in a motorcycle accident can cause a variety of life-changing injuries in just a split second. Nationwide research indicates that some of the most common injuries which result from motorcycle accidents in Texas include:
Leg injuries
Broken bones
Fractured bones
Internal injuries
Punctured lungs
Lacerations
Road rash
Head trauma
Neck injuries
Torn ligaments
In addition to the variety of physical injuries that motorcyclists in Texas sustain after they experience an accident, they may also be susceptible to mental health complications such as PTSD (post-traumatic stress disorder), insomnia, anxiety, and depression. Anyone who has been involved in a motorcycle accident, regardless of whether they feel their physical injuries are severe enough to warrant it, should visit a doctor or medical professional for both a mental and physical evaluation.
Speak with Qualified Motorcycle Injury Lawyers in Texas
When riding a motorcycle, safety should always remain your number one priority. When an accident occurs, it can be potentially life-changing or even fatal. If you find yourself in the aftermath of a motorcycle accident, don't feel like you have to handle the situation on your own. Between reaching out to insurance companies and coordinating medical treatment, you might benefit from the help of an experienced legal professional who can make the process easier.
Here at Sutliff & Stout, our firm of dedicated lawyers and paralegal specialists will work with you to build a solid case using our reliable resources and evidence-based legal strategies. We have successfully recovered thousands upon millions with our accident injury lawsuit settlements. Rest assured, your case is in good hands with the TX motorcycle accident lawyers at Sutliff & Stout Law Firm.
Don't go another day wondering how to proceed with your motorcycle injury case. To get started today, please feel free to give us a call at 713-987-7111 or contact us online to find out more information from one of our top-rated legal experts.