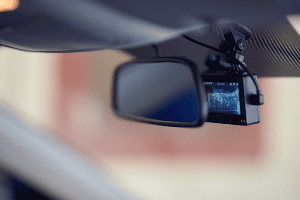 Texas car accident cases often tend to include both parties pointing the finger at each other, even though it may be clear who is at fault at the accident scene. Unless there is video footage of the accident, it may be hard to prove the other driver was responsible. Car dash cams are easy and affordable ways to record the road when driving. They can also act as evidence in a lawsuit if another driver hits your car.
While you might have footage of the car accident from a dash cam, you may not know what to do with it. When this happens, turn to the car accident lawyers at Sutliff & Stout. They may be able to use the video as evidence in court or when negotiating with insurance companies.
We want to help you too.
Submit the short form below to get a free case review.
How Do Dash Cams Work?
Drivers typically install dash cams on their front or rear windshields with a suction cup. They record both audio and video footage when your vehicle is in motion. You can purchase single, dual, or four-way versions.
A single cam is a forward or rear-facing camera that only records out of one window. Dual-channel dash cams capture footage from both the front and rear with two cameras. A four-way camera documents feed on all four sides, but they are most commonly used by commercial trucks and are rarely seen in passenger vehicles.
Depending on the camera you buy, you might have to manually power it on and off for each trip. However, some have auto-activation that sense when the car is in motion. Most cameras have limited storage, so you might need to erase footage to ensure the storage is not full.
Why Should You Install a Dash Cam?
Dash cams offer several benefits for car owners and rental companies. Since they record on-road and off-road accidents, it makes pinpointing liability easier. Most notably, an attorney can use the recordings to prove that you were not at fault for the accident. The camera also allows you to capture aggressive or reckless driving instances. The footage makes it easier for police officers to identify offenders, especially if they left the accident scene. Dash cams also show the extent of a collision.
Even with a dash cam recording, having an eye witness will always be more beneficial in an injury claim. Recordings may be blurry, allowing the other driver's attorney to argue that it was not their client in the vehicle. Regardless, all evidence is helpful, and a dash cam may expedite your claim.
Are Dash Cams Legal in Texas?
Texas laws do not specifically mention dashboard cameras, so they are not legal nor illegal. However, you must still meet related Texas car accident laws regarding vehicle safety. Transportation Code 547.613 prohibits drivers from operating a vehicle with any object attached to the windshield, side window, or rear window that reduces or obstructs visibility. Doing so may lead to a misdemeanor charge and up to a $1,000 fine.
Many dash cams also come equipped with audio recording. Texas Penal Code 16.02 makes it illegal to record a private conversation without the other's consent. Whenever you have passengers, make sure you inform them the camera records audio or turn the audio function off.
Position your dashboard camera in a way that does not obstruct visibility. Most people install them on the bottom left or right of their dashboard or directly behind the rear-view mirror. In general, it is best to find the smallest one possible to avoid distractions.
Seek Legal Guidance from Experienced Car Accident Attorneys in Texas
When you are in a Houston crash, don't hesitate to contact top car accident lawyers Sutliff & Stout. Let our group of personal injury attorneys in Texas guide you through the claims process as we work with you to build your case. When you work with the trusted car accident attorneys at Sutliff & Stout, you can be confident we will do everything possible to obtain a favorable outcome for your Houston, Texas car accident. Call (713) 987-7111, Google best personal injury lawyer near me or best car accident lawyer near me, or complete our online contact form to schedule a free consultation.