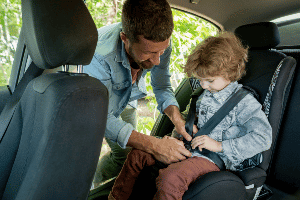 Child car seats are used to protect a child's life in a motor vehicle. Using appropriate car seats and booster seats—based on your child's age, height, and weight—can reduce their chances of sustaining catastrophic or fatal injuries in a car accident. No matter your age, Texas law mandates that drivers and passengers be properly secured.

Understandably, using car seats can be frustrating and difficult, especially for newer parents. That's why it's important for parents to understand what types of car seats are right for their child and the potential repercussions of incorrect car seats or inadequate restraints on their ability to secure compensation after a car accident.
Texas Car Seat Laws
Regular seat belts are not enough to protect a child. By law, children must use a child safety seat until they are 8 years old or taller than 4 feet 9 inches. Until your child is old enough and big enough to use a seatbelt, follow the four phases of child seat use:
Phase 1: Child under 2 years of age must use a rear-facing car seat
Phase 2: Children over 2 years must use a forward-facing car seat
Phase 3: Children ages 4 to 8 years age must use a booster seat
Phase 4: Children ages 8 and above may use an adult safety belt 
Always make sure to follow the weight and height requirements outlined on the manufacturer label. Depending on your child's height and weight, they may progress through these phases faster than a child of the same age. However, it's important to avoid progressing from one step to the next too quickly. Ensure you fulfill all phases and if you have doubts, you should contact a certified car seat technician or installer. You can also contact your local police department to schedule an appointment for a child seat inspection.
We want to help you too.
Submit the short form below to get a free case review.
Effects of Improper Car Seats on Car Accident Claims
Under Texas Transportation Code Section 545.422, adults who do not follow the appropriate car seat laws will be charged with a misdemeanor and could face fines anywhere from $25 to $250. Additionally, if your child suffered injuries in an accident and an officer believes that they were not secured properly or in the correct car seat, regardless of who caused the accident, your ability to collect full monetary compensation may be affected.
Due to Texas's modified comparative negligence law, the number of damages you may be awarded from insurance companies will be reduced depending on the portion of fault you bear. If your account of fault is 51% or more, then you will be barred from recovering compensation. To avoid being liable, you must be able to show that your child was properly secure and that the other party's negligence resulted in your child's harm. Failure to do so can result in an insufficient car accident claim.
Could My Child's Injuries Be from a Defective Car Seat?
Injuries may also occur to your child if their car seat fails to adequately protect them in accidents as a result of a defect in the device. If your child is injured as a result of a defective product, you may have grounds to file a product liability lawsuit.
In Texas, the statute of limitations for personal injury due to a product defect is two years, and anyone involved in the sale or production of the car seat, including the manufacturer, designer, retailer, and distributor, may be held liable. A product can also be considered defective if a manufacturer fails to provide necessary instructions for use and installation or if they don't notify users of a recall.
Checking for a Defective Car Seat
Unfortunately, when child safety devices have a faulty design or are improperly manufactured and inspected, the consequences can be disastrous. To stay up-to-date on defective car seats, check out the National Highway Traffic Safety Administration (NHTSA) list of recalls—a compilation of recalls from the last 10 years that is consistently updated as new recalls come out.
Contact an Experienced Personal Injury Attorney Today
Accidents are a terrifying experience and can be even worse when a child is involved. What's more is the anger you feel knowing that a negligent driver caused harm to you and your child. If your child has suffered injuries in a car accident, there several intricate factors at play. A competent personal injury attorney at Sutliff & Stout will carefully examine your case to determine liability for your child's injuries in order to obtain meaningful compensation.
At Sutliff & Stout, our team of Board-Certified attorneys is well versed in Texas child seat and negligence laws, with years of experience and substantial results under our belt. We have the expertise and skillset necessary to get you the results you need, and we're here to assure you that your case is in good hands. Request a free consultation by calling (713) 987-7111 or completing our contact form.