How Do Attorneys' Fees Work for Wrongful Death Lawsuits?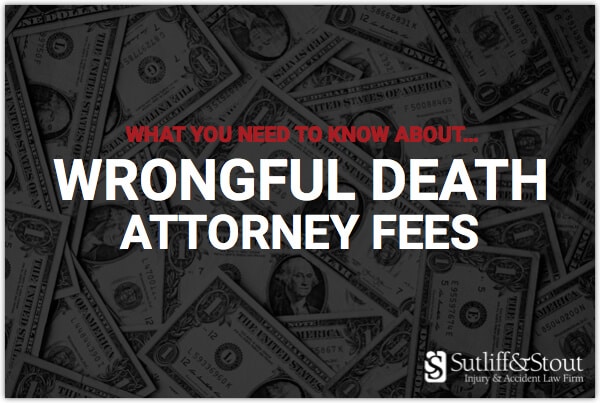 If someone you care about has been killed, then you might be able to bring a wrongful death lawsuit against the person responsible for the death.
In Texas, certain family members can bring a wrongful death lawsuit for any death caused by the neglect, carelessness, default, or wrongful act of another person.
One concern many people have is how they can afford the legal representation necessary to bring a lawsuit. Wrongful death lawsuits have many wrinkles to them, and understanding how the process works can help you avoid making mistakes that cost time and money.  
In this article, we describe how wrongful death attorneys' fees work and the questions you should ask a lawyer.
Contingency Fees in Wrongful Death Cases
At our Firm, we represent individuals on a contingency fee basis, which means that you do not pay anything else we are able to obtain a recovery on your behalf.  Unlike an hourly based attorney who gets paid on a monthly basis regardless of the outcome, our Firm only gets paid if we are able to successfully resolve your case. 
In a contingency arrangement, you agree to pay the lawyer a percentage of the amount recovered typically between 33.333% and 40%. The precise amount usually depends on the type of case and a number of other factors.
Contingency fee agreements allow clients to pursue their claims without shouldering the large financial burden associated with hourly fees.  It also provides shared risk so you lawyer has an incentive to take all reasonable steps to maximize the amount of compensation you receive in the case, since that will increase the amount of compensation that the lawyer receive as well.
Contingency fee agreements work well with our clients, who typically don't have tens of thousands of dollars up front to pay an attorney. By signing on with us, you can hire an experienced attorney without having to pay any wrongful death attorneys' fees unless and until we successfully resolve your case.
Expenses Involved in Wrongful Death Litigation
In addition to attorneys' fees, there are many expenses related to litigation. For example, the typical wrongful death case will require expenses for:
Copying and mailing
Court filing fees
Transcription fees
Costs of medical records
Private investigator fees and expenses
Cost associated with expert witnesses
Court reporter fees
Process server fees
Expert witnesses represent a substantial cost in many types of wrongful death cases. In many instances, you will need an expert to review the evidence and provide his or her opinion about what caused the accident, who was at fault for the accident, what caused a person to die and other matters related to issues in the case. 
Typically, an expert will be asked to write a report and testify via deposition or trial.  Depending on the expert, the costs associated with such efforts can cost tens of thousands of dollars.
Expenses differ wildly depending on the case. When you meet with your attorney, you should ask him or her to estimate what they think the costs will be.
Also discuss how the attorney expects you to pay the expenses. At some firms, lawyers will pay all expenses but then recoup any sums paid from the final settlement. At other firms, you might be expected to pay some or all of the expenses as the litigation unfolds.
Questions to ask about Wrongful Death Attorney Fees
During your initial consultation, remember to discuss fees. You can ask the following questions:
How much do you charge on a contingency basis? Can you estimate the expenses of my case?
How do you handle expenses? Do I pay them upfront or do you take them out of a settlement?
Will your contingency fee agreement be in writing?
What happens if I no longer want you as my lawyer before the case settles?
An attorney should answer all of these questions honestly and with ease. If you are unsatisfied with what you hear, you might need to meet with a different attorney.
Speak to a Houston Wrongful Death Attorney Now
After the death of a loved one, help is available. At Sutliff & Stout, our Houston wrongful death attorneys here to answer any questions you may have about your claim or the litigation process.  To learn more about how approach contingency fees, please schedule a free consultation today.