Dissatisfied with your current personal injury attorney? This article will explain your options for potentially firing your lawyer and getting a new one.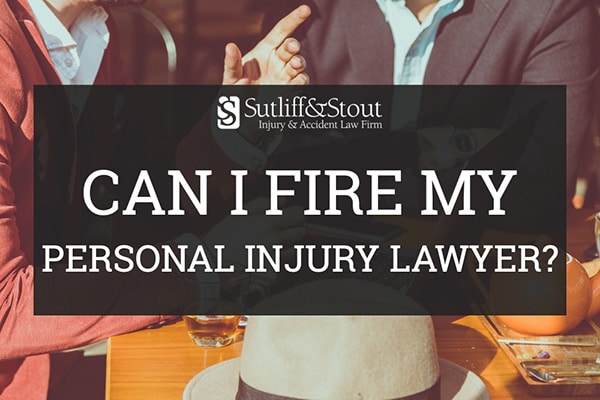 In Texas, you are permitted to select and hire the attorney you want to represent you.
Regardless how hard you try in some relationships, whether the relationship you are involved in is personal or professional, these relationships will fail. It is easy to change hairdressers or mechanics.
But, when you hired a personal injury attorney you thought would be perfect for your case, fails to meet your expectations, it is much harder to walk away and figure out what to do next because you signed a contract and the attorney may have filed a lien.
In most situations where you are unsatisfied with the personal injury attorney's handling of your case, the best course of action would be to contact and speak to your lawyer directly about your issues..
This will give you the opportunity to speak with the attorney, inform him or her of what is bothering you, and will give you both a chance to work things out.
If the conversation with your personal injury attorney fails, then you should seek a second opinion from a different, experienced personal injury attorney. You should speak to them about the particular circumstances of your case, and listen to what they reccomend in terms of your best course of action.
Sometimes, if you hastily fire your attorney without being fully aware of the consequences, you could actually end up in a worse position. For this reason, it's important that you do not take any rash actions, but instead, get a second opinion from an outside attorney and go from there.
Looking for another opinion on your case?
If you're interested in getting another attorney's opinion about your injury claim, contact Sutliff & Stout today for a free, no-obligation case review.
Common Examples of Attorney Misconduct that Could Warrant Firing Them
The most common examples of attorney misconduct occur when:
He or she fails to communicate with you;
He or she fails to appear in court or miss deadlines;
He or she fails to return a client's file after the client makes a request;
He or she fails to pay the client money from a settlement; or
He or she acted dishonestly.
Steps to Take Once You Make The Decision to Fire Your Attorney
If, after discovering attorney misconduct, and speaking with your attorney fails to rectify the situation, you should take a few steps before terminating the relationship.
First, you should review the contract you signed to see if it addresses any steps to cancel the relationship with your attorney.
Second, you should contact the Texas Bar Association Lawyer Referral Service to begin searching for a new attorney to minimize any delay in switching attorneys.
Third, you should speak to the new attorney about obtaining your case files, and if the new attorney will be responsible for getting your files from the old attorney.
Fourth, ask the old attorney for a refund or itemized bill listing all fees.
If you lost faith or trust in your personal injury attorney's ability to handle your case, you should contact an experienced personal injury attorney to give you a second opinion on your case, protect your legal rights and provide you with the best course of action.