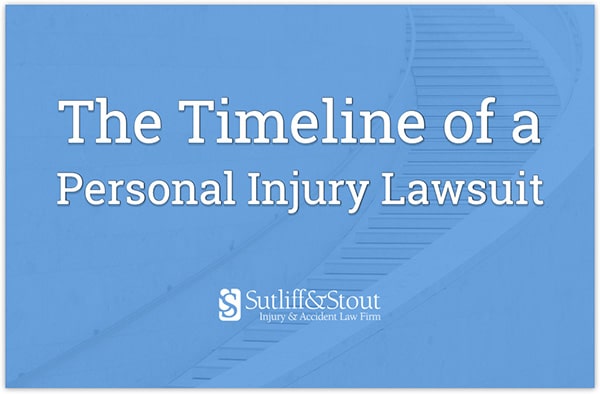 If you were injured in an accident and think you may have a personal injury case, you probably have a lot of questions about the process.
This post provides a general overview of the timeline and various stages of the personal injury process.
The personal injury timeline information contained here is not a substitute for talking to an experienced accident lawyer.
The Timeline of the Typical Personal Injury Lawsuit
Additional Steps If Necessary…
First Step: Medical Treatment and Recovery
Seeking immediate medical treatment for your injuries is vital for your health and safety. This is also important to document the nature of your injuries after the collision. If you do not seek immediate medical care for your injuries, an insurance claims adjuster may try to argue that your injuries were not caused by the collision.
---
Second Step: Hire an Experienced Personal Injury Attorney
The next step in the process is to find an injury lawyer who you trust. An attorney can assess if you have a viable injury case and determine the best course of action for you. He or she will investigate your claim and review your medical records to evaluate how much compensation you should demand. An attorney can deal with insurance adjusters for you, negotiate settlements, and represent your best interests if a lawsuit is needed.
---
Third Step: File an Insurance Claim or Send a Demand Letter
Typically, the next step is to file a claim with the at-fault party's insurance company. If the responsible party did not have insurance at the time of the accident, a demand letter can be sent demanding compensation for your injuries and threatening to sue if the compensation is not paid.
If there is an insurance company involved, the type of insurance policy will vary depending on what type of party caused your injuries. However, the process is generally the same regardless of whether you were in a car accident, truck accident, construction accident, or Uber or Lyft accident.
Once your claim is filed with the at-fault party's insurance company, a claims adjuster will be assigned to investigate the claim and negotiate a settlement.
Typically, the claims adjuster will try to interview you (we suggest you do not give a recorded statement), the other party, and witnesses about the accident. He or she can ask for your medical records and other evidence about your claim.
Ultimately, after the investigation is completed and the insurance company evaluates your medical records, this process results in a settlement offer being made by the insurance company. Your personal injury lawyer will advise you about whether or not this is a fair settlement. You'll then have to decide whether to accept the settlement offer or reject the offer and file a lawsuit.
Considering pursuing a personal injury lawsuit?
Contact Sutliff & Stout today for a free, no-obligation case review.
Additional Steps If Necessary….
Fourth Step: File a Personal Injury Lawsuit
If a settlement cannot be reached with the at-fault party's insurance company, it may be necessary to file a lawsuit. It also may be in your best interest to file suit and forego the claims process. Under the Texas statute of limitations, a personal injury lawsuit typically must be filed within two years of the date that the injury occurred. Although it can take a long time to resolve a lawsuit, this may be the only option you have to get the compensation you deserve.
A personal injury lawyer can file a complaint on your behalf with the appropriate court.. The attorney other party will be served with a summons (also referred to as a citation) and complaint (also referred to as a petition) that states your legal claims. The other party will then answer and file any counterclaims that they may have. If a counterclaim is filed, your attorney will respond to the counterclaim on your behalf.
---
Fifth Step: Discovery
The next phase of the personal injury lawsuit timeline is called "discovery." The discovery process begins once a lawsuit is filed, the other party is served, and all answers, counterclaims, and responses have been filed.
During this process, each party may be required to respond to written discovery. Another way to gather information during the discovery process is through depositions. Once suit is filed, you also have the ability to to issue subpoenas for medical records, business records, police report, and other documentary evidence.
The goal of the discovery process is to gather all of the evidence that will be used at trial. There are typically no surprises at trial, since both sides of a lawsuit can take steps necessary to gather evidence and interview witnesses in discovery. The discovery phase can last for several months (typically 8 to 10 months but sometimes longer depending on the nature of the case).
---
Sixth Step: Another Chance at Settling
Settlement discussions typically continue while the lawsuit is pending. Discovery helps to root out which side has the stronger case and may lead to more pressure to settle the case rather than going to trial. Because going to trial is so expensive, most personal injury cases filed in Texas settle out of court.
Most courts in Texas require the parties to attend some form of alternative dispute resolution proceeding. One example is mediation. This is where a neutral third party talks to both sides about the case and what he or she thinks a jury will do.
At any point during the litigation process, the parties may settle if they come to an agreement. Your lawyer will carefully evaluate any proposed settlement to determine whether it fairly compensates you for your injuries and other losses.
---
Last Step: Going to Trial
If there is no hope in settling the personal injury case, then your only reasonable alternative is to try your case to a judge or a jury. In these circumstances, a jury or the judge will be responsible for making a decision about who is responsible for your injuries and how much they should be required to pay.
Personal injury trials can vary in length from hours, to days, to weeks, or longer. If the other party can prove that you share some part of the blame for your injuries, then your personal injury award may be reduced. In Texas, the amount that you would receive will be reduced by the amount equal to the percentage of your fault so long as it is 50% or less. Texas is a "modified comparative fault" state.
---
We are ready to review your personal injury cases
If you were injured and have a personal injury claim, your lawyer will be responsible for managing the personal injury case timeline and guiding you through this process. He or she will ensure that the proper steps are taken so you receive the settlement or court award that you deserve.
To speak with an attorney at Sutliff & Stout about your case, please call or text our office anytime at 281-853-8446. We look forward to serving you.