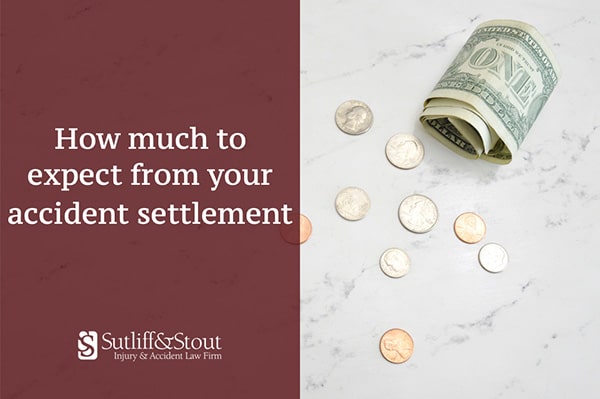 If you've been involved in a car accident you've probably wondered, how much can I get from a car accident settlement? Unfortunately, there's no simple answer.
Car accident settlement amounts can range from just a few hundreds dollars, to a potentially thousands, hundreds of thousands, or more.
Rather than trying to determine exactly how much your case might be worth, it's best to understand all of the different factors that typically dictate how much a given accident settlement is worth.
The information contained here is general in nature and should not be taken as legal advice. The best way to understand how much you should expect from your car accident settlement is to get a free case review from a qualified accident injury attorney.
Topics covered in this article:
Factors that Affect How Much You Can Expect from a Car Accident Settlement
The Kind of Injury
Typical car accident settlement amounts vary depending on the particular circumstances of each case. As a general rule, however, the more serious the injuries the more valuable the case becomes and the more money you can expect from a settlement. This is largely because the lawyers and insurance companies involved will be considering how a potential jury would react.
For example, an accident that causes no visible injuries and that does not require medical care afterward will not look so bad to a jury. If, on the other hand, surgery was involved, and the accident resulted in many cuts and bruises, a jury may be more likely to award more money because the injury is more serious.
This is even more true for accidents that result in permanent or long-term pain or disability. Being unable to engage in activities you once loved, just because of injury sustained by an accident, means you may even be entitled to special damages for emotional harm in addition to the physical harm suffered.
How Much the Accident Costs You
Car accidents come with lots of expenses above and beyond the injuries to those involved, most commonly including the cost of damage to your vehicle and various medical expenses. Lost wages, or the amount of money you were unable to earn as a result of your injury, can also contribute to this factor.
By adding up how much you have to pay the mechanic, the hospital, and how much money you could've earned, you can calculate an approximate baseline for how much you can recover from a settlement.
For example, if your car needed $5,000, you had $15,000 in medical bills, and you were unable to work, so you lost about $2,500 in income, you would have a total of $22,500 in expenses that need to be taken care of.
This number may go up or down depending on how much your insurance will pay and whether or not the settlement includes damages for future pain or psychological disorders caused by the accident (like depression or anxiety). Injuries that cause severe future pain and psychological issues often result in a higher settlement, including if you experience new physical limitations or disability because of the accident.
Many lawyers and insurance adjusters will take that amount and multiply it depending on how bad the injuries are. Although there's no set number, particularly bad accidents may have their expenses multiplied 3-5 times, or even higher.
Insurance Coverage of the At-Fault Party
Unfortunately, some drivers may have inadequate insurance or no insurance at all. This could be for a variety of reasons, but what it means for you is that the amount of money available from the at-fault party's insurance may not cover the expenses you have as a result of the accident.
Example Settlement Amounts by Injury Type
Because car accidents can result in such a wide range of injuries, its difficult to determine average settlements. Here are some estimates to help you get an idea of how much you could expect from a car accident settlement based on the severity of the injury.
Minor Injuries
Minor injuries include those you might experience in a fender-bender, like whiplash or joint tissue damage. In general, minor injuries are those that damage soft tissue or leave you feeling sore, but ultimately go away given enough time.
Settlements for minor injuries can range from approximately $10,000 to $25,000.
Long-Lasting Injuries
Even if they are relatively minor, some injuries end up taking a long time to subside. Long-lasting injuries often require physical therapy to heal, and may even require surgery. Even with those medical options, long-lasting injuries may never fully go away, even if they do improve over time.
Settlements for long-lasting injuries can range from roughly $50,000 to $100,000.
Spinal Injuries
Spinal injuries, like a herniated disk, are some of the most common injuries suffered in car accidents. Unfortunately, injury to the spine can have serious consequences, and even operations related to herniated disks can cause unexpected complications. When estimating how much to expect from a car accident settlement, spinal injuries usually do not include accidents resulting in paralysis.
Non-paralysing spinal injury settlements can range from $75,000 to $100,000. Life-threatening injuries will frequently result in a settlement at or above the high end of this range.
Brain Injuries
Brain injuries, like spinal injuries, are common in car accidents and can have the most severe consequences, including cognitive impairment and loss of function that may be permanent.
Settlements for brain injuries, especially severe ones, can range from between $100,000 to over $250,000.
Permanent Physical Disability
Car accidents can also cause permanently debilitating injuries like paralysis or extreme brain damage. If that's the case, the damages will likely be very high even though in reality no amount of money can compensate for the severity of the injury and the physical ability that may have been lost.
Settlements involving permanent physical or mental disability can range from several hundred thousand dollars to a million or more.
How to Maximize Your Settlement Amount
Even minor car accidents can leave you with serious injuries. To make sure that you get as much as you deserve—especially when insurance companies often give lower estimates—it's important to make sure you follow a few steps to maximize your recovery.
Get Medical Attention
As soon as possible after the accident, it's a good idea to get medical attention. Not only does this establish what kinds of injuries you suffered in the accident, it also helps document the cost of those injuries. The closer your doctor's visit is to the accident, the easier it is to see that the accident caused your injuries.
Hire a Car Accident Attorney
In addition to gathering evidence and helping you estimate how much you can get from a settlement, an experienced attorney will help you get as much as possible by negotiating with the insurance company.
Additionally, if the case has to go to trial you can rest assured that your attorney knows how to best present your case to the jury. This is extremely important since they will ultimately decide how much to award you.
The experienced car accident attorneys at Sutliff & Stout can help you make sure you get what you deserve. Contact us today for a free case review by filling out our form or giving us a call.