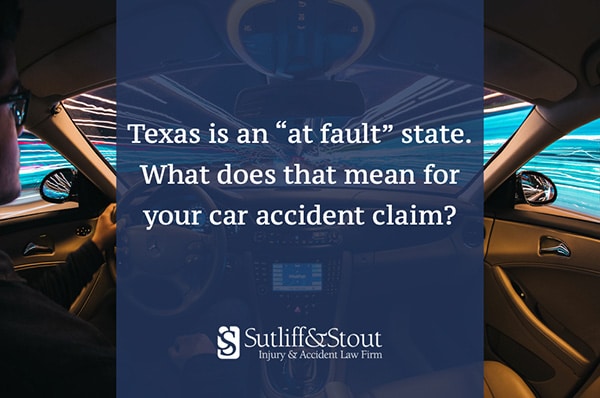 In the United States, laws and regulations vary from one jurisdiction to the next, and insurance law is no exception.
Generally speaking, states are divided between two major types of insurance law: fault states and no-fault states. A few states allow citizens to select one of the two systems.
Each state has the decision to require no-fault insurance. For the state of Texas, there is a fault-based system of personal injury recovery and auto insurance. In other words, Texas does not accept no-fault insurance.
If you were injured in an accident and you weren't at fault, contact a top-rated car accident lawyer today.
Need help with a Texas insurance claim?
Submit the short form below to get a free case review from Sutliff & Stout.
Is Texas a No-Fault State?
Texas is not a no-fault state. The individual that is determined to have been responsible for the accident will ultimately be held liable for the associated damages. Texas is one of 38 at-fault states, meaning that the party that is found to be at fault for the accident will be responsible for compensating the injured party for the amount he or she is responsible for. While the name "at-fault state" might sound ominous, the application of this system has little to do with an actual court case. In reality, a state's status as an "at-fault state" has a greater impact on the responsibilities of insurance companies.
Payment is typically made through insurance agencies, with each state mandating a minimum coverage amount through a financial responsibility law. Damages that are covered by the at-fault driver's insurance in a fault state include personal damages such as medical bills or lost wages, as well as property damages such as auto repairs.
Because at-fault states require the at-fault driver to compensate the injured party, each fault state has its required minimum coverage amount. Generally, these coverage amounts are separated into three (3) basic categories:
The coverage amount for each injured person.

The coverage amount per accident.

The coverage amount for property damage per accident.
In Texas, the current minimum liability limits are listed as 30/60/25 coverage, which means that the limits are:
$30,000 for each injured person;

Up to $60,000 per accident; and

$25,000 for property damage per accident
It is important to keep in mind that this is just the bare minimum, and depending on the extent of damage to property or injuries sustained by a person in an accident, the minimum might not cover the whole recovery amount.
If the injured driver's injuries or damages exceed the coverage amount of the at-fault driver's insurance, then the injured driver would be able to sue the at-fault driver to collect the difference. In this situation, because Texas follows a Modified Comparative Negligence rule, an injured party would not be able to recover anything in court if it is found that he or she is at least 51% at fault regarding the accident.
What is a "No-Fault" State?
Unlike at fault states, a no-fault state requires each party to cover their own costs. Each citizen is required to own personal injury protection (PIP).
For example, if two people get in an accident, their own insurance companies will be responsible to cover the damages suffered.
While the PIP coverage will only deal with personal injuries to each insurance company's client, collision coverage can be obtained to cover any property damage incurred.
Overview: Types of Insurance
Liability Coverage: This is the most common type of insurance, as it's required by most states. Liability coverage mainly serves to cover bodily injury liability and property damage liability.
Uninsured & Under-insured Motorist Coverage: Designed to cover you in the event you're struck by a motorist with little or no insurance coverage. This type of insurance can go to support medical bills and in some states, repair costs. Some states may require this level of coverage. However, Texas is not one of them.
Collision Coverage: If you are involved in an accident with another vehicle, or strike a large object, collision coverage may be enough to assist you. Typically, this means helping to pay for fixes on your vehicle, or in extreme cases, replace it.
Comprehensive Coverage: Property damaged due to a fire, vandalism, or theft? Comprehensive coverage can help you in this instance. If your property is damaged, you may be able to repair or replace up to the cash value of the property.
Personal Injury Protection: Often refereed to as PIP, this is used towards medical bills. Additonally, PIP can also cover related expenses accumlated as a result of an injury. An example can include lost income.
Medical Payments Coverage: Medical coverage can help to cover not only yourself, but anyone in your vehicle at the time of the accident.
Gap Coverage: Typically optional, gap coverage helps to cover the cost of an auto loan if your vehicle is totaled or stolen. This coverage may only be available if you are the orginial leaseholder and the car/truck is new.
There are various other insurance types, including but not limited to new car replacement coverage, towing/labor cost coverage, and even ride-sharing coverage. Dozens of different packages are available depending on your needs.
In Texas, damages that are suffered as a result of a car accident fall into the responsibility of the at-fault party. The state requires the individual that is determined to have caused the accident to be held responsible for damages and injuries via their insurance provider or other applicable methods.