What Damages Can Family Members of Texas Wrongful Death Victims Be Compensated For?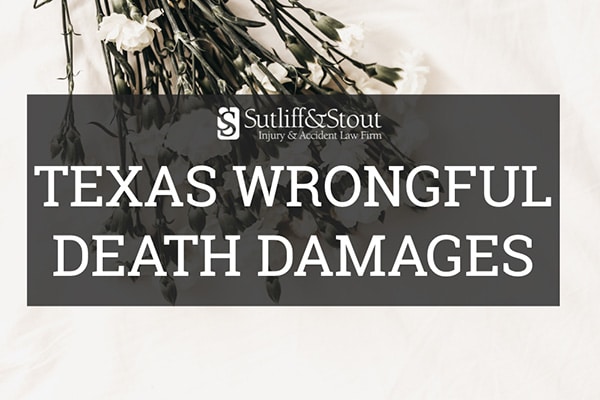 Losing a loved one in a preventable accident or because of someone else's wrongful act can be devastating. As the initial shock and trauma of this type of loss wears off, you may start to consider whether you will be able to take legal action to hold the party responsible for their loss liable.
In addition to suffering emotionally, you may find yourself in a precarious financial situation, especially if the loved one you have lost was the primary income earner in your household.
Fortunately, Texas law often allows people who have lost family members in accidents to recover financial compensation for their injuries. While no amount of money can change what happened and bring your family member back, it can certainly help bring a sense of closure to a horrible situation and ensure that your financial needs are met.
Below, we explain some of the damages that you can recover in a Texas wrongful death lawsuit. For more information or to find out whether you may be able to file a claim, call our office today.
Texas Wrongful Death Topics Covered Here:
The damages available to family members in a Texas wrongful death claim
Texas law allows the surviving children, spouse, or parents of a decedent to pursue compensation for losses they have personally sustained as a result of the loss of their loved one. Importantly, there is another law that authorizes a "survival action", which allows survivors to recover compensation for losses incurred by the decedent after the accident or incident took place – basically, it allows a personal injury lawsuit to survive the plaintiff's death. The damages available in a wrongful death action in Texas include the following:
The lost earning capacity of the decedent
The loss of an inheritance, including what the decedent would have reasonably been expected to earn and gift had he or she lived
The loss of companionship, society, comfort, and love
The emotional pain and mental anguish suffered by survivors
Lost value of household services
We're here to help you understand the damages you can claim
Contact us today for a free, no-obligation wrongful death case review.
How much is my Texas wrongful death case worth?
If you believe that you have a wrongful death claim, it is only natural to wonder how much compensation you may be able to obtain by filing a claim. There are a number of factors that will influence the amount of any settlement or award that you receive, and it is impossible to have any idea of how much you may recover without conducting a thorough analysis of your case. Some of the factors that influence the amount of recovery available in wrongful death case include the following:
The age of the decedent
The earning potential and profession of the decedent
The egregiousness of the conduct that resulted in the accident your loss
Whether the decedent was partially at fault for his or her accident
Do I need a wrongful death attorney to recover compensation?
While there is no rule or law requiring people who have lost loved ones in an accident to retain legal counsel, it is often highly advisable to do so. The Texas wrongful death law is complicated, and individuals who choose to represent themselves are at a distinct disadvantage against defendants who have retained legal representation.
One of the main hesitations that people have when deciding whether to retain a wrongful death attorney is the perception that lawyers charge exorbitant hourly rates. The good news for people who think that they may a wrongful death claim is that the attorneys of Sutliff & Stout take all of their wrongful death cases on a contingency fee basis, which means that survivors will not pay anything in legal fees unless their case is successfully resolved and they recover compensation.
In addition, our firm will cover any up-front costs associated with taking a case to trial, which can become significant, particularly when there is a need to work with expert witnesses. Finally, any legal fees you do pay will come directly out of the settlement or award that you receive, which means that you will never need to pay for legal representation with money that you already have.